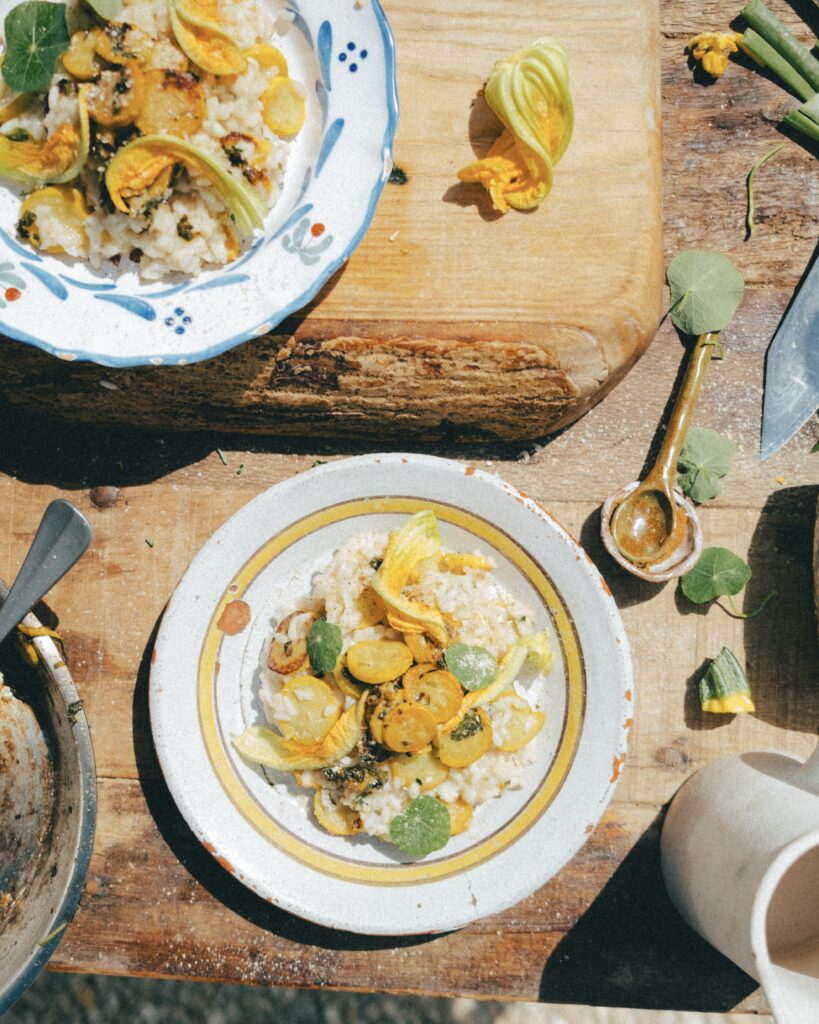 Ingredients
Simple Risotto 
2 Onions, chopped fine
3 Cloves of Garlic, minced
1 tsp Sea Salt
2 cups/250g Risotto Rice
4 cups/1 Litre Hot Vegetable Stock, plus a little extra.
1 cup/ 250ml White Wine
Courgette 
4 cups Courgettes, chopped small
4 Sprigs Thyme
Handful Sage, chopped fine
Pinch Sea Salt & pepper
3 tbs Olive Oil
1 tbs Miso Paste
Garnish 
Courgette Flower
Plant Based Parmesan – click for recipe
Cracked Black Pepper
Fresh Herbs
Method
To make the risotto, In a large saucepan, sauté the onion and garlic over a medium heat with a little sea salt
Stir often & make sure they don't burn. Just let them soften & go a little golden.
Once the onions are soft turn the heat down low and add the risotto rice, stir well making sure the rice is coated in the lovely onion mix, I like to let my rice lightly toast, it adds a slightly more nutty flavour to the dish.
Now deglaze the pan with the white wine, and stir every now and then until it has all disappeared into the rice. Once its been soaked up, add around a cup of stock each time, until you have used up all the stock – this will take about 20 mins. After 20 minutes the rice should almost look creamy. If not add more stock.
Meanwhile sauté the courgette in a frying pan with the herbs & miso paste until golden.
Check the rice is cooked. If it isn't, add a splash more stock, and carry on cooking for a bit. Once the rice is soft enough to eat, stir through half of the sautéed courgette.
At this point I stir through some of my chopped courgette flowers too, but you can replace this with some lovely herbs of your choices.
Serve up the risotto, topping each dish with the rest of the courgette.
I drizzle over a little olive oil & sprinkle over some homemade parmesan.
Share this recipe