MY DADS ITALIAN MEATBALLS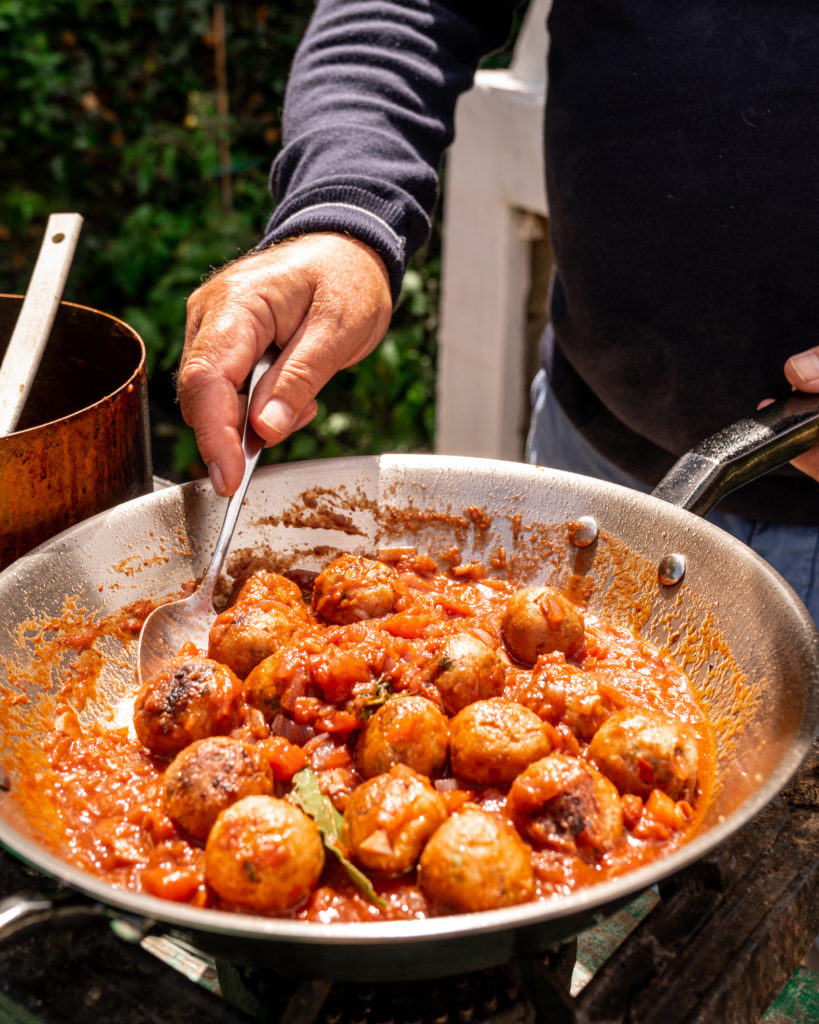 Ingredients
Meatballs
8 Vegan Sausages, skins removed (my dad uses Richmond meat free vegan sausages) or 2 cups/330g Vegan Mince
2 cloves Garlic, minced
3 Spring Onions, chopped fine
1 Red Chilli, chopped small
1 tbs Fresh Thyme
1 tsp Dried Rosemary/or Fresh
Pinch Salt & Pepper
'Parmesan'
2 tbs Flaked Almonds
2 tbs Nutritional Yeast
Tomato Sauce
1 Onion, chopped fine
2 cloves of Garlic, minced
1 tsp Sea Salt
1 tsp Cracked Black Pepper
1 cup/240ml Vegan Red Wine
1 Bay Leaf
3 Sprigs Fresh Thyme
1 can Chopped Tomatoes
Serve with
Pasta
Blitz together the flaked almonds & nutritional yeast in a food processor until fine.
Add the de-skinned sausages or mince to a mixing bowl with 2 tbs of the blitzed flaked almond mixture, garlic, onions, chilli, thyme, rosemary & seasoning.
Mix together well then form the mixture into 1 tbs meatballs, wet your hands to stop the mixture sticking to your hands. You should get around 16 balls in total.
Set the meatballs aside until you're ready to cook them.
Meanwhile prepare the sauce, place a saucepan over a medium heat and add a little oil, the onions, garlic & seasoning. Saute the mixture for 2-3 minutes before deglazing the pan with the wine. Add the bay leaf & thyme and let the wine bubble away for 3 minutes. Add the tomatoes to the pan & stir well. Turn the heat down low & let the sauce cook away & thicken up for 10-15 minutes.
To cook the meatballs, heat a large non stick frying pan over a medium heat & add a touch of oil. Add the meatballs and fry for around 8 minutes. When the meatballs are firm and golden, and the tomato sauce to the frying pan and turn the heat down low. Make sure the meatballs are coated well in the sauce.
Serve the meatballs with pasta, and a little 'parmesan'. enjoy
Share this recipe