Serves: makes 2-3 medium pizzas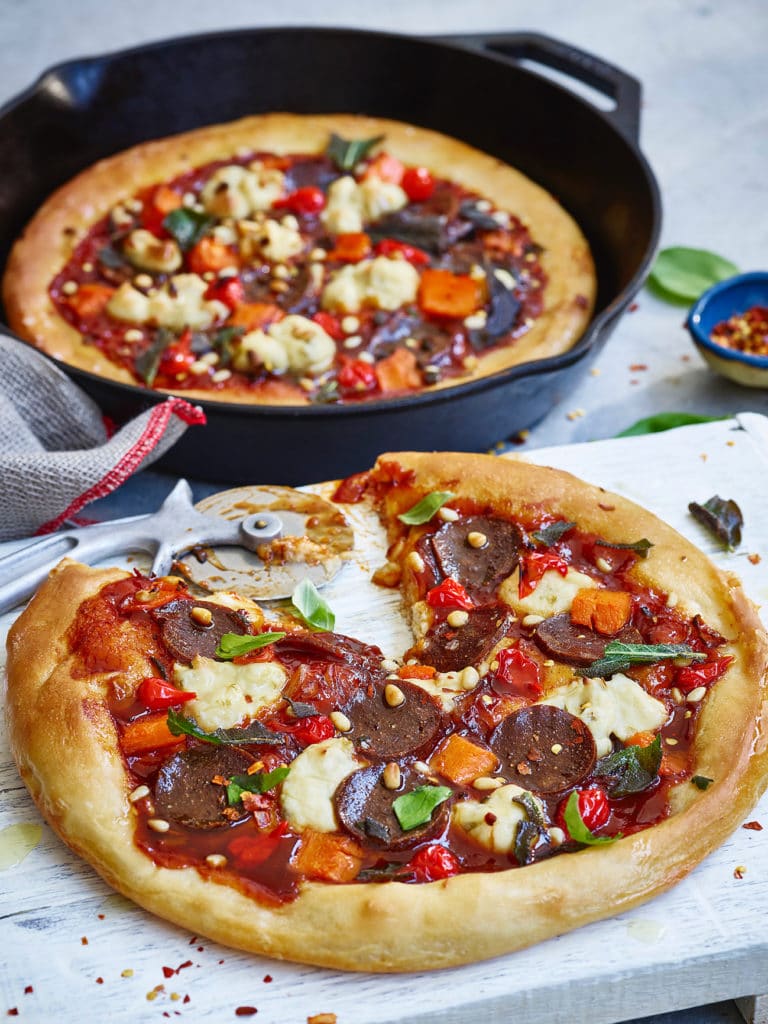 Ingredients
Pizza Dough
7g Dried Fast Active Yeast
1 & 1/2 cups/375ml Luke Warm Water
2 tbs Extra Virgin Olive Oil
3 cups/360g Strong White Bread Flour or Bread Flour of your Choice
2 tsp Sea Salt 
Jalapeno Vegan Mozzarella
1 cup/112g Raw Cashews
1 cup/250ml Non Dairy Milk
3 tbs Tapioca Starch
1 tbs Nutritional Yeast
1/4 tsp Dried Onion Powder
2 tsp White Miso
1/4 tsp Garlic Powder
Pinch Sea Salt
2 tbs Pickled Jalapeno Chillis, Finely Chopped
BBQ Sauce
1 cup/250ml Shop bought or homemade BBQ Sauce
Toppings I used
1 cup/200g Butternut Squash, cubed & roasted
1 tbs CHilli Flakes
Homemade Pepperoni recipe here 
Handful Fresh Sage Leaves
2 tbs Pine Nuts
Garnish
A little Basil after baking
for the pizza dough;
Whisk together the luke warm water with the yeast & olive oil. Leave for around 5 mins until bubbly.
Meanwhile, mix together the flour and salt in a large mixing bowl or bread mixer. Make a well in the middle then add the water & yeast mix. Stir/Mix until the mix starts combining.
Once everything has come together, turn the dough out onto a lightly floured work surface. Now it's time to knead, if using a bread mixer, use your dough hook and mix/knead for 5 minutes.
By hand you need to knead for around 8 minutes. The dough should be beautifully smooth and elastic after the 8 mins. Add a little flour whilst kneading if you feel its way too sticky.
Once kneaded, portion the dough into 3 pieces and form each piece into a ball. Place the dough into 3 lightly oiled bowls & cover over with cling film.
Leave the dough to rise somewhere warm for around 45 minutes or until they have doubled in size.
Meanwhile make your jalapeño mozzarella.
Soak the cashew nuts for 10 minutes in boiling water, drain away the water then add them to the blender with the rest of the ingredients accept the jalapeños. Blitz the mixture until super smooth, make sure there are no lumps.
Transfer the mixture to a saucepan placed over a low heat & constantly stir using a rubber spatular. Stirring around the edges until it thickens up. Use a whisk to get rid of any lumps that may form. When the cheese is smooth, thick & stringy add the chopped jalapeños then transfer it to a sandwich bag that you can later use as a piping bag to pipe the cheese onto the pizzas.
Pre heat your oven to maximum temperature & lightly grease your oven proof pans, I used cast iron pans, but just something non stick with a metal handle will work.
To build the pizza, lightly flour your work surface then roll a ball of risen dough to a circular shape the same size as your pan. Place the dough into the pan then top with your bbq sauce, cheese and any other toppings of your choice.
Once you've topped the dough, bake your pizza in the oven for 15-20 minutes.
Once baked, make the rest of your pizzas and then serve. I scattered a few basil leaves over the top to garnish.
Share this recipe