Cajun Crispy Tempeh, with BBQ Sauce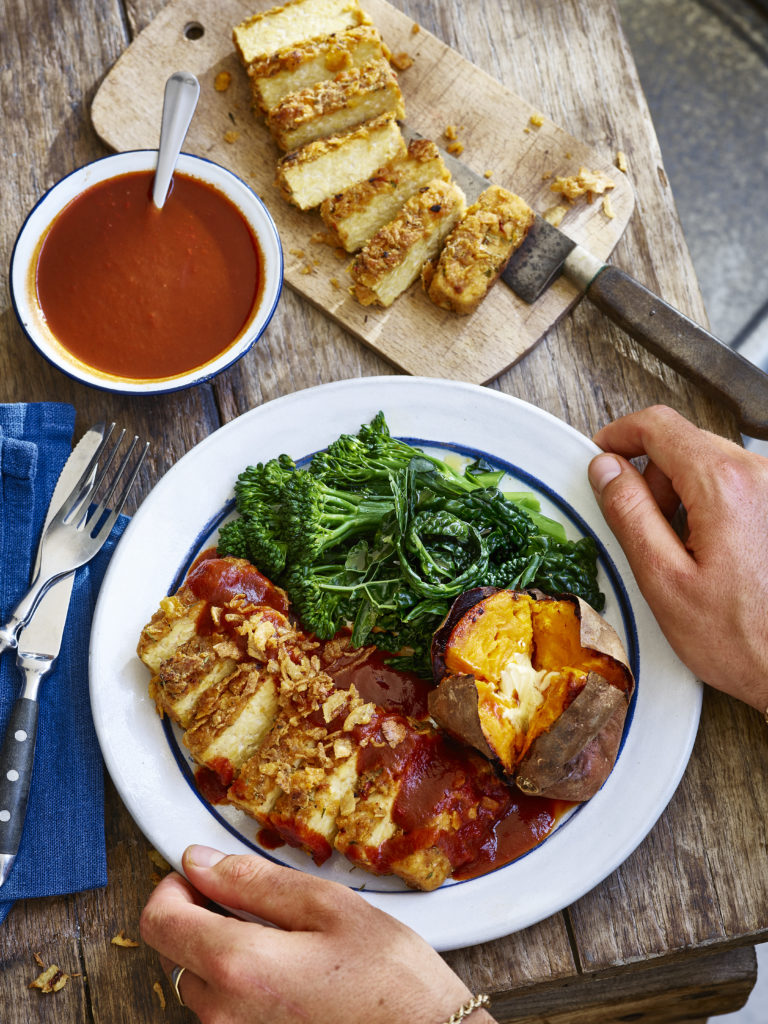 Ingredients
1 Block Plant Power Tempeh, halved lengthways, to create 2 fillets
1 tbs Cooking Oil, for frying
Cajun Coating
1/2 cup Plain Flour
1 cup/25g Corn Flakes, lightly crushed
1 tbs Cajun Spice Mix
1 tbs Mixed Herbs
1 tsp Sea Salt
2 tsp Cracked Black Pepper
Batter1/2 cup/50g Plain flour
3/4 cup/180ml Water
1 tbs Olive Oil
BBQ Sauce
1/2 cup/120ml Tomato Ketchup
1 tbs Maple Syrup
2 tbs Tamari/Soy Sauce
1/4 tsp Cayenne Pepper
1/4 tsp Smoked Paprika
1/4 tsp Dried Garlic Powder
1-2 drops of Liquid Smoke
1/4 cup/60ml Water
Serve with
Greens
Sweet Potato, baked
Pre heat your oven to 180 degrees C and line a baking tray with greaseproof paper.
First up, mix together the coating ingredients, in a shallow bowl.
Whisk together the batter ingredients in another bowl – add enough water to make it a pancake batter style consistency.
Individually dip each tempeh fillet first into the batter then into the cajun coating mixture until they are coated all over, feel free to double dip them to get a thicker coating. Once coated, place the fillets onto the lined baking tray.
Pre heat a large non stick frying pan over a medium heat & add a little oil. When the pan is hot add the tempeh fillets. Fry for 2-3 minutes on each side, or until they're golden. Place the fillets back onto the baking tray and into the oven to bake for 15 minutes.
Meanwhile, to make the bbq sauce, add all the ingredients to a small sauce pan and mix well. Place the pan over a low heat to bubble away for 5 minutes. Stir every now & then.
Once the fillets have baked, slice & serve with baked sweet potato, greens & the bbq sauce drizzled over the top.
Share this recipe