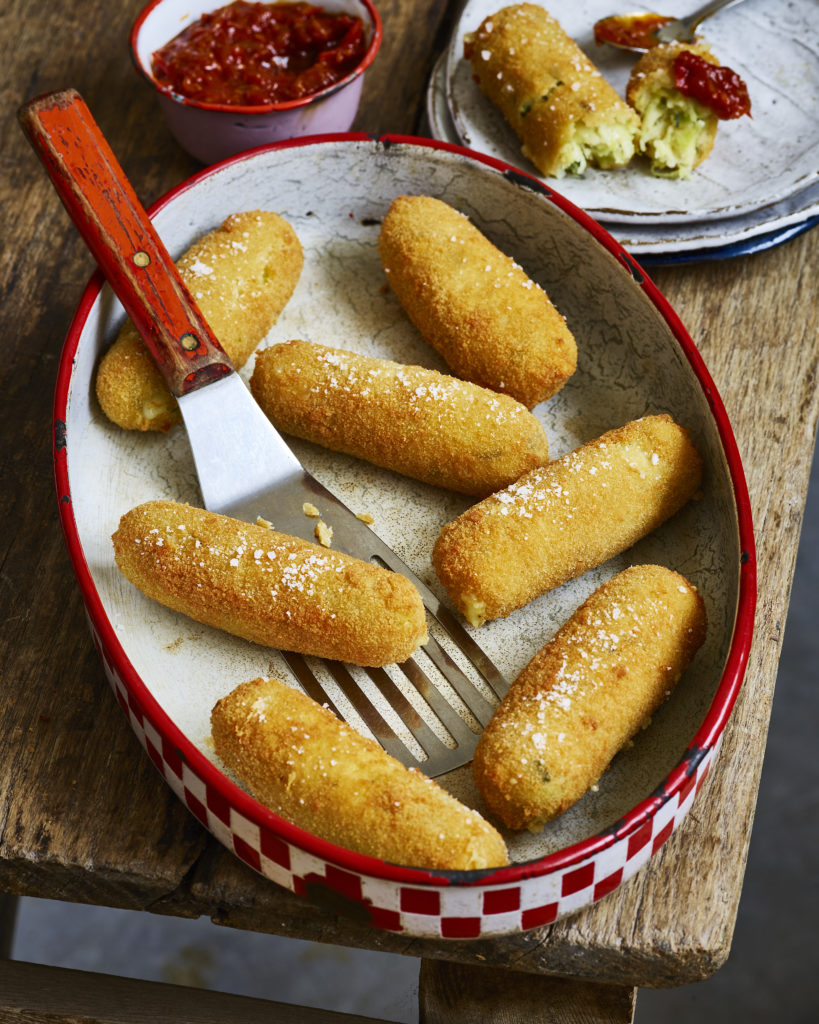 Ingredients
2 tbs Vegetable Oil
1 Large Leek, chopped fine
1 Clove Garlic, minced
Handful Fresh Sage, chopped fine
2 cups/380g Mashed Potato
1 tbs White Miso Paste
1 tbs Mustard
1/2 cup/50g Vegan Cheese, Grated
110g Breadcrumbs
Pinch Sea Salt & Pepper
Coating
1 cup/130g Gram Flour Mixed with 1 cup/240ml Water
1 cup/130g Plain Flour
2 cups/220g Panko Breadcrumbs
Garnish With
Fresh Chives
Relish of your choice
Method
Pre heat your oven to 180 degrees C & line a baking tray with greaseproof paper.
Sweat the leek in the oil in a large frying pan over a medium heat with the garlic & sage, until soft. Then allow to cool.
Add the potato, mustard, cheese & miso to a mixing bowl & stir well.
Add the cooled leeks & breadcrumbs, and mix with your hands until it all comes together.
Portion the mix into equal sizes then form into sausages.
Coat the sausages first in flour, then the gram mixture & finally breadcrumbs.
Once coated, place the sausages onto the lined baking tray. Drizzle a little oil over the sausages and then place the tray into the oven for 30 minutes or until the sausages are golden.
Serve immediately with a relish & a sprinkling of chopped chives.
Share this recipe