Serves: 4
Cooks in: 1 hour (plus marinading time)
Gluten free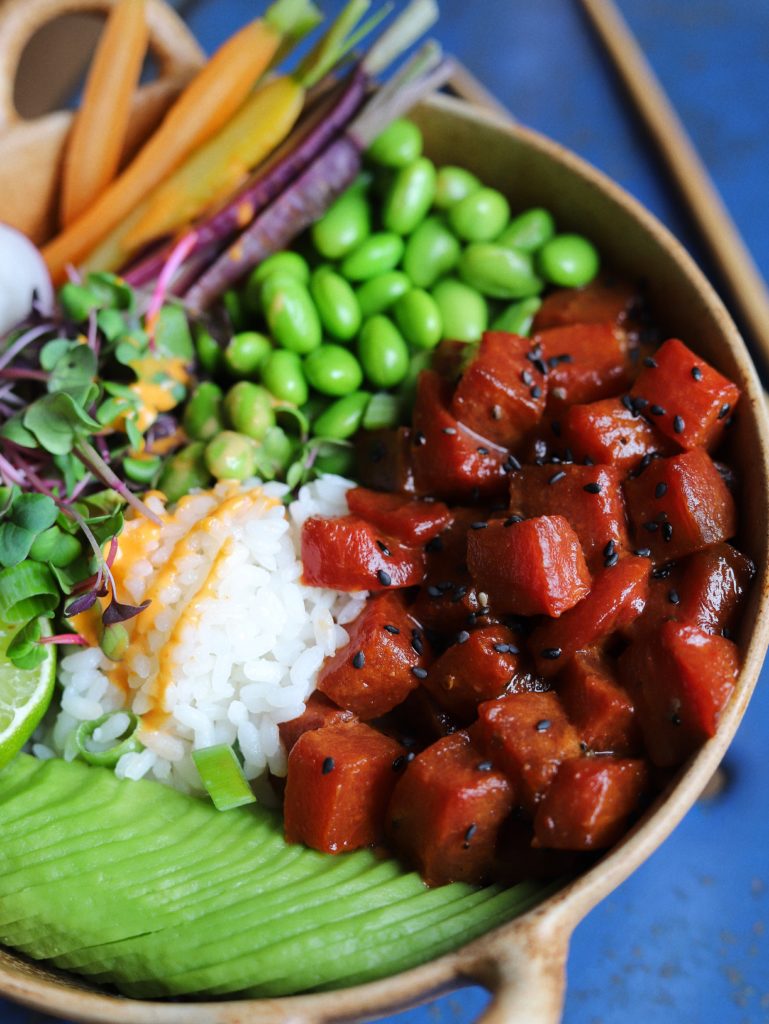 My watermelon poke is so tasty and you will be really surprised with the texture. Make sure you marinate the watermelon for a full day after baking, that way it gets packed full of flavour!
Ingredients
Watermelon Poke 
1 Medium sized Watermelon, seedless if possible, peeled & cubed
Marinade 
2 tsp Tahini
6 tbs cup Soy Sauce or Coconut Amino's
2 tbs Rice Vinegar
Juice 1/2 Lime
1 tsp Dried Chilli Flakes
1 cloves Garlic
1 tbs Sriracha
Thumb Sized Piece Ginger
2 Spring Onions/Scallions
3 tbs Sesame Oil
2 tsp Sea Salt
Serving Suggestions 
Sushi Rice
Avocado
Edamame, shelled
Baby Carrots
Nori
Radishes
Mixed Seeds
Drizzle of Lime Juice
Pre heat your oven to 180 degrees C.
Add the cubed watermelon to 2 non stick baking trays.
Blitz the marinade ingredients until smooth, pour half of the marinade over the water melon & give the trays a toss, making sure the water melon cubes are coated.
Place the watermelon into the oven for around 45 minutes. Stir the trays half way through cooking.
Once cooked add the watermelon to a mixing bowl with the rest of the marinade, stir well then cover the bowl & place it into the fridge to marinade for at least 1 day.
After marinading, serve your watermelon poke chilled with sushi rice & the rest of the garnishes.

 
Share this recipe