Healthier Vegan Cauliflower Mac & Cheese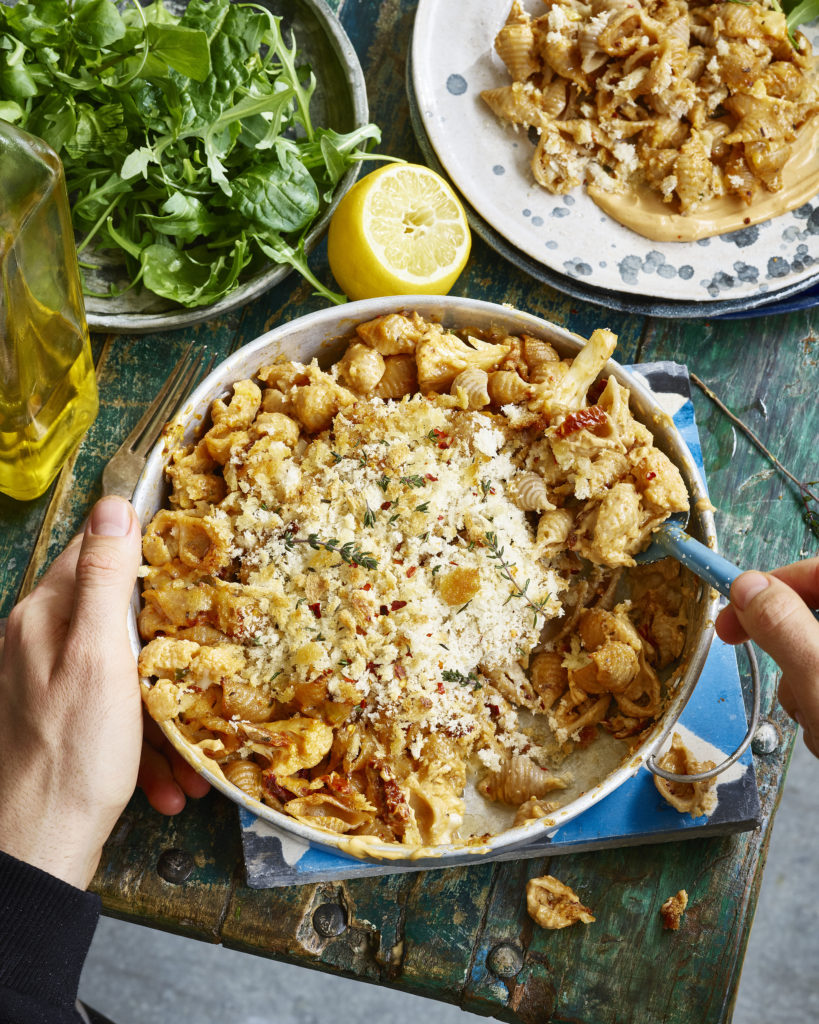 Ingredients
Ingredients
2 tbs Olive Oil
3 Cloves of Garlic, minced
4 Spring Onions, finely chopped
1 Small Head Cauliflower, cut into small florets
Handful Sun-dried Tomatoes, chopped small
2 tsp Dried Thyme
1 tsp Sweet Smoked Paprika
1 tbs  Whole Grain Mustard
3 tbs Plain or Gluten Free Flour
3 cups/750ml Non Dairy Milk
2 tbs of Nutritional Yeast
3/4 cup/75g Vegan Cheese, grated
1 can Chickpeas, drained
Juice Half a Lemon
Salt & pepper to season
2 cups/250g of Cooked Macaroni pasta or Pasta of your choice
Topping
1 cup/100g Breadcrumbs
2 Sprigs Fresh Thyme
Pre heat your oven to 180 degrees C.
Place a large saucepan over a low heat and add a little oil followed by the garlic, spring onions, cauliflower & sun-dried tomatoes. Saute the mixture for 3-4 minutes until everything has soften slightly. Next add the thyme, paprika & mustard & cook for another minute before adding the flour. Continuously stir the mixture when you've added the flour so that it does not burn. After a couple of minutes, stir in the non dairy milk, nutritional yeast & vegan cheese.
Let the liquid bubble away for 4-5 minutes or until it is thick & creamy. Stir in the chickpeas, lemon juice and cooked pasta.
Transfer the mixture to a baking dish & sprinkle over breadcrumbs & fresh thyme leaves.
Place the dish into the oven for 10-15 minutes or until the topping has gone crisp & golden.
Serve with salad or greens.
Share this recipe