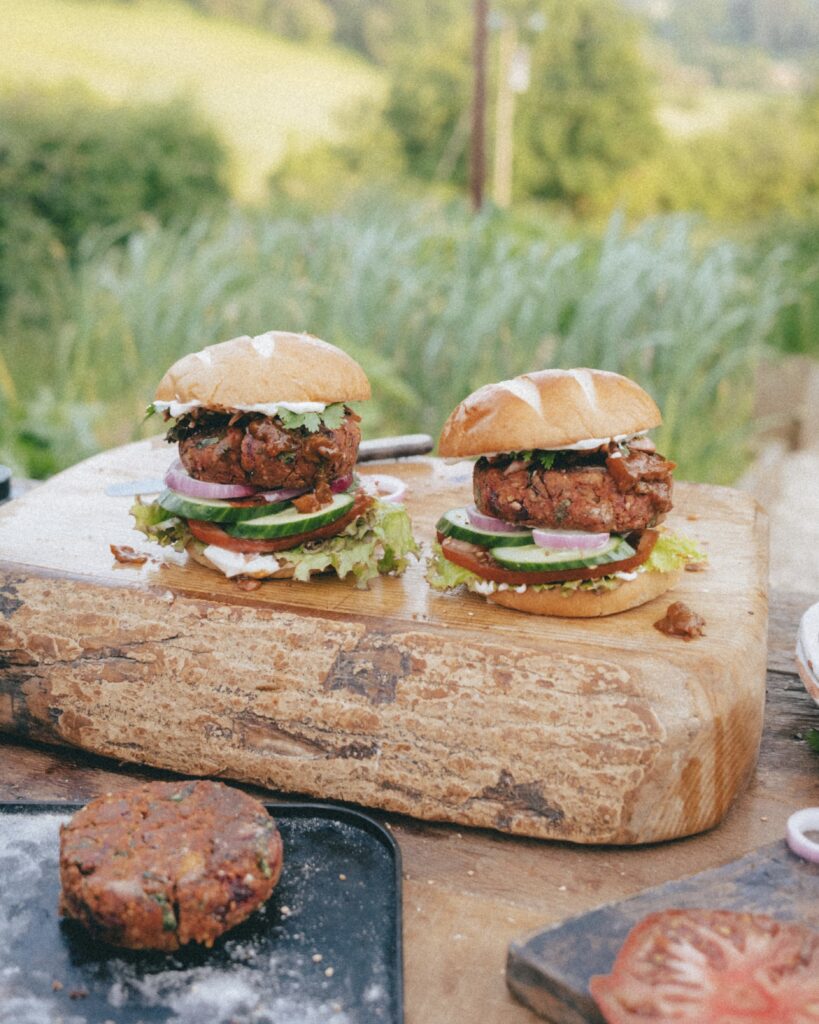 Ingredients
2 Cans Mixed Beans, drained & rinsed 
Handful of Fresh Coriander 
3/4 cup/140g Cooked Beetroot
3 tbs Coconut Aminos or Soy Sauce 
1 Tbs Garlic Granules,
Thumb-sized Piece Ginger 
2 tbs Toasted Sesame Seeds 
4 tbs Hemp Seeds 
Zest & Juice of Half a Lime
6 Tbs Buckwheat Flour
1 tsp Sea Salt
1 tbs Chilli Flakes 
1 tsp Chinese 5 Spice 
Salad
1 Beef Tomato, Sliced Fine
3 inch Cucumber, sliced
Handful Fresh Coriander 
1/2 Red Onion, sliced
Lettuce 
Serve with
4 Toasted Burger Buns
4 tbs Tangy Tomato Sauce
Homemade Kimchi   
Simply add the beans, tomato puree, beets, chilli flakes, hemp seeds, coconut aminos or soy sauce, zest & juice of a lime, sesame seeds, ground ginger, Chinese 5 spice & flour to your food processor & pulse until roughly chopped. Do not over blend or it'll become hummus!  
Lightly flour your hands and form the mix into burgers.
Pre heat your oven to 180 degrees C. 
Fry your burgers in a little oil until golden on each side then place them onto a baking tray & into your oven to cook through, which should take about 15 minutes. 
Meanwhile prepare your garnishes. When the burgers are cooked, build your burgers & enjoy. They keep for 3-4 days in the fridge so make for great meal prep. 
Share this recipe