Stuffed Portobello Mushrooms with Summer Salad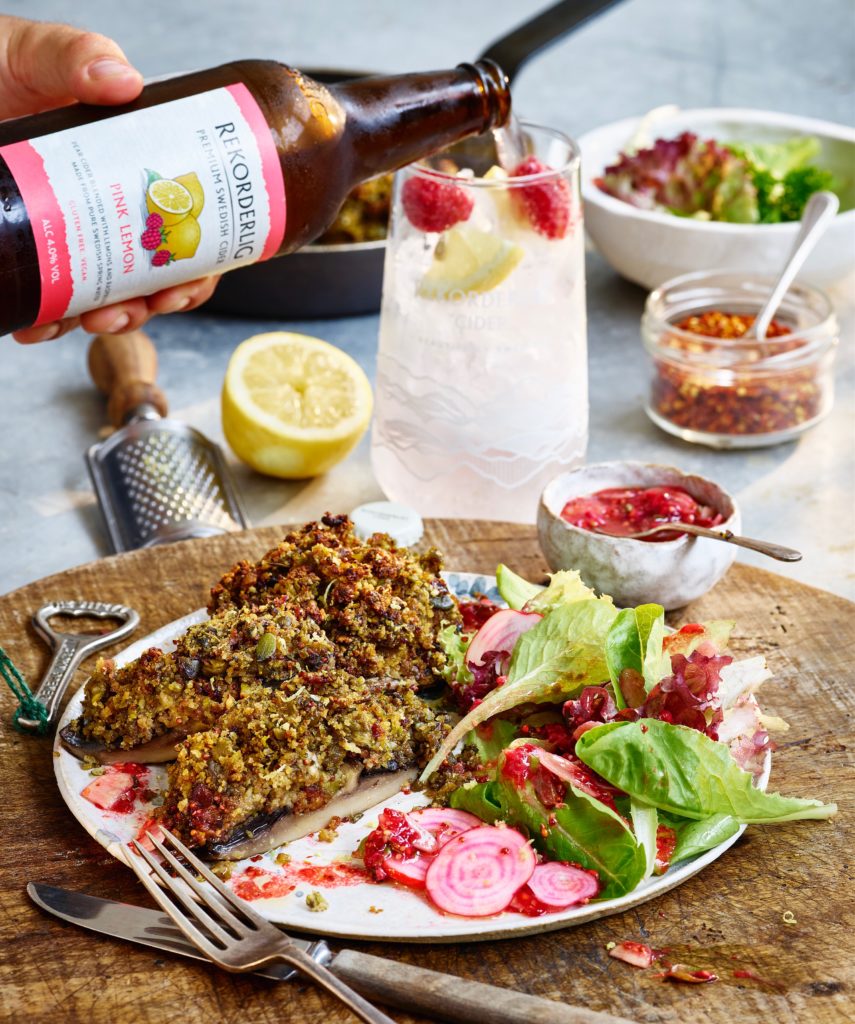 Beautiful summer dish for you, stuffed Herb Crusted Stuffed Portobello Mushrooms. I created this lovely summer recipe for Rekordelig & their new Rekordelig Pink Lemon Cider 😻 Perfect food & drink for the warmer weather! #AD #DrinkResponsibly  
Ingredients
2 tbs Olive Oil 
6 Large Portobello Mushrooms 
1 Red Onion, chopped fine  
3 cloves Garlic, minced 
1 Large Handful Mixed Soft herbs, such as oregano, parley, thyme, sage, basil. 
2 tbs Balsamic Vinegar 
1 tbs Capers 
1 & 1/2 cups/180g Breadcrumbs 
1/2 cup/60g Walnuts, blitzed 
Zest & Juice Half A Lemon 
1 tbs Wholegrain Mustard 
Salad 
Salad Leaves   
1 Raw Beetroot, sliced fine using a mandolin (alternatively a cooked beetroot, chopped)
Dressing 
3 tbs Olive Oil
1 tbs White Wine Vinegar 
1 tbs Whole Grain Mustard 
2 tbs Fresh Herbs Chopped 
2 tbs Flaked Almonds
8 Raspberries 
Juice & Zest Half a Lemon 
Method
Pre heat your BBQ or oven to 180 degrees C.
Gently remove the stalks from the mushrooms & reserve them for the stuffing.
Grill on your bbq or bake the mushroom caps for 10 minutes. This will ensure the get nice and meaty.
Meanwhile in a non stick frying pan, placed over a medium heat add the chopped onion, mushrooms stalks (chopped finely) & minced garlic. Sauté the mixture for 3-4 minutes until softened.
Add the breadcrumbs, capers, herbs & walnuts to a food processor and blitz until fine.
Transfer the breadcrumb mixture to a mixing bowl along with the sautéed onion mixture. Mix everything together along with the balsamic vinegar, zest & juice of a lemon + the wholegrain mustard. This is now ready to stuff inside the mushroom caps.
Add 3-4 tbs of the stuffing to each mushroom cap & lightly press it in using the back of a spoon.
You can either the finish cooking the mushrooms in a cool bbq with the lid shut or ideally on a baking tray as the mushrooms can be quite delicate – for 10-12 minutes. The smokey aroma adds great flavour. Or alternatively finish them in your oven for 15 minutes.
To make the salad dressing simple crush the raspberries up in small mixing bowl then stir in the rest of the ingredients. Dress your lettuce leaves & any other salad ingredients with plenty of the lovely dressing.
Serve the mushrooms on a sunny day with plenty of salad.
Share this recipe