Stinging Nettle & Chickpea Scramble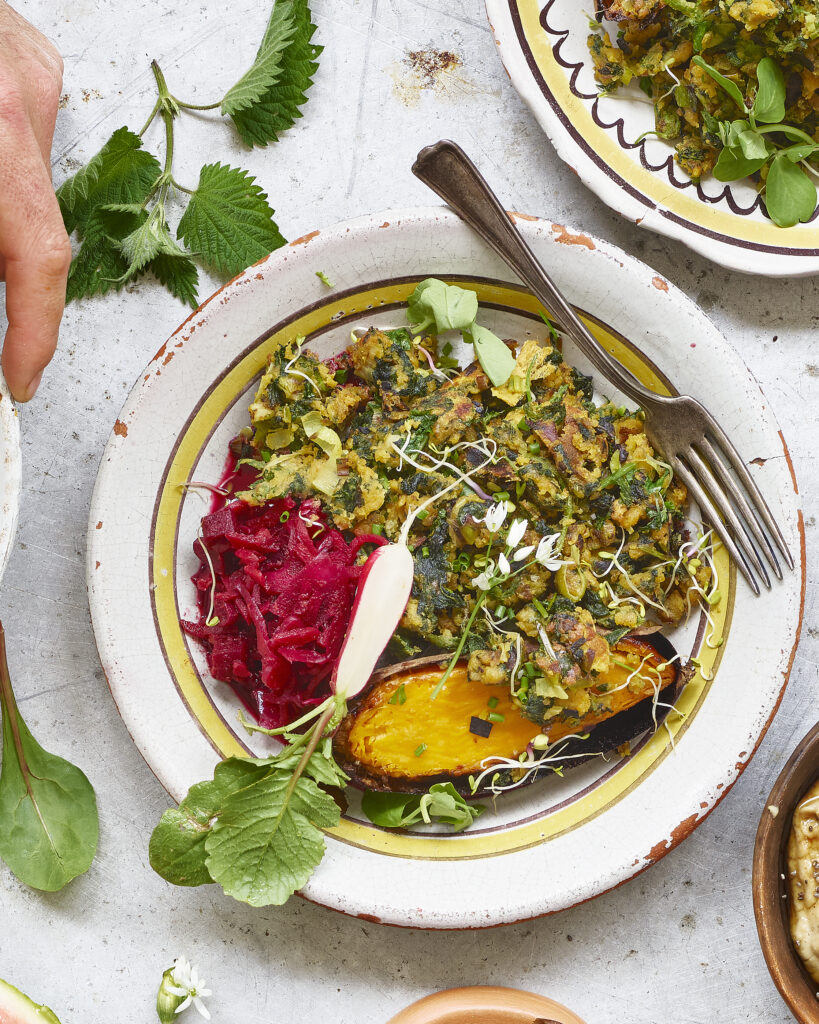 Ingredients
1 cup/125g Chickpea Flour
1 cup/250ml Water 
1/2 cup/125ml Non Dairy Milk 
1/2 tsp Ground Turmeric 
1 tsp Ground Cumin
1 tsp Smoked Paprika 
1 tsp Ground Coriander 
Pinch Sea Salt & Pepper 
3 tbs Olive Oil 
1 Leek, chopped fine
2 cloves of Garlic, minced 
Big Handful Nettle Leaves, washed & chopped roughly 
Juice & Zest of a Lemon 
Optional Servings
Sweet Potato Wedges 
Salad 
Sauerkraut 
Hummus or Tahini Dressing 
Pumpkin Seeds 
Whisk together the chickpea flour with the water, milk spices & seasoning until its a pancake batter style consistency. Set aside for 5 minutes.
Pre heat a non stick frying pan over a medium heat & add the olive oil. When the pan is hot add the leek, garlic & nettle leaves. Sauté for 3-4 minutes before stirring through the batter. 
Don't keep stirring the batter because it will clump up, let it cook for a minute, then stir, & repeat the process until its golden & resembles a scrabble. Use your spoon to chop/break up any large chunks. They longer you sauté the mix, the tasty it is. 
Before serves stir through the lemon zest & juice & add a little more seasoning if its needed. 
Serve your scramble on toast or with sweet potato wedges. I also like to add tahini, sauerkraut, salad & seeds to my plate. 
Share this recipe