STICKY BRAISED JACKFRUIT BAO
Serves: 6-8
Cooks in: 90 minutes plus rising time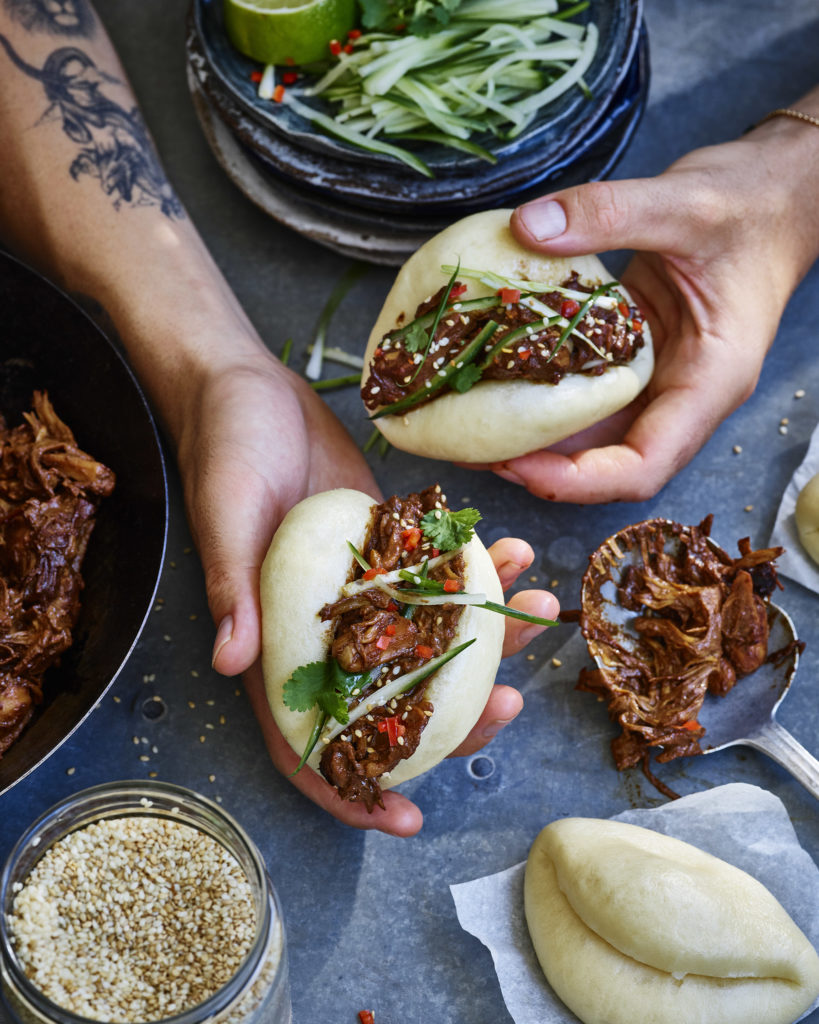 The best mouthful of food I have had in the last 5 years. Bao originated in Taiwan & is simply one of my favourite things to eat & make before and after going vegan. I found that my vegan version is just as good as my non vegan. So I hope you enjoy. Support your local asian supermarkets and pick up any specialist ingredients from them.
Ingredients
Bao 
4 & 1/4 cups/510g All Purpose/Plain Flour
2 tbs Caster Sugar
Pinch Sea Salt
1 tsp Baking Powder
1 & 1/2 tsp Active Dried Yeast
1 cup/250ml Luke Warm Water
1/2 cup/125ml Luke Warm Non Dairy Milk
Sticky Jackfruit Filling
1/2 cup Dried Mushrooms, soaked in 1 & 1/2 cup/375ml Hot Water
3/4 cup/180ml tbs Reduced Salt Soy Sauce
1/2 cup Hoisin Sauce
6 cloves Garlic, finely chopped
1 Onion, finely chopped
Thumb-sized Piece Ginger, finely chopped
1 Cinnamon Stick
4 tbs Maple Syrup
1/4 cup/60ml Rice Wine Vinegar
1 tbs Sesame Oil
1 Red Chilli or leave out if you don't like too much spice
1 tbs Gochujang (Korean Red Pepper Paste – you can replace with an additional fresh red chilli)
Jackfruit
1 tbs Sesame Oil
1 tsp Sea Salt
1 tbs Chinese 5 Spice
2 cans Canned Young Jackfruit, drained then, liquid squeezed out using a kitchen towel (see tutorial here)
3 Heaped tbs All Purpose/Plain Flour
Serve with
Finely sliced Cucumber
Finely sliced Red Chilli
Fresh Coriander
Sesame Seeds
Finely sliced Spring Onions
First up prepare the dough for the bao.
Mix together the flour and salt, yeast, sugar & baking powder in a large mixing bowl. Make a well in the middle then add the milk & water. Stir with a fork until the mix starts combining. All fours absorb liquid differently so, if your mix looks too dry and a little extra liquid & if it looks too wet add a little extra flour.
Once everything has come together, turn the dough out onto a lightly floured work surface and knead for around 6-8 minutes. The dough should be beautifully smooth and elastic after kneading.
Place the dough back into the mixing bowl this time make sure you have lightly oiled the bottom of the bowl.
Cover over the bowl with cling film and leave somewhere warm for a couple of hours or until its doubled in size.
Once the dough has risen, knock the dough back and knead for a couple of minutes. Portion the dough up into 12 pieces, I weigh each piece to get equal sized buns. For large buns aim for around 70-80g in weight. Roll each piece of dough into a ball.
Then with a small rolling pin, roll each piece/ball into a small oval shape around 4 inches long, leaving a thicker lip on each end. Please see the above tutorial video for more details.
Fold the oval in half & repeat until you've used all the balls.
Place the bao onto individual small squares of greaseproof paper then place them some where warm to rise & double in size. This usually takes an hour & I let mine rise inside the bamboo steaming baskets in which, I later cook them in.
Meanwhile make the sticky braised jackfruit filling.
Add the soy sauce, hoisin, garlic, onion, ginger, chilli, finely chopped rehydrated mushrooms, vinegar, gochujang, cinnamon stick, maple and sesame oil to a medium saucepan along with the liquid reserved from soaking the dried mushrooms – adding the liquid is very important as if you don't the sauce will be very salty.
Place the pan over a low heat to bubble away for 20 minutes. Stir every now and then.
Meanwhile, place a large non stick frying pan over a medium heat and add a little sesame oil.
When the pan is hot add the jackfruit and sauté for 3-4 minutes before adding the Chinese 5 spice.
Keep stirring the jackfruit and try and almost pan roast it so that it gets lovely and caramelised, but do not burn it! Turn the heat down low & stir in the flour. Let the mix cook away for a couple more minutes before adding the jackfruit to the soy sauce mixture.
The flour on the jackfruit will help thicken the liquid, turning it into a sticky glaze. Let the jackfruit cook away in the glaze for 5-10 more minutes and during that time cook your buns.
Place a wok filled a quarter high with water over a medium heat and when the water comes to a simmer place the steaming baskets filled with the bao's on top. Let the bao cook away for around 8-10 minutes or until light and fluffy.
Meanwhile, prepare your garnishes as you will want to serve the bao right away after cooking.
Once the bao are cooked simple open them up & fill with your beautiful braised jackfruit & garnishes.
Share this recipe