Pumpkin Dhal & Peshwari Naan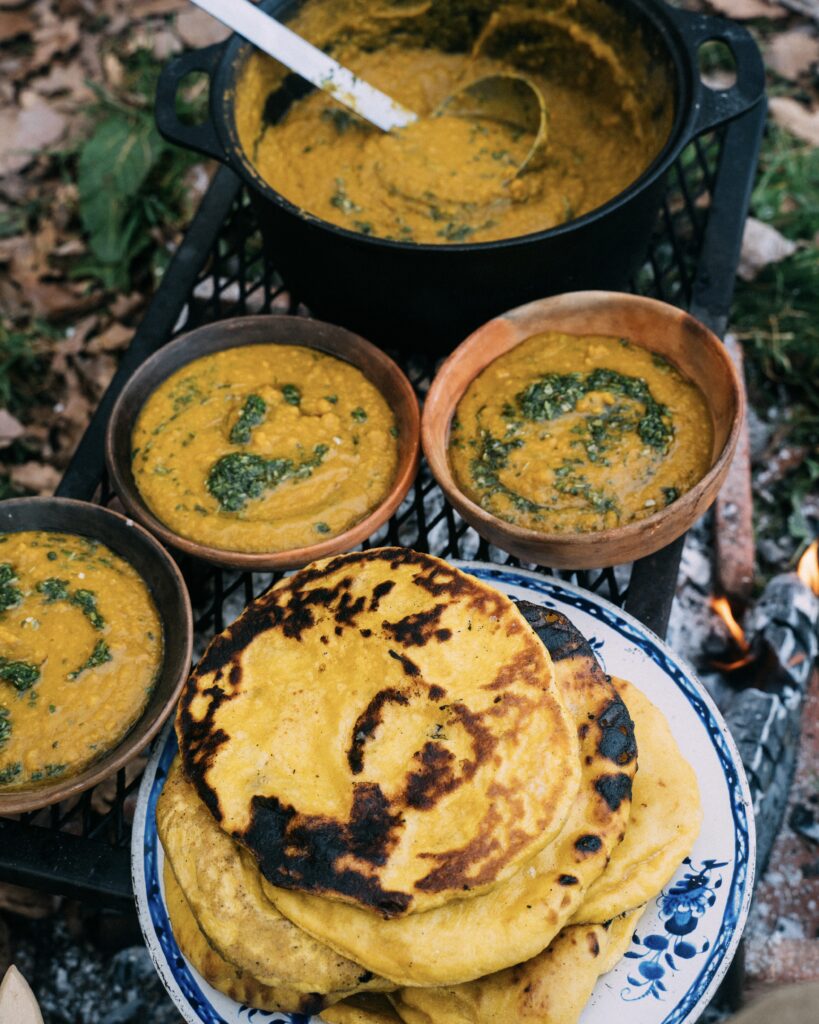 In my latest episode I make campfire pumpkin dahl with my home-grown pumpkin, you can make this recipe from the comfort of your kitchen. It's a hearty and flavourful dish and features red lentils, pumpkin, and warming spices like mustard seeds, coriander, and turmeric. I add coconut milk for creaminess and a touch of sweetness then finish it with a cilantro dressing.
I also put my spin on a peshwari naan bread, using a unique way of emulating the flavour of a tandoor oven – see the video below.
Peshwari naan is a type of naan bread that is stuffed with a sweet and nutty filling. The name "Peshwari" comes from the city of Peshawar, which is located in the northwest region of Pakistan, and is known for its rich culinary traditions.
Ingredients
Dhal
3 Tbs Olive Oil 
3 Leeks, finely chopped 
5 Cloves Garlic, finely chopped
2 Sticks Celery, finely chopped
Thumb-sized Piece Ginger, finely chopped
1 Green Chilli, finely chopped 
5 Fresh or Dried Curry Leaves 
1 tsp Mustard Seeds 
1 tsp Coriander Seeds 
2 tsp Ground Turmeric 
2 tsp Sea Salt 
500g/17oz Fresh Pumpkin, peeled & cubed 
1 cup/190g Yellow Split Peas, rinsed  
4 cups/1 Litre Vegetable Stock  
1 can Coconut Milk
Juice 1/2 a Lemon
1 tbs Garam Masala 
Naan
3 cups/360g Strong White Bread Flour 
1 & 1/2 cups/375ml Luke Warm Water
7g/2 tsp Dried Fast Active Yeast
3 tbs Extra Virgin Olive Oil 
1 tsp Ground Turmeric 
2 tsp Sea Salt 
4 tbs Raisins
5 tbs Desiccated Coconut
4 tbs Coconut Flour
4 tbs Almond Flour/Ground Almonds 
4 tbs Maple Syrup
1/2 cup/125ml Almond Milk 
Coriander Dressing
Big Handful Fresh Coriander 
Big Handful Fresh Coriander 
2 Cloves Garlic, minced
1 Green Chilli 
Juice 1 Lemon
1/4 cup/60ml Extra Virgin Olive Oil 
Pinch Sea Salt 
To make the dahl, sauté the leeks, garlic, chilli, celery & ginger over a medium heat with the olive oil for around 5 minutes. 
 Then add the curry leaves, turmeric, salt, mustard & coriander seeds. Cook for a couple more minutes before adding the pumpkin. 
Pop a lid on the pan and turn the heat down low, let the mix sweat down for 5 minutes then add the vegetable stock & rinsed split peas. Let the dahl bubble away for 35 minutes. Stir every now and then.
When the peas have cooked, stir through the coconut milk, lemon & garam masala. Add a little extra salt if it needs it then blitz until smooth but still a little textured (you don't have to blitz at all, if you don't want to).
To make the naan bread, mix together the lukewarm water with the yeast. Leave for around 5 mins until bubbly.
Meanwhile, mix together the flour, turmeric and salt in a large mixing bowl or bread mixer. 
Make a well in the middle then add the water & yeast mix + the olive oil. Stir until the mix starts combining.
Once everything has come together, turn the dough out onto a lightly floured work surface. 
Now it's time to knead, if using a bread mixer, use your dough hook and mix/knead for 5 minutes.
By hand, knead for around 5 minutes. The dough should be beautifully smooth and elastic after the 8 mins. Add a little flour whilst kneading if you feel it's too sticky. But not too much!
Place the dough into a lightly oiled bowl & cover over with a damp tea towel. Set the dough aside to rise (double in size) for 1-2 hours. 
Meanwhile for the filling mix the raisins, coconut, coconut flour, almond flour, maple & almond milk in a small mixing bowl to form a paste. Set aside until you're ready to use. 
When the dough has risen, turn the dough out onto a lightly floured work surface & lightly knead for a minute. Portion the the dough into 8 equal sized pieces. 
To fill the dough, either stretch the dough with  floured hands or roll the dough out into around 3mm thick into a disc shape. Pick up a couple tablespoons of the coconut filling and place into the centre of the dough, pick up the edges so the filling is encased and sealed with in the dough. 
Reapeat until you've stuffed all the dough balls. 
To cook the naan, place a cast iron pan over a medium heat. 
Roll the dough into your desired shape, ideally around 3mm thick. 
Before cooking each naan, add a splash of water, then then naan. Let the naan rise up slightly & the water evaporate. The water will make the bread stick to the pan, allowing you to turn the pan upside down exposing it to the flame. Which will offer a charred/tandoor inspired flavour. If you're not cooking over a fire or gas, simply skip the water step & just cook the bread on both sides for 3-4 minutes using a bit of oil. 
When your breads are light, fluffy & coloured. They're ready.
For the dressing, simply stir all the ingredients together.
Share this recipe