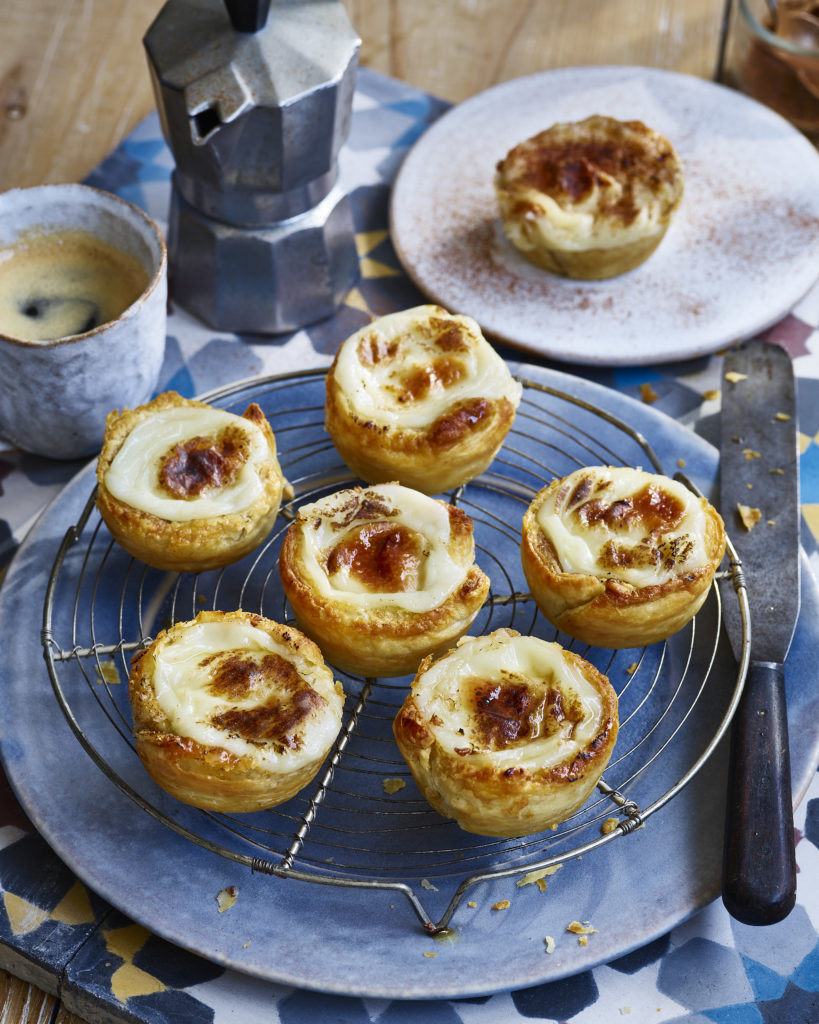 Ingredients
1 Roll Ready Roll Puff Pastry
2 tbs Ground Cinnamon
3 tbs Plain Flour, for dusting
Custard
1 tin of Coconut Milk or 1 & 1/2 cups Soy or Oat Cream.
1 tbs Vanilla Essence
1 cup/240ml of Non Dairy Milk
5 Tbs Cornflour/Starch
4 Tbs Icing Sugar
Pre heat your oven to 180 degrees C & lightly grease a non stick muffin tray.
Dust your work surface with a little flour, then roll out your pasty into a large rectangle a couple mm thick.
Sprinkle over the cinnamon covering all of the pastry.
Tightly roll up the pastry width ways into a log shape then cut the log into 8 rounds.
Roll each round into a disc shape around 10cm in diameter then press the rounds into the muffin tray holes, making sure the pastry is covering all the way up the sides.
Place the tray into your oven to bake for 10 minutes.
Meanwhile, add the coconut milk to a saucepan with the vanilla and place the pan over a low heat. Bring the coconut milk to a simmer.
In a mixing bowl, whisk together the non dairy milk, cornflour & icing sugar until smooth.
Add the cornflour mix to the saucepan & mix until it's thick & creamy. I alternate between a rubber spatular & a whisk to stop lumps from forming. It should take around 5-6 minutes for your custard to thicken up. Turn off the heat once thick.
Remove the pastry from the oven then using a little spoon, flatten the base of the pastry if it's risen high, making more room for custard.
Spoon custard into each pastry case then place the filled tarts into the oven to colour on top for 15-20 minutes. Be careful not to let your pastry burn.
Once golden on top, remove the tarts from the oven then leave them to stand for 10 minutes before removing them from the tray & placing them onto a wire rack to completely cool.
The tarts will keep fresh if covered for 2 days.
Share this recipe