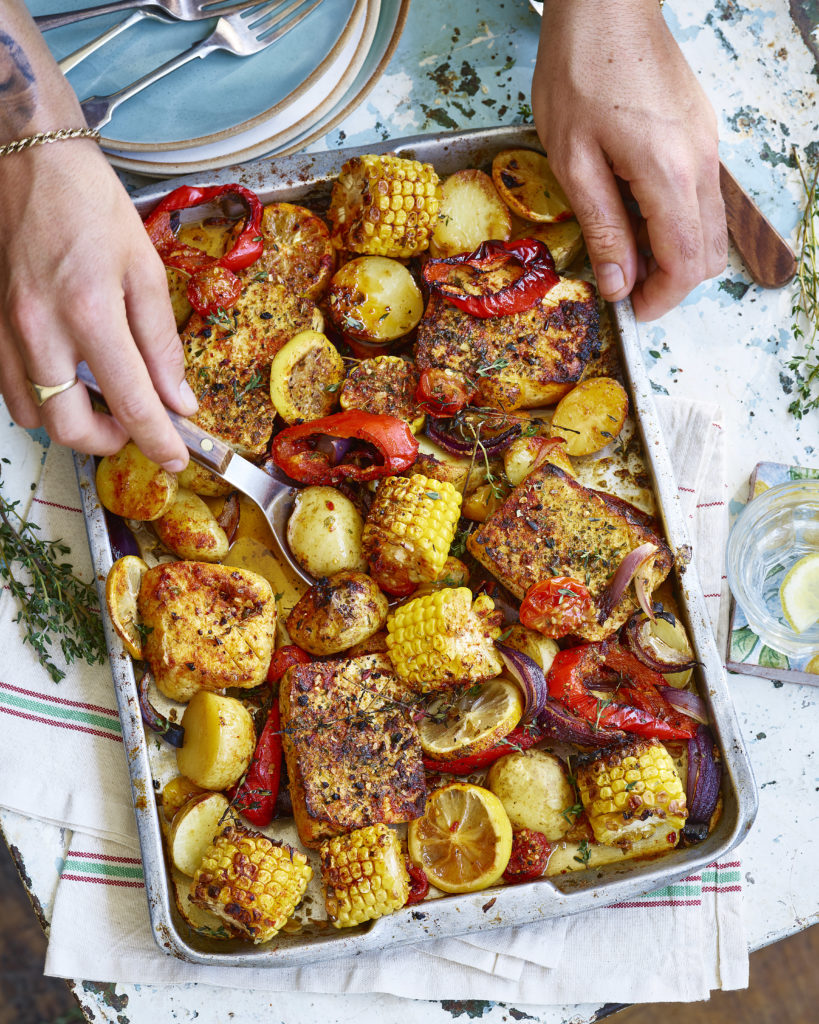 Ingredients
2 Large Blocks Extra Firm Tofu, cut into 2cm steaks & patted dry
2 tsp Sweet Smoked Paprika
1 tbs Dried Oregano
1 tsp Ground Ginger
2 tsp Garlic Powder 
1 tsp Cayenne Pepper 
2 tbs Maple Syrup
Juice & Zest of 1 Lemon
2 tbs Olive Oil
1 Red Pepper, deseeded & cut into 2cm rings
1 Red Onion, peeled & quartered 
10-12 New Potatoes, washed & halved 
3 Sprigs Fresh Thyme, use dried if you can't get fresh + a little extra for garnishing
1 Lemon, Halved
12 Cherry Tomatoes, halved
2 Corn on The Cob, halved
Pinch Sea Salt & Pepper 
Pre heat your oven to 180 degrees C.
Cut your Tofu into 2cm filets & pat them dry with kitchen paper. Lightly score the tofu filets so they absorb more flavour when they're roasting.
Add all the ingredients to an oven proof baking dish & give the tray a good shake to mix everything up.
Place the dish into the oven to roast for 35-45 minutes. Use a fork to test if the potatoes are cooked before serving.
Once baked serve right away garnished with some fresh thyme leaves.
Share this recipe