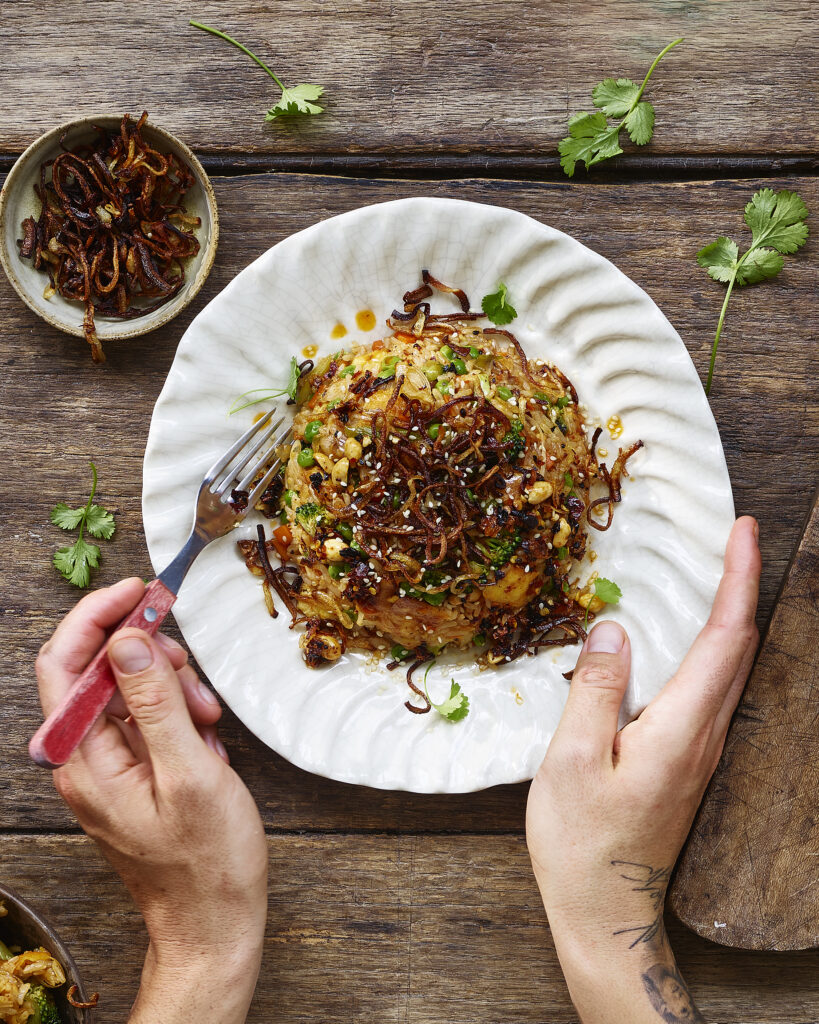 Ingredients
'Egg'
1/2 block/150g Tofu, patted dry 
5 tbs Chickpea Flour 
1/2 tsp Baking Powder
1/4 tsp Ground Turmeric 
1 tbs Nutritional Yeast
1/4 tsp Kala Namak (optional) gives the omelette an eggy taste 
Pinch tsp Sea Salt
3/4 cup/180ml Non Dairy Milk
300g Jasmine Rice, cooked to packet instructions 
1 Onion, sliced fine 
2 Garlic Cloves, sliced fine 
1 tbs Ginger
1 Carrot, peeled, sliced fine 
1 Broccoli, cut into small florets  
1 cup Frozen Peas 
2 tbs Soy Sauce 
1 tbs Sriracha 
Garnish 
Coriander 
Chilli Oil
Add all of the egg ingredients to a blender & blitz to a smooth batter. 
Place a non stick pan or wok over a medium heat and add the oil. Fry the onions & garlic until golden and crispy then remove them & place them onto a plate lined with kitchen paper. 
In the same pan with the heat turned down low, pour in the 'egg' mixture, and use the back of a large spoon to spread it out evenly. 
Cook the 'omelette' for 4-5 minutes before flipping it over and cooking for a further 3 minutes. 
Remove the omelette from the pan & turn the heat back up clean out the pan & add a little more oil. 
Stir fry the ginger, carrot, broccoli & peas for 3-4 minutes. 
Meanwhile chop the 'omelette' into small pieces & add it to the pan, along with the rice, soy sauce & sriracha.
Stir fry the mixture for a further 2 minutes before serving up.
Top the rice with the crispy onion and garlic + fresh coriander, chilli oil & sesame seeds.
Share this recipe