Serves: 6
Cooks in: 30 minutes plus setting time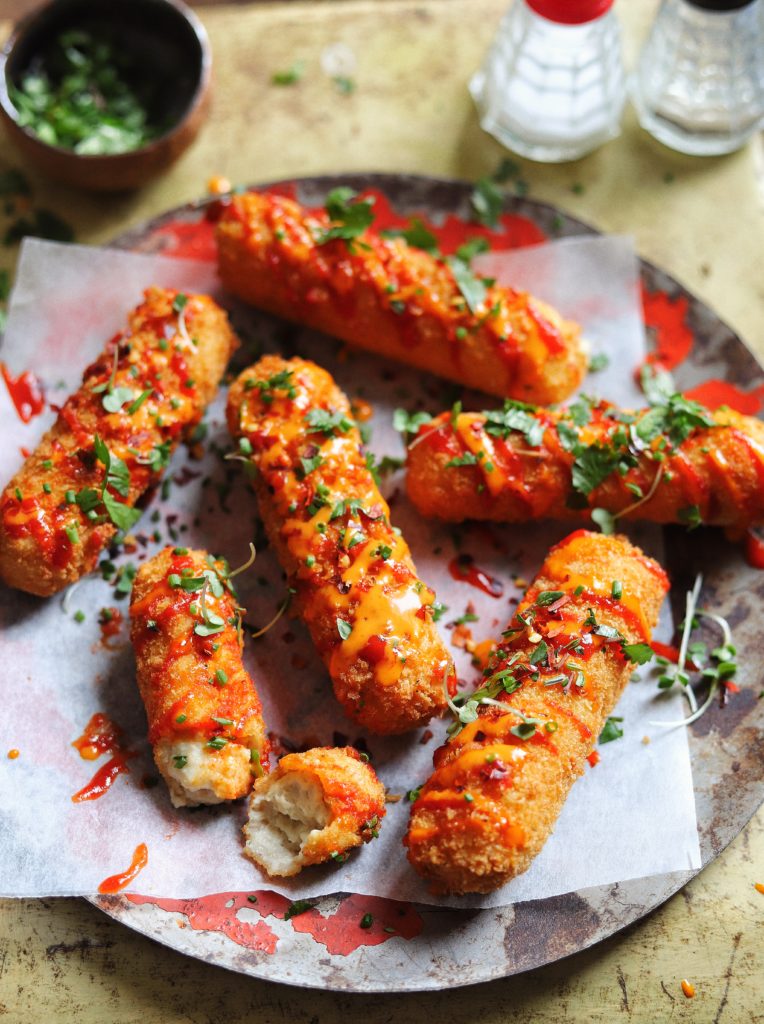 Cheesy, melty, stringy vegan mozzarella, coated in crispy breadcrumbs.
Ingredients
Mozzarella 
1 cup/240g Raw Cashews
2 cup/480ml Cold Non Dairy Milk
5 tbs Tapioca Starch
2 tbs Nutritional Yeast
1/2 tsp Onion Salt
2 tsp White Miso Paste
Juice of half a Fresh Lemon Juice
White Pepper
Pinch Garlic Powder
Coating 
1/2 cup/65g Plain Flour
1 cup/130g Gram Flour, mixed with 1 cups water.
1 cup/100g Panko  
Serve with
Sriracha Mayo
Fresh Herbs
Soak the cashew nuts for 20 minutes in boiling water, drain away the water then add them to the blender with the rest of the ingredients – Blitz until smooth.
Add the mix to a saucepan & heat gently, whilst stirring until its thick & stringy.
Divide the mix into 8 onto lightly floured lined baking trays.
Place the trays into the fridge  for 30 minutes until the cheese has firmed up. Once firm, shaped each piece of cheese into a sausage shape using your hands (lightly floured). Individually wrap the sausages tightly in cling film, twisting the ends after wrapping.
Place the wrapped cheeses into your freezer to set for around 1 & a 1/2 hours.
Once hard, remove the clingfilm then coat each mozzarella stick. First in flour, then the gram flour mix & finally panko breadcrumbs. Double coat if you like.
Please place the finished clingfilm in your recycling bin.
Heat a saucepan of vegetable oil, filled only half way high over a medium heat.
Once hot, fry the coated mozzarella for 3-4 minutes, or until golden.
Serve with sauce & fresh herbs.
Alternatively bake your mozzarella for 25 minutes in an over set at 180 degrees C.
Share this recipe