JACKFRUIT CURRY, Chinese Style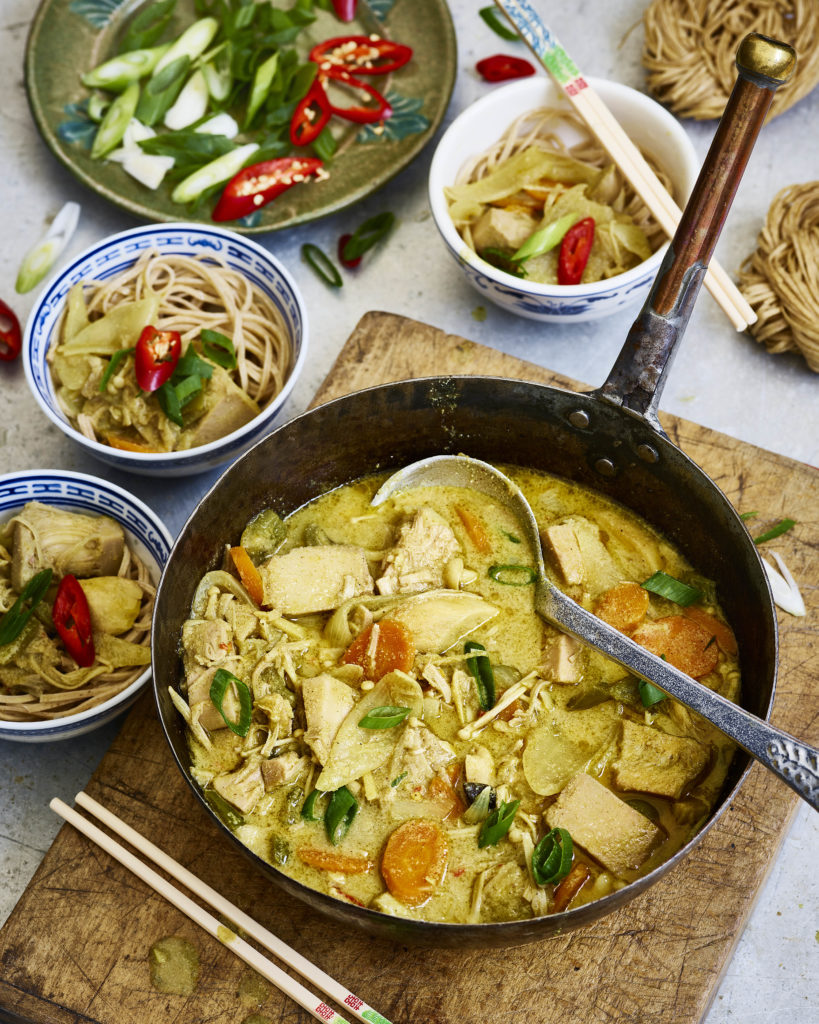 Ingredients
Vegetable Oil, for frying 
2 White onion, cut into chunks
4 cloves Garlic, minced
1 Red Chilli, sliced fine
Thumb-sized Piece of Ginger cut small
3 tsp Curry Powder
3 tsp Chinese 5 Spice
2 tsp Sea Salt
1 tsp Cracked Black Pepper
1 Green Pepper, deseeded and cubed
1 Carrot, peeled & sliced 
9oz/250g Asian mixed Mushrooms 
2 cans Jackfruit, drained & water squeezed out
1 litre Vegetable Stock
1 can/160ml Coconut Cream 
2 tsp Lemongrass Paste
1 tbs Miso Paste 
Garnish 
1 Red Chilli, chopped fine  
4 Spring Onions, chopped fine
Wholewheat Noodles, cooked to packet instructions 
Place a large saucepan over medium heat and add a touch of oil. When the pan is hot add the onion, garlic, chilli, ginger, curry powder, 5 spice, salt & pepper.
Fry the mixture for 2-3 minutes stirring often before adding the pepper, carrot, mushrooms & jackfruit. Keep frying the mix for a further 5 minutes, getting the mushrooms golden.
Deglaze the pan with the stock, coconut cream, lemongrass, and miso paste. 
Pop a lid on, turn the heat down & let the curry bubble away for 30 minutes. Stir the curry every now and then. 
When the curry is has thickened it's ready to serve. 
Sprinkle over chopped spring onion & chilli over the curry before serving. 
Recipe taken from my book Plants Only Kitchen 
Share this recipe