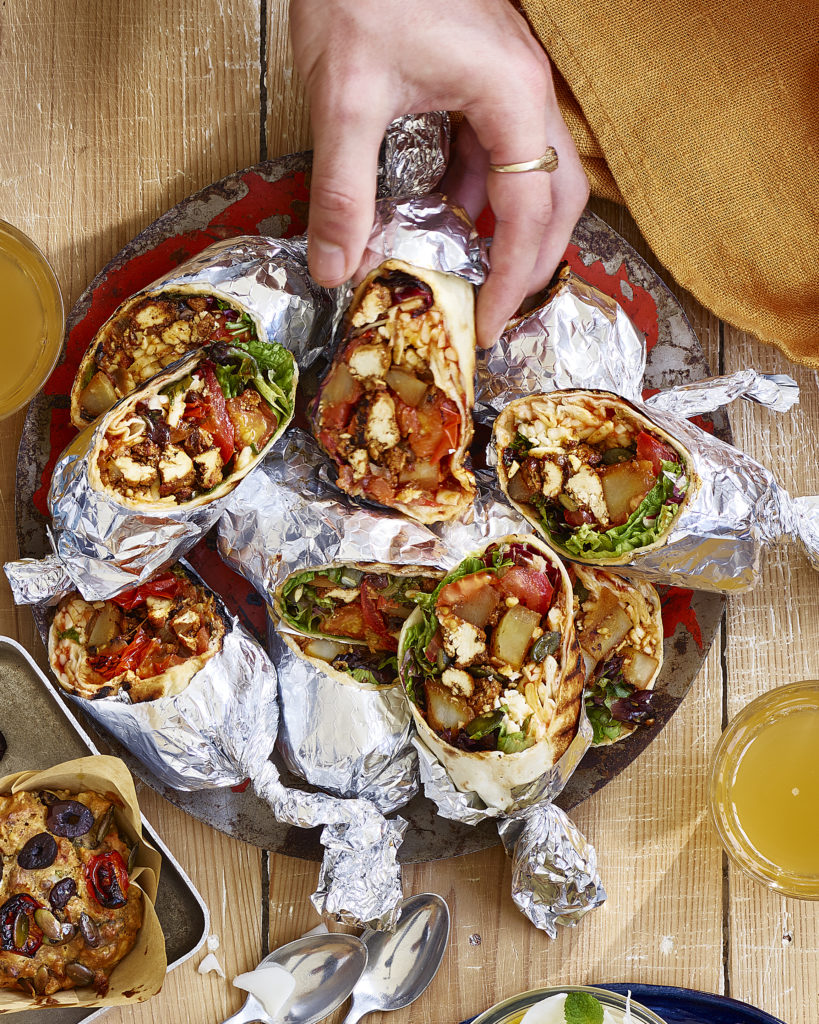 Ingredients
1 large Potato, washed and chopped into 1 cm cubes
3 Spring Onions, washed & chopped small
8 Chestnut Mushrooms
1 large Block Extra Firm Tofu, patted dry & crumbled into small pieces
1 tbs Garlic Powder
2 tbs Chipotle
Pinch Sea Salt
1 tbs Fresh Thyme Leaves
1 tbs Fresh Chives, chopped fine
1 can Black Beans, drained & rinsed
6 Tortillas
1 large Handful Spinach
2 Beef Tomatoes, sliced tin
3 tbs Tabasco Sauce
6 tbs Tomato Ketchup 
Add the cubed potato to a saucepan and cover with water. Place over a medium heat & let the potatoes cook away for 10 minutes.
Meanwhile, place a large non stick pan over a medium heat and add a little oil. When the pan is hot add the spring onions, mushrooms, tofu, garlic, chipotle, salt, thyme, chives and beans. 
Sauté the mixture for 6 minutes until everything has caramelised nicely. When the potatoes have cooked, drain away the water and add the potatoes to the frying pan. Continue to sauté the mixture for a 3-4 minutes.
Remove the burrito filling from the pan, ready to build your burritos.
Gently heat your tortillas before building. Pack your tortillas with plenty of the burrito mixture, spinach, tomato & sauce. 
Wrap the burritos then seal them in a hot griddle pan. See above tutorial video. 
Share this recipe