My Dad's Potato Chilli Bake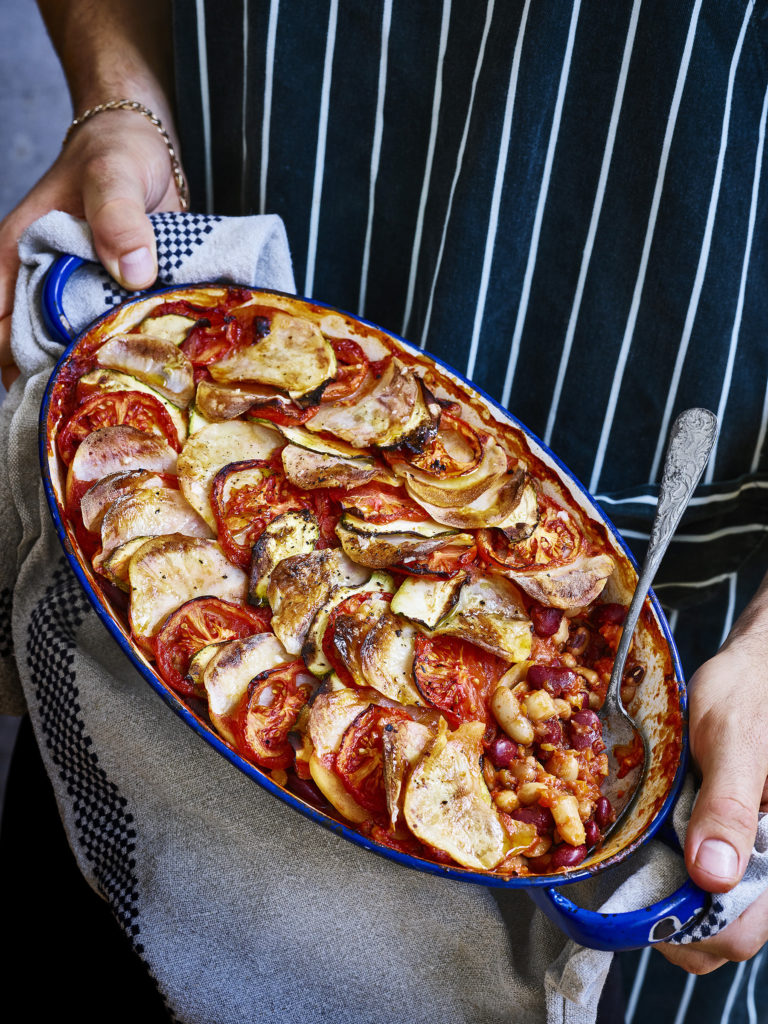 Ingredients
1 tbs Olive Oil, or water for oil free
1 Red Onion, chopped small
4 cloves Garlic, minced
2 Carrot, chopped small
1 Green Chilli, cut small
2 tsp Ground Cumin
1 tsp Ground Cinnamon
1 tsp Paprika
2 tsp Oregano
2 tsp Sea Salt
1 tsp Cracked Black Pepper
2 tbs Tomato Puree
1 tin Chopped Tomatoes
1 cup/240ml Vegetable Stock
1 tin Cannellini Beans, drained & rinsed
1 tin Red Kidney Beans, drained & rinsed
1 tin Black Eye Beans
3 Maris Piper Potato, peeled & sliced in to very thin discs
1 Courgette, sliced into thin discs
3 Tomatoes, sliced thin
Handful Vegan Cheese, grated (optional)
Place a large saucepan over a medium heat and add the oil. 
When the pan is hot add the onion, garlic, carrot & chill. Sweat this mixture for 3-4 minutes. Add the cumin, cinnamon, paprika, oregano & seasoning to the pan and cook for a couple more minutes. 
Next to the pan add the tomato puree, tomatoes & stock, bring the liquid to a simmer then add the beans. 
Let the chilli bubble away for 20 minutes, meanwhile pre heat your oven to 180 degrees C.
After 20 minutes of cooking the chilli, turn the heat off. Transfer the chilli to a baking dish.
Carefully lay the potato, courgette & tomatoes on top of the chilli, alternating between the three & over lapping each slice. 
Once you've topped the chilli, put it into the oven for 25-30 minutes or until golden and crisp on top.
Let the bake stand for 10 minutes before serving with greens. 
Share this recipe