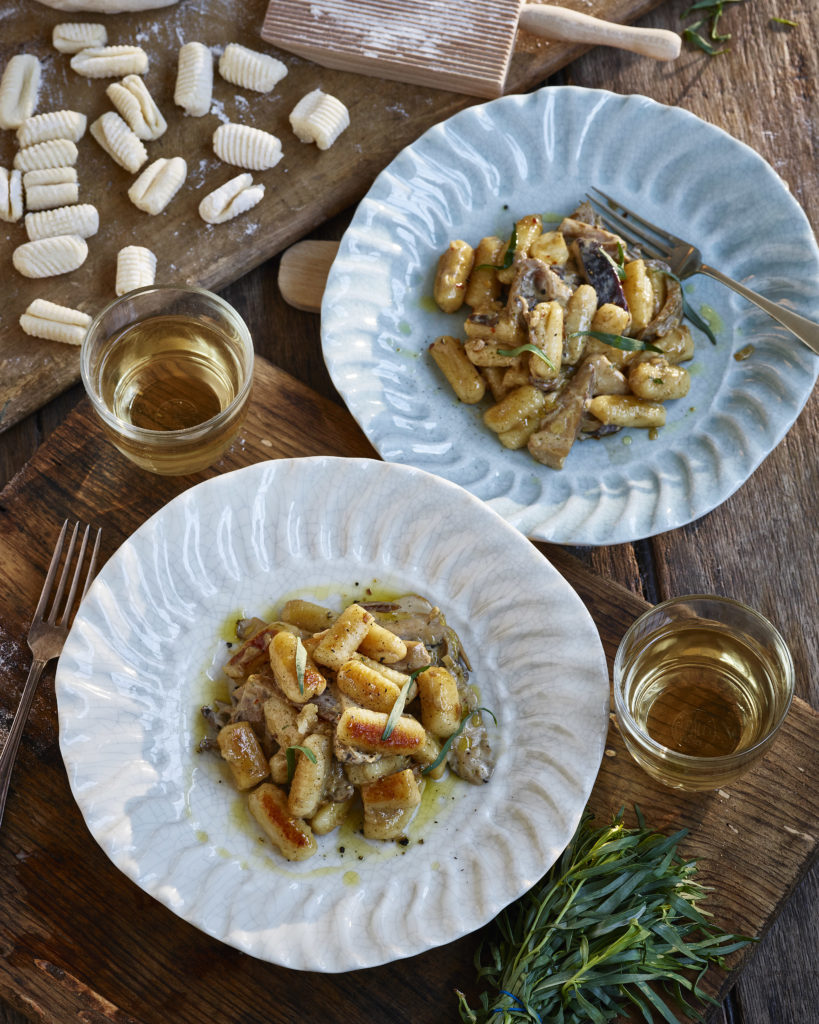 Ingredients
Gnocchi 
1 Kg Maris Piper Potatoes, boiled & mashed 
2 cups/240g Plain Flour, plus extra for dusting
4 tbs Extra Virgin Olive Oil 
3 tsp Sea Salt
2 tsp Ground White Pepper 
Mushroom Sauce
3 cups/300g Mixed Mushrooms, chopped evenly 
1 Onion, finely chopped
3 Cloves Garlic, minced
1 tsp Dried Chilli 
1 tbs Dried Tarragon 
1 shot Vegan Friendly Brandy  
1 cup Vegan Cream
2 tsp Sea Salt
1 tsp Cracked Black Pepper
Garnish 

Fresh Tarragon 
Cress
In a large mixing bowl gentle mix together mashed potato with the plain flour, olive oil, salt & pepper until it forms a dough. 
Knead the dough on your lightly floured work surface for 4-5 minutes until it resembles a slightly softer pasta dough. 
Cut the dough into 4 pieces then roll each piece into a long sausage shape around 2cm in diameter. Cut the dough up into 2cm chunks. 
You can know choose to leave the gnocchi in their natural shape or get creative. See the above video tutorial to see how it is done.
Before cooking the gnocchi in boiling salted water, get your sauce cooking. Pre heat a non stick frying pan over a medium heat with a little oil.
Sauté the mushrooms, onion & garlic for 4-5 minutes with the chilli & dried tarragon. 
When the mushrooms are golden, carefully deglaze the pan with the brandy. When the alcohol has cooked off, add the salt, pepper & vegan cream. 
Let the sauce bubble away and thicken up for 4-5 minutes. Meanwhile place your gnocchi into a saucepan of boiling water to cook for 3-4 minutes. When the gnocchi is springy to the touch, transfer it to the sauce. Alternatively you can pan fry the gnocchi after being boiled to get it lovely, golden & crisp before adding it to the sauce. 
Coat the gnocchi in the sauce the serve, garnished with tarragon & cress. 
Share this recipe