Creamy King Oyster Mushroom Pasta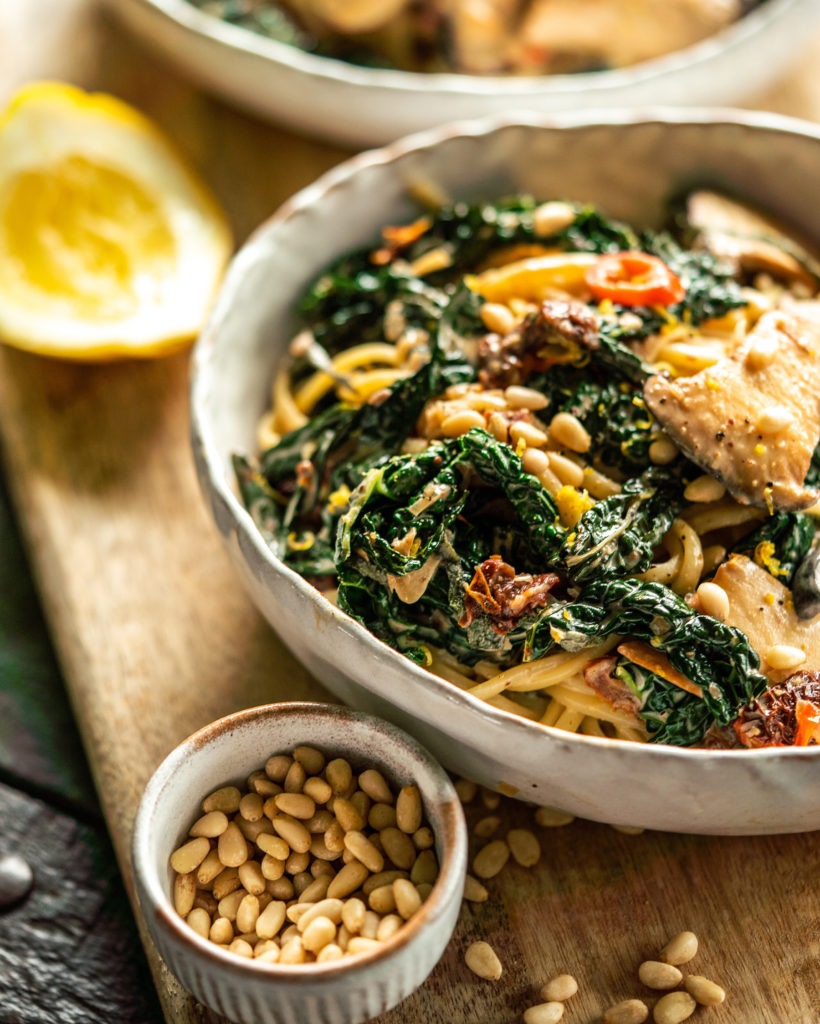 Ingredients
400g Dried Pasta
1 Shallot, chopped fine
3 Cloves Garlic, sliced
1/2 Red Chilli, sliced fine
6 King Oyster, cut in half then into 3
10 Sage Leaves, sliced fine
6 Sun-dried Tomatoes, sliced fine
Handful Cavolo Nero/Kale, stem removed and shredded
1 cup Vegan Friendly White Wine
1 tbs Wholegrain Mustard
3/4 cup/180ml Vegan Soy or Oat Cream
1 tsp Sea Salt
1 tsp Cracked Black Pepper
1/2 cup Pasta Cooking Water
Garnish
Pinenuts
Lemon Juice & Zest
Method
First up get your pasta cooking to the packet instructions.
Place a non sticking griddle pan over a high heat & add a touch of oil. Add the mushrooms and grill until golden with a little salt & pepper, this should take around 4-5 minutes, flipping over the mushrooms half way through.
Meanwhile in a large non stick frying pan/saucepan placed over a medium heat add a little oil followed by the shallot, garlic & chilli. Sauté the mix for a few minutes with a touch of salt & pepper. Next to the pan add the sage, tomatoes & grilled mushrooms.
Turn the heat up then add the kale, followed by the wine.
Stir in the mustard, cream & the pasta water.
Check the sauce for seasoning before stirring through the cooked pasta.
Garnish the pasta with toasted pine nuts, lemon zest and a squeeze of juice.
Share this recipe