Chorizo Style Seitan Hot Dogs with Caramelised Cider Onions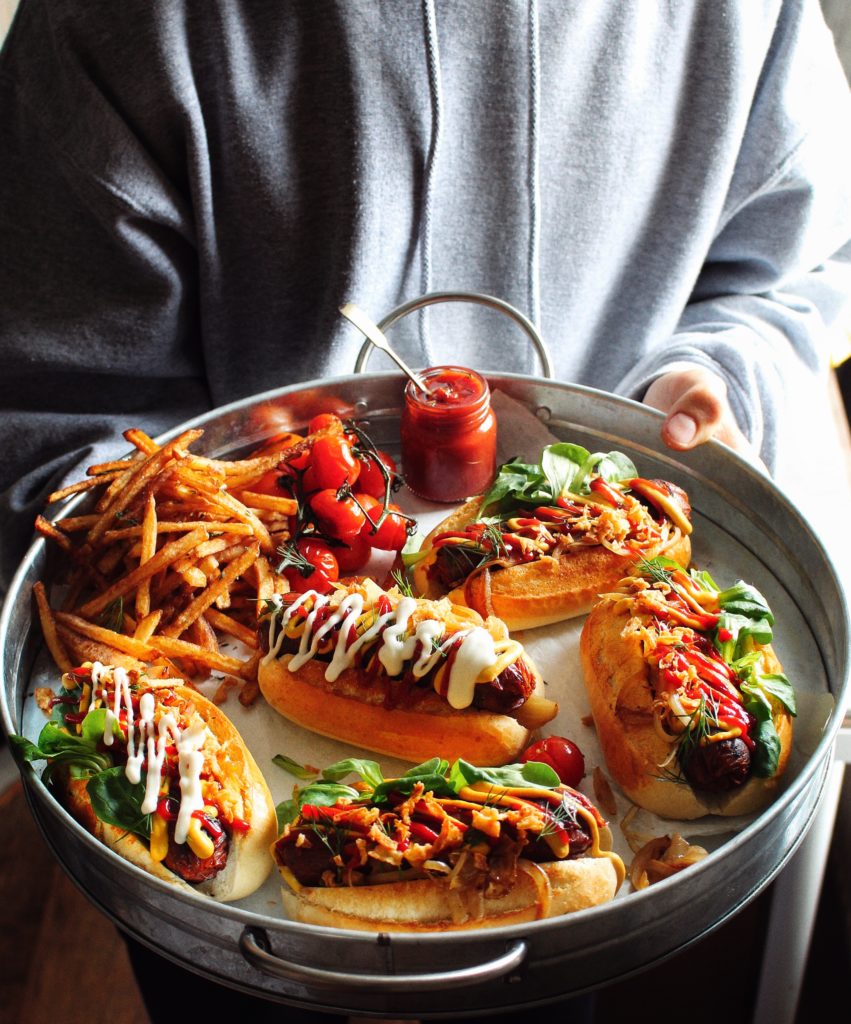 "These sausages have the ultimate meat like texture, which lots of new vegan miss when first going vegan. The sausages can be added to casseroles & even cooked on BBQ's! Packed full of amazing smokey flavours, I had to show you how to make these in a YouTube recipe video. Seitan its self has a huge protein, so its a good addition to meals"
Ingredients
Chorizo Seitan Sausages
Wet Ingredients;
1 Onion, chopped evenly
2 Cloves Garlic, chopped evenly
1 & 1/4 cups Vegetable Stock
1/3 cup Dried Porcini Mushrooms
1/2 cup Chickpeas
3 tbs Tomato Puree
1 tbs Soy Sauce/Tamari
1 tbs Tideford Organics Brown Rice Miso
1 tbs Filippo Berio Chilli Oil
1/4 tsp Sea Salt
1/4 tsp Pepper
6 tsp Smoked Paprika, purchase here – Buy it here!
1 tbs Fennel Seeds
1 tbs Hot Smoked Chilli Flakes
Dry Ingredients;
2 cups Vital Wheat Gluten, from amazon – Buy them here!
1/2 cup Gram (Chickpea) Flour
Caramelised Cider Onions
2 Large Onions
2 Tbs Filippo Berio Organic Olive Oil
1/2 cup of Vegan Cider
1 tbs Raw Cane Sugar
Pinch Sea Salt & Pepper
Mix the hot vegetable stock with the Porcini Mushrooms and set aside for 5 minutes for the mushrooms to rehydrate.
Sauté the Onion & Garlic until softened and lightly golden.
Once you have sautéed the onion and garlic add it to a blender, with the remaining wet ingredients plus mushroom & stock mixture. I used my Nutrininja for this. Blitz until smooth.
In a large mixing bowl add the Wheat Gluten & Chickpea Flour. Add the Wet mixture  to dry and quickly stir with a spatular until everything is well combined. You will then need to use your hands to knead the dough. Knead the dough for around 10 minutes.
The tougher you are when needing the more of a bite/meat like texture your sausages will have when cooked..So be firm!
Once kneaded, let the dough rest for around 10 minutes.
Portion the dough into approximately 8 pieces, I weigh each piece to make sure all my sausages are a similar size. Aim for around 110g.
Pre heat a large saucepan filled half way high with water. Bring to a boil. Then turn the heat down low, so that the water is at a rolling simmer.
Prepare 8 pieces of foil shiny side up approximately 25cm long. Add a little bit of oil to the shiny side. Individually roll each piece of dough into a sausage shape with your hands then roll up in the foil. Twist each end and set aside. Do this for the rest of the dough pieces.
Then finally, wrap tightly each sausage individually in cling film.
Add the sausages to the saucepan water, pop the lid on and allow to cook for 50 minutes. Don't let them boil, just at constant slow simmer. Give them a little stir every now and then.
Meanwhile make the Cider Onion's & prepare the rest of your hot dog garnishes.
Finely slice the onions, and pre heat a non stick frying pan. Add a little Filippo Berio Oil, then the onions plus salt & pepper, allow them to caramelise and go nicely golden. Then add a good glug of cider & the sugar. Turn heat low and allow to continue to melt & caramelise. Stir often for about 4-5 minutes. Then set aside ready to serve.
After 50 minutes, check the sausages are firm, give them a squeeze. If they feel quite soft put them back in the water for an additional 5-10 minutes. If firm remove from the water.
Allow to cool for about 10 minutes before carefully peeling off the wrapping.
Pan fry in a non stick frying pan for around 10 minutes until nice and golden. If you don't want to cook them you can freeze them & they can even be cooked on a bbq!
Serve the sausages inside the hot dog buns with the onions and sauces. Try out my home made ketchup recipe which can be found in my Vegan 'Fish & Chips' video!
Enjoy!
Share this recipe