Chorizo Style Carrots with Tabbouleh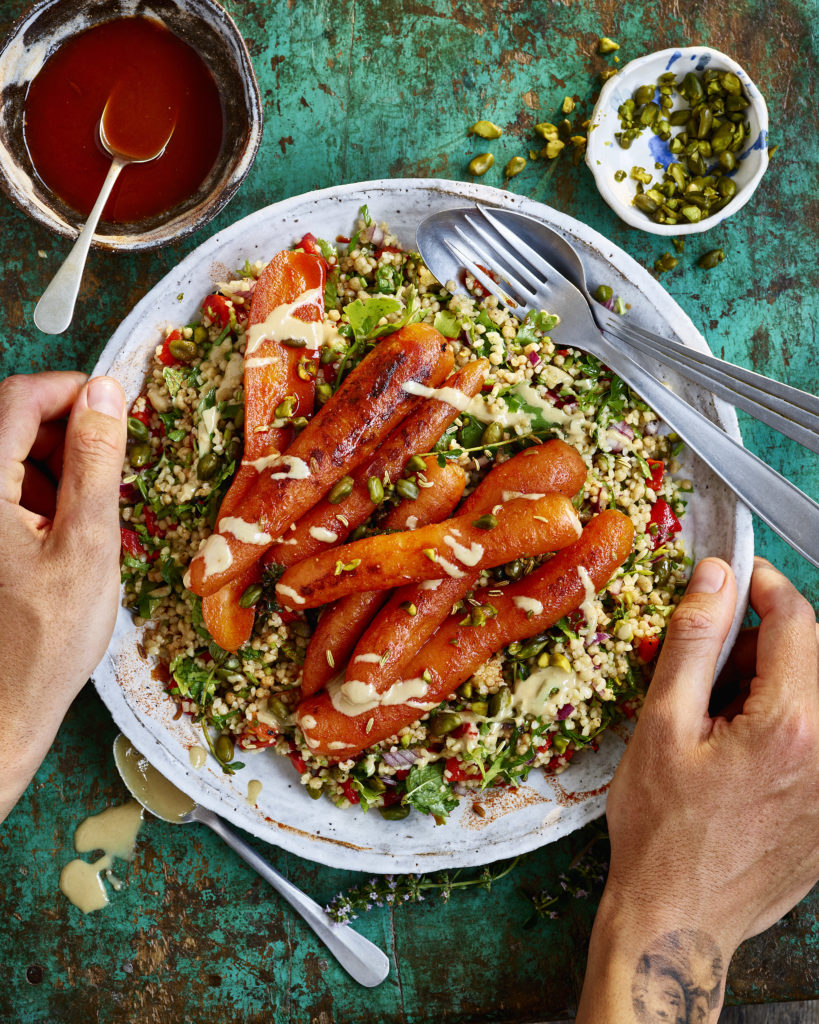 Ingredients
Carrots
10 Large Carrots, peeled
Broth/Marinade
2 cups/440ml Vegetable Stock
1 cup Orange Juice
1 tbs Miso Paste
5 tbs Sweet Smoked Paprika
1 Onion, quartered
2 tbs Smoked Sea Salt, use normal sea salt if you don't have smoked.
2 tbs Fennel Seeds
1 Bay Leaf
Handful Fresh Oregano
Tabbouleh
1 cup/200g Bulgar Wheat, cooked
1 cup/200g Cous Cous, cooked
1 Roasted Red Pepper, chopped small
1 Red Onion, chopped fine
1/2 Cucumber, deseeded & chopped small
20g/1/2 cup Fresh Parsley, chopped fine
Handful Fresh Mint, chopped fine
Juice of 1 lemon, reserve the zest for garnishing
2 cloves Garlic, minced
1 can Chickpeas, drained & rinsed
Garnish with
Tahini
Lemon Zest
Balsamic
Crushed Pistachios
Method
Add all the broth ingredients to a large saucepan big enough to fit the carrots in & place it over a medium heat. When the broth starts to simmer add the carrots. Let the carrots cook away in the broth for 15-20 minutes. Meanwhile mix together all the tabbouleh ingredients in a large mixing bowl & set aside until your carrots are ready.
When the carrots are tender, remove them from the broth. Allow the broth to continue to bubble away & reduce down & thicken slightly.
Place a large non stick pan or griddle pan over a medium heat and add a little oil. When the pan is hot add the carrots and sauté them for 3-4 minutes or until caramelised.
Serve the carrots on top of a bed of tabbouleh garnished with a drizzle of tahini, lemon zest, crushed pistachio nuts & balsamic vinegar.
Share this recipe