CARIBBEAN STEW WITH DUMPLINGS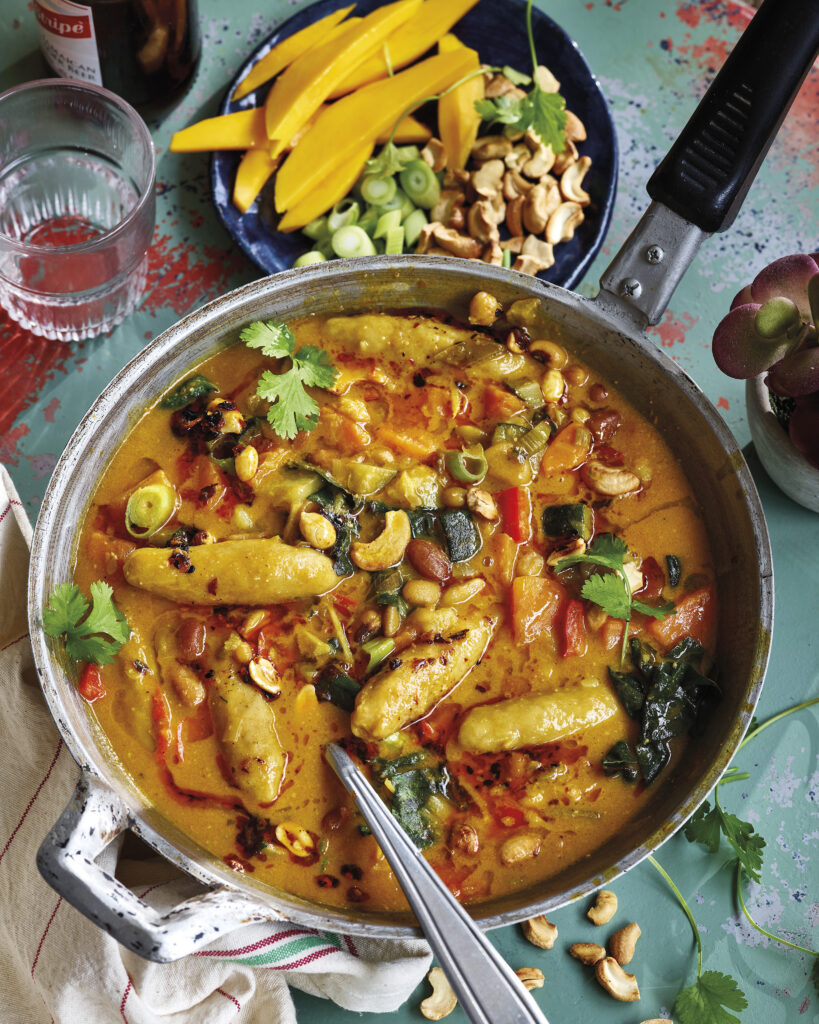 Ingredients
2 tbs Coconut Oil
1 Spring Onion, cut into chunks
1 tbs Ginger, minced
2 Clove of Garlic, minced
1 Scotch Bonnet, halved 
1 Red Pepper, sliced 
2 Sweet Potatoes, peeled & cubed 
1 Courgette, cubed
1 Red Pepper, cubed
1 tbs Curry Powder 
1 tsp Jerk seasoning 
Pinch Sea Salt 
1 tbs Tomato Puree 
3 cup/750ml Vegetable Stock
1 tin Coconut Milk 
Fresh Thyme
1 Bay Leaf 
1 cup & 1/2 cups/165g Mixed Beans, cooked 
Spinners 
1 cup Wholewheat Organic Flour 
1/2 cup Water 
1/2 tsp Baking Powder 
Pinch Sea Salt 
Serve with 
1/2 cup/75g Toasted Cashew Nuts
1 cup/100g Mango
Sautéed Greens
Sauté the spring onions, garlic, ginger, chilli, pepper, sweet potato & courgette for 8-10 minutes in a large sauce pan over a medium heat, stirring often, before adding the spices, salt & tomato puree. Cook for a couple more minutes then deglaze the pan with the vegetable stock & coconut milk. 
Stir in the thyme, bay leaf & mixed beans. Pop a lid on and let the stew bubble away for 15 minutes. 
Meanwhile to make the dumplings, mix all the ingredients together in a mixing bowl to form a lovely dough and give it a knead for a couple of minutes. If it's a little wet add some more flour and if it's too dry add a splash more water then form the dough into some dumplings. I grab 2-3 tbs worth of dough and roll it between my hands to form them into spinners which are popular in Jamaica & the Caribbean. 
Place the dumplings on top of the stew and place the lid back on & let cook for a further 5 minutes over a low heat. 
Just before serving I throw in some kale leaves to cook gently. 
Serve the strew with fresh mango & toasted cashew nuts. 
Share this recipe