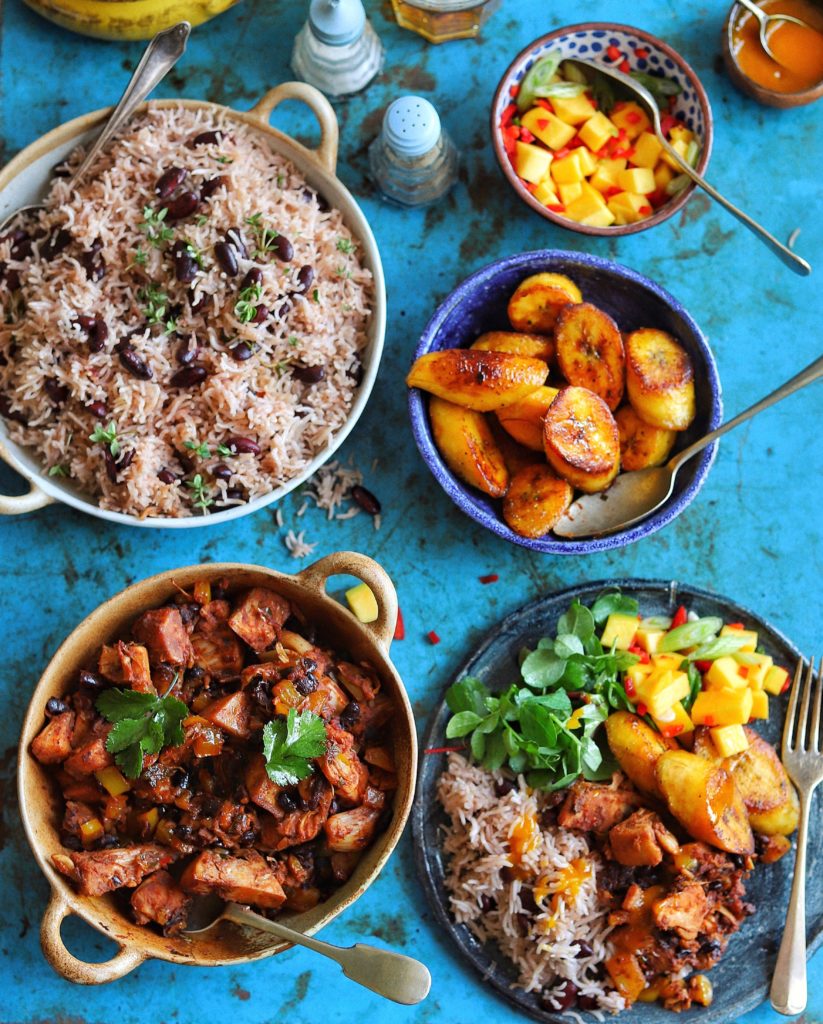 Jerk Jackfruit, Rice n Peas, Caramelised Plantain & Mango Salad. This is my epic Caribbean Feast!
Ingredients
Jerk Jackfruit
3 tins Young Jack Fruit in brine, drained & patted dry then pulled into bitesized pieces (remove seeds if you prefer)
1 tbs Vita Coca Coconut Oil
3 Spring Onions, finely sliced
3 Cloves Garlic, minced
1/2 Scotch Bonnet Chilli (use a full 1 for extra spicy)
Thumb sized piece ginger, minced
1 Yellow Pepper, deseeded & cubed
1 cup/200g Black Beans, from a tin. Drained & rinsed.
1 tbs All Spice
2 tsp Ground Cinnamon
3 tbs Soy Sauce
5 tbs Tomato Puree
4 tbs Coconut Sugar
1 cup/240ml Pineapple Juice
Juice 1 lime
1 tbs Fresh Thyme Leaves
2 tsp Sea Salt
1 tsp Cracked Black Pepper
Rice & Peas
1 Tin Kidney Beans, liquid reserved
1 Tin Coconut Milk
3 tbs Fresh Thyme
Pinch Sea Salt & Black Pepper
1 & 1/2 cups/340g Long Grain Rice, rinsed
Vegetable stock, if needed.
Fried Plantain
2 Plantain, peeled & cut into cm discs
2 tbs Vita Coca Coconut Oil
2 tbs Coconut Sugar
Pinch Salt & Pepper
Mango Salad
1/2 Fresh Mango, peeled and cubed
1 tsp Fresh Chilli, chopped fine
Handful Fresh Coriander
Juice of Half a Lime
Fresh Mixed Salad
First up place a large casserole dish or frying pan over a medium heat. Add the coconut oil followed by the onion, garlic, ginger, chilli & yellow pepper. Allow the mix to soften for 3 minutes before adding the spices & cooking for 2 more minutes. Add a pinch of seasoning.
Add the jackfruit to the pan and stir well, cook the mix for 3-4 minutes.
Next add the coconut sugar & the black beans. Keep stirring then add the soy sauce, tomato puree & pineapple juice. Turn the heat down low & add the lime juice plus some chopped fresh thyme leaves. 
Pop the lid on and allow the jackfruit to cook for around 12-15 minutes.
For the rice, add the ingredients to a saucepan and pop the lid on. Place the pan over a low heat and allow the rice to absorb all the liquid until it's light & fluffy. This should take 10-12 minutes. If your rice gets too dry before it has cooked, add some water or vegetable stock.
Next up, the plantain. Pre heat a non stick frying pan over a medium heat & add the coconut oil, when hot add the plantain wedges, and cook on both sides for 3-4 minutes until caramelised & golden. Season with coconut sugar, salt & pepper.
For the salad simple mix all the ingredients together in a small mixing bowl.
Serve everything together, enjoy.
Share this recipe