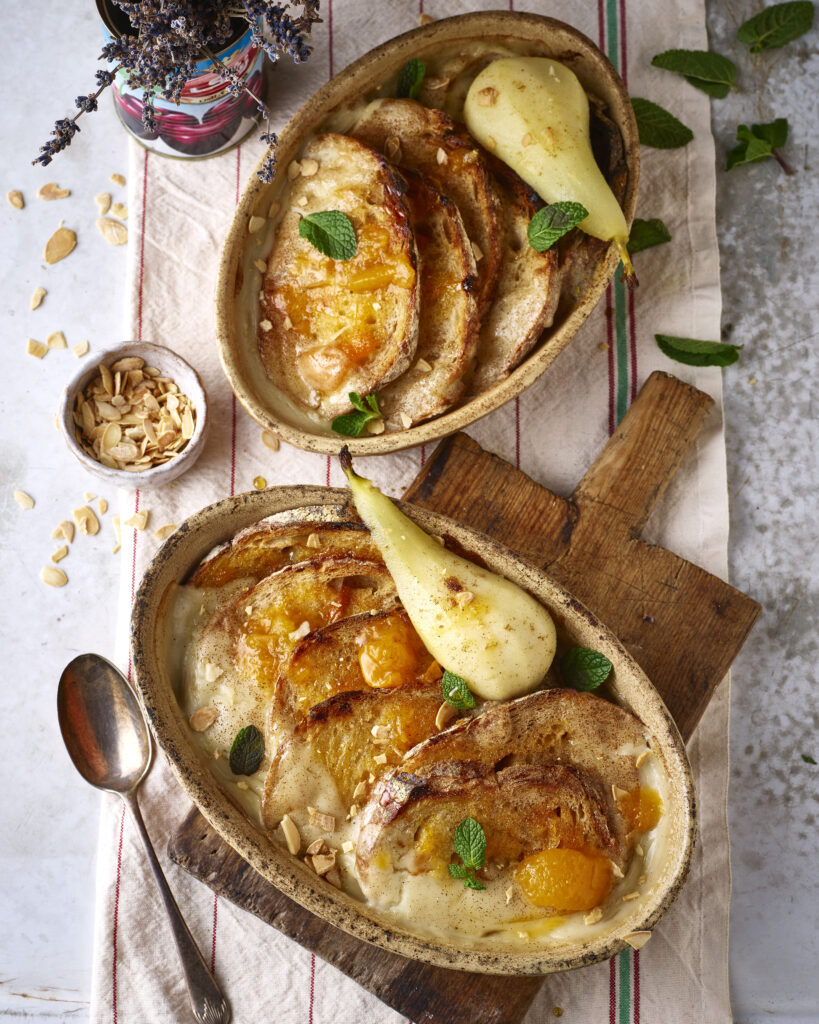 Ingredients
8 Slices Sourdough Bread 
1/2 cup/100g Butter 
8 tbs Apricot Jam 
1 tbs Mixed Spice 
Custard
1 cup/250ml Oat/Soy Cream
2 tsp Vanilla Bean Paste
1/2 cup/125ml Non Dairy Milk of your choice 
4 tbs Corn Flour
1/4 cup/55g Caster Sugar
Poached Pears (optional)
4 Pears, peeled & halved
2 cups/50ml Water
1 tbs Vanilla Bean Paste 
1/2 cup Caster Sugar, plus a little extra for caramelising. 
1 Star Anise 
1 Cinnamon Stick 
Serve with
Ice Cream 
Pre heat your oven to 180 degrees C. 
Over a low heat, heat the oat cream in a saucepan with the vanilla bean paste.
Separately, add the non dairy milk to a bowl and whisk in the corn starch. 
And the milk/cornstarch mixture to the saucepan and continue to whisk over a low heat until the mixture has thickened. This should take around 4 minutes. 
Meanwhile slice your loaf into 2cm thick pieces, butter each piece and spread some apricot jam on each piece. Neatly lay the bread into your baking dish, then pour over the custard. Sprinkle over some mixed spice. Then place the pudding into the oven for 25 minutes. 
To make the poached pears, add the water, sugar, vanilla, star anise & cinnamon to a large saucepan and mix well. Place the pan over a medium heat & bring to a simmer. Add the pears & poach for 15 minutes. 
When the pears are cooked, I like to caramelise them in a non stick pan with a little sugar and butter until golden. 
When your bread pudding is golden, serve up and top with the pears & ice cream. 
Share this recipe