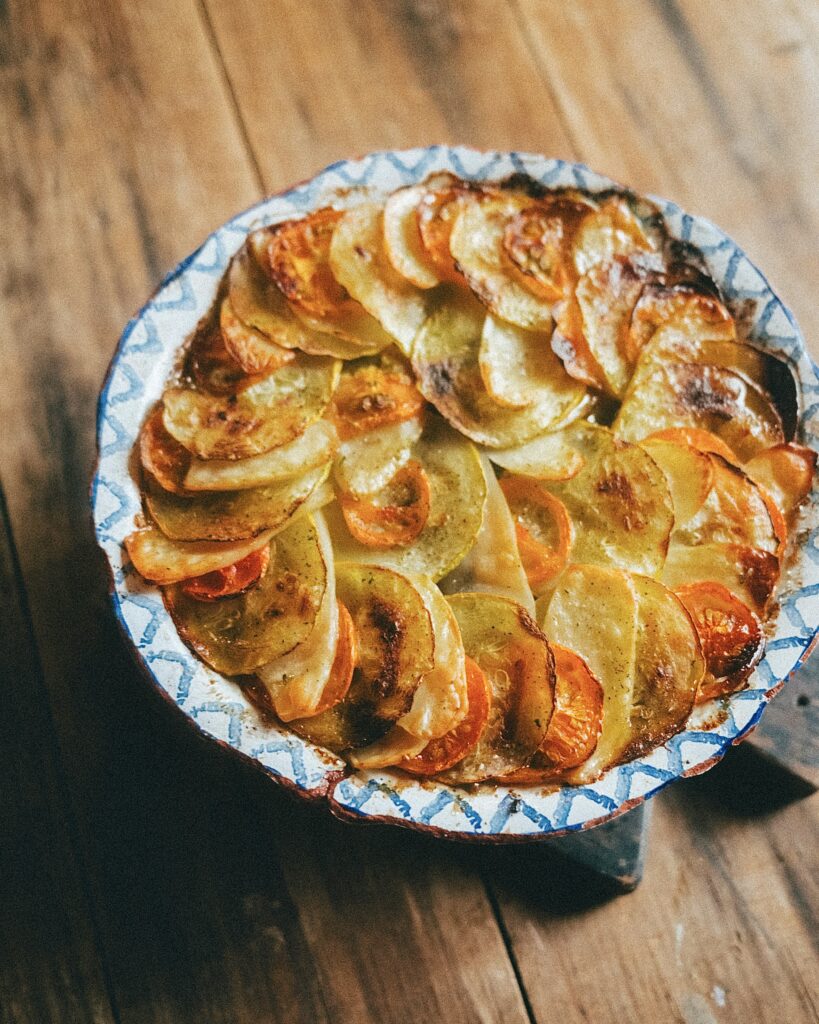 Ingredients
4 tbs olive oil
1 large onion, finely chopped
5 garlic cloves, minced
6 tomatoes, chopped roughly
Pinch celery salt & cracked black pepper
1 cup/250ml water
1 tablespoon dried oregano
1 pound/450g fresh green beans, ends trimmed and cut into bite-sized pieces
1 sprig rosemary
Topping 
1 Courgette
2 Tomatoes 
2 Potatoes 
Sauté the onion, garlic (reserving 1 clove) for 5 minutes in a large saucepan before adding the tomatoes, oregano, salt, pepper & a splash of water. Let the sauce bubble away for 15 minutes over a low heat. 
Meanwhile place a large cast iron pan or frying pan over a high heat and add a little oil, a sprig of rosemary & the reserved garlic clove. Cook the rosemary & garlic until they're golden then remove from the pan. Throw in the beans and stir fry for 10 minutes, seasoning with a little salt. Try and build up a little charring on the beans. 
When the beans have cooked stir them through the tomato sauce. Then turn the heat down low & continue to cook the mix for 15 minutes. 
Meanwhile pre heat your oven to 200 degrees C & prepare your toppings. Finally slice your courgette, potato & tomato.
Transfer the bean mixture to a baking dish & top with alternated pieces of courgette, potato & tomato. 
Drizzle over a little oil & a sprinkle of seasoning then bake the bean bake for 20 minutes. 
When the lovely topping has caramelised & gone golden, serve up with some greens. 
Share this recipe