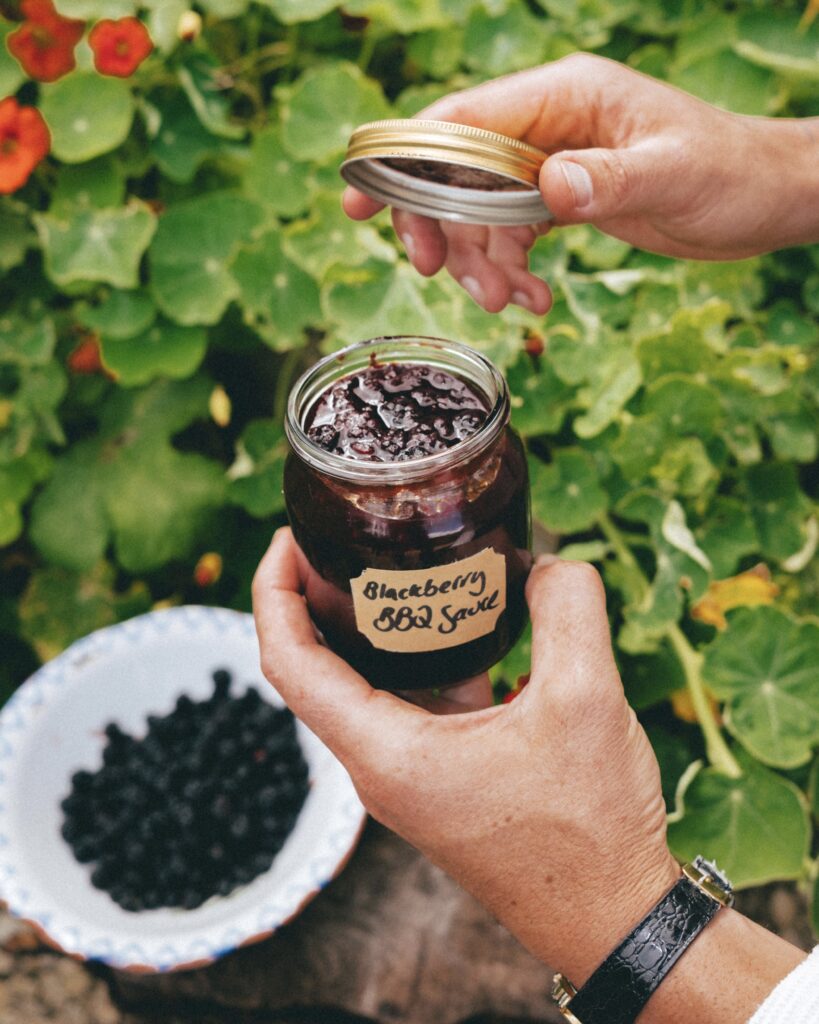 Ingredients
3 tbs Olive Oil 
2 tsp Sea Salt
1 Onion 
4 Cloves Garlic, chopped fine 
1 Fresh Chilli, chopped fine 
2 tsp Mustard Seeds 
1 tsp Fennel Seeds 
1 tsp Cumin Seeds 
1 tsp Ground Coriander 
2 tsp Smoked Paprika 
1 tsp Celery Salt 
3 tbs Tomato Paste 
1 tbs Miso Paste 
1 tbs Fresh Thyme Leaves chopped fine 
1 tbs Fresh Sage Leaves, chopped fine 
3 cups/360g Blackberries
1/2 cup/60g Unrefined Cane Sugar
1/2 cup/125ml White Wine Vinegar 
2 bay Leaves 
1 star anise 
Method
Sauté the onion, garlic & chilli until golden & caramelised in a saucepan – seasoning with salt. Add the spices & let them toast for a minute before stirring through the tomato & miso paste. 
Add the sage & thyme followed by the blackberries & stir well. Cook the blackberries for a few minutes before adding the sugar, vinegar, bay leaves & star anise. Add a pinch more sea salt, then pop a lid on the saucepan, cook the bbq sauce out for 30 minutes. 
When the sauce has thickened & its sticky, transfer the sauce to sterilised jars. The bbq should store for up to 6 weeks. 
Share this recipe