Blackberry & Apple Tarte Tatin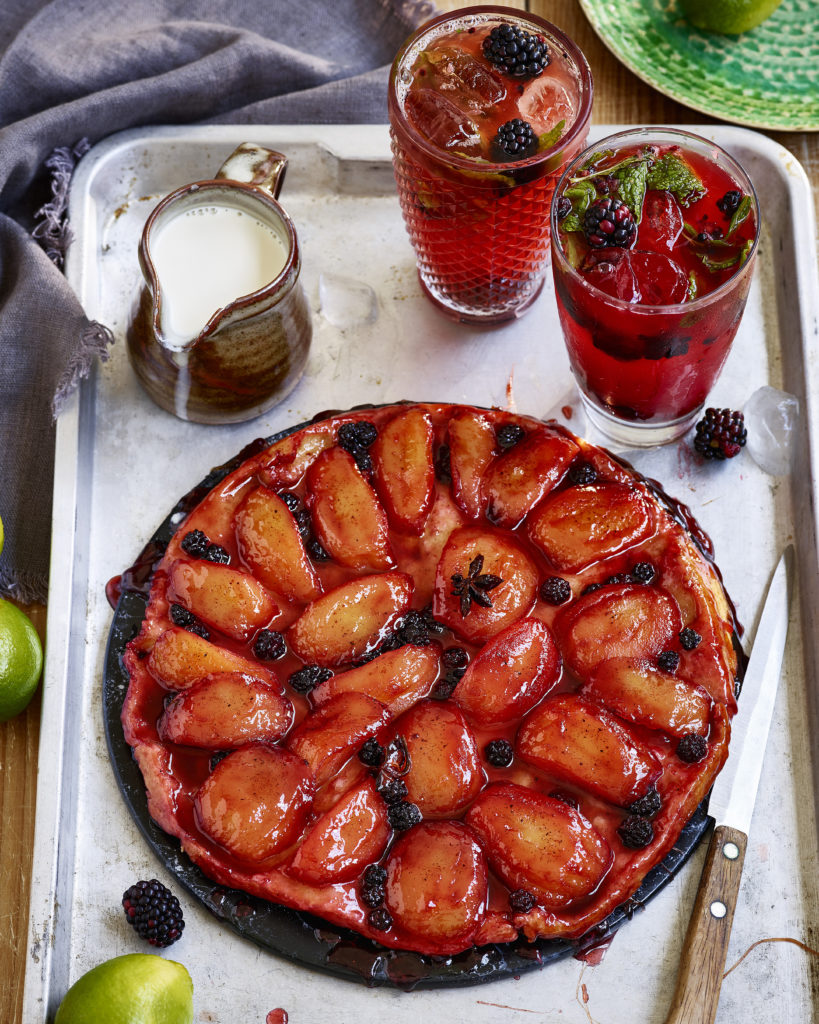 Ingredients
Pastry
3 cups/375g Plain Flour
Pinch of Salt
3 tbs Caster Sugar
1 cup/125g (ice cold) Vegan Butter Block, cubed 
2 tbs Non Dairy Milk
Filling
5 Apples, peeled & cut into wedges (core removed)
1 cup/120g  Blackberries 
3/4 cup/150g Vegan Butter
3/4 cup/150g Caster Suger
Pinch Ground Nutmeg
2 Star Anise
1 tsp Ground Cinnamon 
Pre Heat your oven to 200 degrees C.
It's very important when making tarte tatin that you use a really good heavy bottomed non stick frying pan, it's also important that its oven proof. For this recipe your pan must be around 12 inches in diameter
First up make the pastry, place all the flour, salt & sugar in a large mixing bowl. Rub the butter into the flour mix with your hands until the it resembles a bread crumb like consistency.
Pour in enough milk to bring the dough together into a ball. Give it a slight knead for 2 minutes, then wrap the dough and place it into the fridge to rest for 20 minutes. 
Meanwhile prepare the fruit.
Roll the pastry out to around 4mm thick on a sheet of lightly floured greaseproof paper, cut the pastry into a rough circle shape the same diameter of the pan, don't worry it doesn't have to be super neat. Place a cloth over the pastry whilst you start to cook the filling. 
Pre heat the pan over a medium heat and add the margarine, sugar, star anise & nutmeg. Let everything melt together before placing in the apple pieces, then blackberries. They don't have to be arranged neatly, just make sure there aren't big gaps anywhere. The apple shrinks so pack as much as you can in.
Sprinkle over a dusting of extra sugar & the ground cinnamon,  then carefully lay the pastry on top of the pan using the greaseproof paper to help you lift it. Quickly and carefully tuck the pastry down right into the edges, use a wooden spoon so you don't have to touch the hot pan. Prick the pastry a few times with a fork or knife then place the pan into the oven to bake for 25-35 minutes or until the pastry is golden & crisp. 
Alternatively you could attempt to cook your tarte tatin over an open fire like I did (see video above), but I don't recommend it!
Once cooked, remove the tart from the oven & allow it to cool for 2-3 minutes before placing your serving board/plate on top of the pan (make sure it's larger than the pan). 
Put on an oven glove on to protect the arm holding the board (some caramel goodness may drip out and it's super hot). Then quickly, carefully and confidently turn it out.
Serve straight away, with vegan ice cream & fresh mint.
Share this recipe