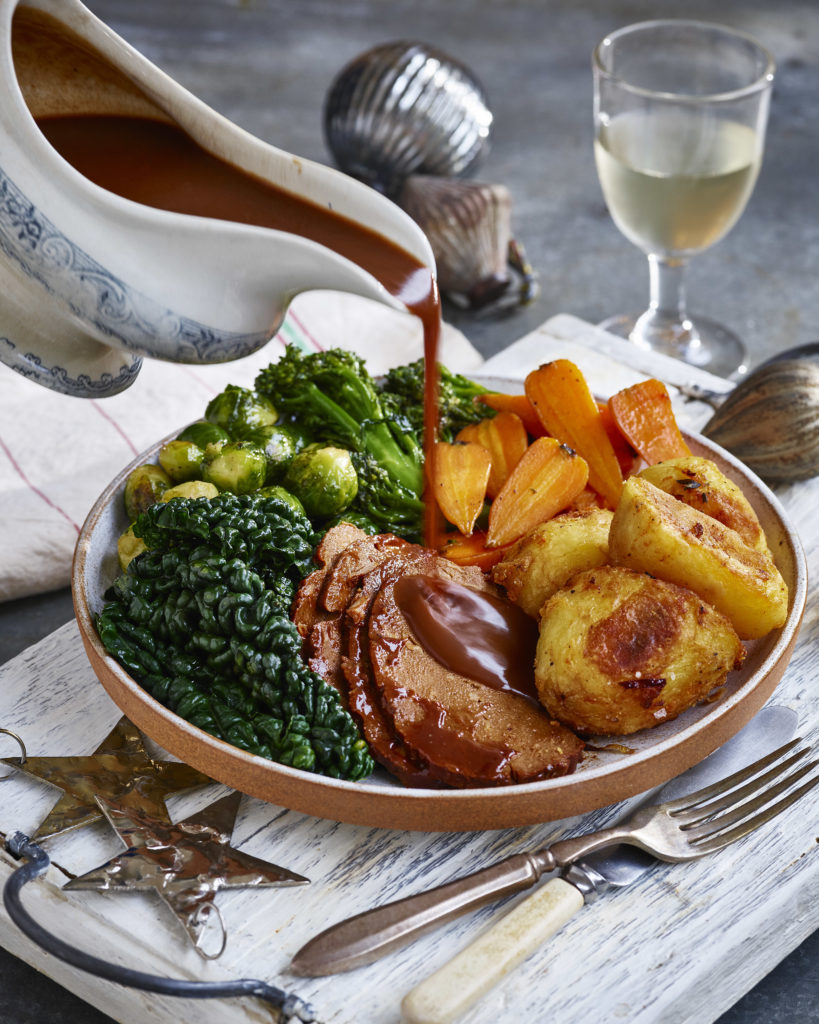 packed full of rich, bold, umami flavours, this is the perfect vegan gravy.
Ingredients
1 tbs Olive Oil
2 Carrots
2 Red Onions
250g/8.81oz Chestnut Mushrooms
2 Cloves of Garlic
1 Leek
2 Sticks Celery
3 tbs Plain Flour or Gluten-Free Flour
2 tbs Tomato Puree
1/2 cup/120ml Red Wine
1 tbs Soy Sauce
1 tbs Marmite
1 tbs Balsamic Vinegar
1/3 cup/80ml Brewed Coffee (ideally from ground beans, but instant coffee will also work)
2 Sprigs Fresh Thyme
2 Sprigs Fresh Sage
1 Sprig Fresh Rosemary
3 cups/720ml Vegetable Stock
Pinch Sea Salt & Pepper
Roughly chop the carrots, onion, mushrooms, garlic, leek & celery.
Preheat a large saucepan over a medium heat and add the olive oil. When the pan is hot add the onions, mushrooms, leek, celery, carrot, garlic & salt & pepper. Saute the mixture for 5-6 minutes, stirring often.
Let them get really lovely and golden & caramelize nicely. Just make sure they don't burn.
When the mixture has lots of colour, stir in the herbs, tomato puree & flour. Cook the mixture whilst constantly stirring for about 2 minutes, before deglazing the pan with the red wine, soy sauce, marmite, balsamic and coffee.
Turn the heat down low & and let the mixture bubble away for 2 minutes to cook off the alcohol before adding the vegetable stock.
It's then time to leave the gravy to simmer & reduce down. Let it simmer away for 15 minutes.
After 15 minutes the gravy should be a lot thicker. Pass the gravy through a fine sieve into a small saucepan. Press as much as the liquid goodness out of the vegetables using the back of a ladle.
You can serve the gravy straight away, however, if it is still slightly thin let it reduce for a few more minutes.
The vegetables, although much of their flavour and texture have gone, can be made into bubble & squeak or used as a base for a soup or bolognaise.
Share this recipe