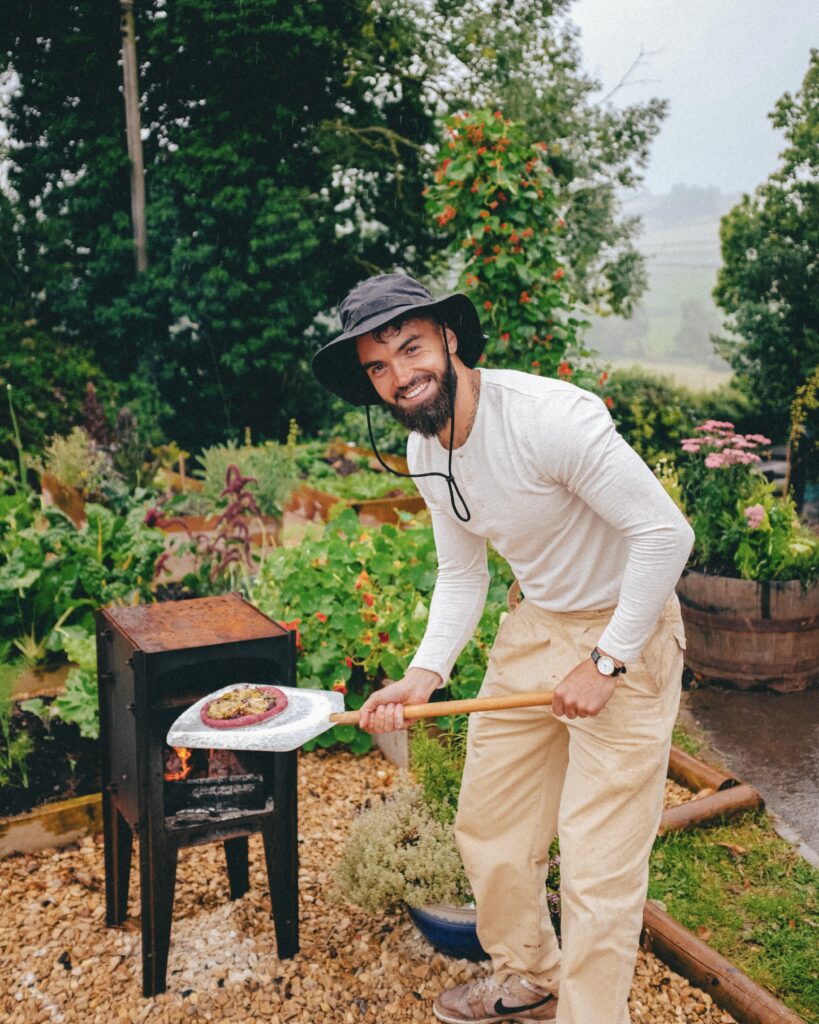 Ingredients
Dough
590g (5 cups) Strong White Bread Flour
1/3 cup/125ml Beet Juice 
10g Fine Sea Salt
325g (1 & 1/2 cups) Luke Warm Water
6g Active Dried Yeast
45g olive oil 
Beet Sauce
1 Onion
4 cloves Garlic 
1 tsp Cumin
1 tsp Smoked Paprika 
1 tsp Fennel Seeds 
3 Sprigs Thyme  
2 Beetroots, peeled & cut small
1/2 cup/120ml White Wine Vinegar
1/2 cup Organic Unrefined Caster Sugar
1 Bay Leaf
Pinch of Sea Salt & Cracked Black Pepper
Rarebit Sauce
1/4 cup/55g Plant Butter
1 Leek 
1/4 cup/30g Flour 
1/2 cup/125ml Non Dairy Milk
1/2 cup/Welsh Beer
1 tsp Garlic Powder 
2 tsp Miso Paste
1 tsp Mustard 
1 & 1/2 tsp Sea Salt
1 tsp Ground White Pepper 
Squeeze Lemon Juice
1/2 cup/15g tbs Nutritional Yeast
Toppings 
Roasted Vegetables, of your choice 
Garlic Granules 
Olive Oil 
First up for the dough, mix together the flour, yeast and salt in a large mixing bowl or bread mixer. 
Make a well in the middle then add the water, beet juice & olive oil. Stir/Mix until the mix starts combining to form a very wet dough.
Knead the dough for 6-8 minutes, before setting aside with a damp towel over the top. Leave the dough somewhere warm to prove for an hour or so.
Once the dough has doubled in size, portion it until 6 equal sized pieces & roll each piece into a ball. 
Place the dough balls into a lined baking tray, then cover the tray with a damp cloth, let the balls rise somewhere warm for an hour.
Meanwhile prepare your toppings, for the beet sauce. Add some olive oil to a sauce pan, then when it's hot sauté the onion & garlic until golden. Stir through the cumin, paprika, fennel seeds & thyme, then cook for another minute before adding the beetroot. 
Turn the heat down low, pop a lid on the pan & let the beets cook down until tender, this should take around 5-6 minutes. 
Deglaze the pan with the vinegar, then add the sugar, bay leaf, salt & pepper. Let the sauce bubble away gently for 15-20 minutes until luxuriously sticky. 
Next the cheese sauce, place a medium sized saucepan over a low heat & add the butter.
Sauté the leek, garlic & sage for 3-4 minutes until softened. Stir through the flour & cook out for 2 minutes before deglazing the pan with the beer.
Cook off the alcohol for a few minutes before stirring through the miso & mustard.
Add the milk and whisk/stir until there are no lumps, stir through the lemon juice & seasoning. 
Turn the heat low & let the sauce bubble away for a few minutes to thicken up. Fold through the nutritional yeast.
To build your beetzas, roll out your dough & top with the beet sauce, leaving a 2cm boarder around the edge. Top with some roasted vegetables, dollops of the cheese sauce, a drizzle of olive oil, salt & garlic granules.
Roast the pizza your pizza oven or in a really hot oven. 
Share this recipe