Beet & Chickpea Coconut Curry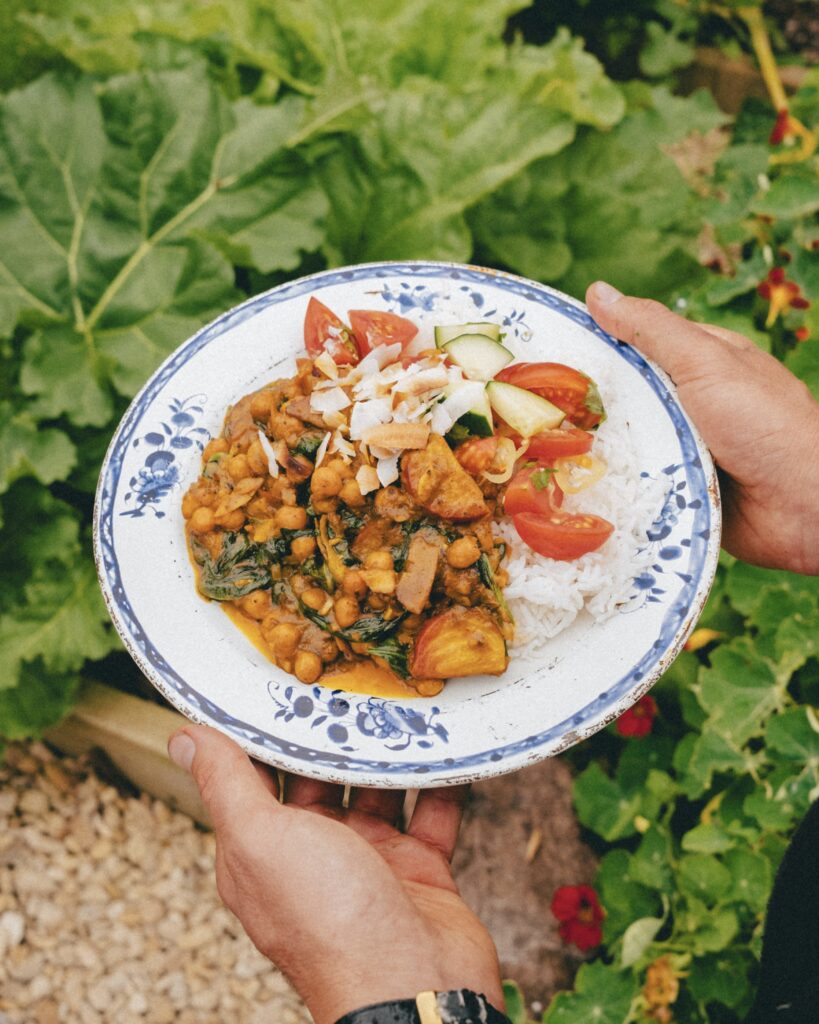 Ingredients
Marinade 
2 cup/250g Plant Based Greek Yoghurt 
1/2 tsp Chilli Powder 
1/2 tsp Ground Coriander
1/2 tsp Ground Cumin 
1 tbs Garam Masala 
1 tsp Ground Turmeric 
1 Fresh Green Chilli, sliced fine 
4 Cloves Garlic, peeled & minced 
Thumbed Piece Fresh Ginger, minced
Zest Half a Lemon 
4 tbs Olive Oil 
1 tsp Sea Salt 
4 Beetroots, I used candy beets, cut into bitesized pieces  
Curry Base 
1 Onion, peeled & chopped fine
4 Cloves Garlic, peeled & minced 
Thumbed Piece Fresh Ginger, minced
1 Chilli, chopped fine 
3 tbs Olive Oil 
1/2 tsp Sea Salt
1 tsp Ground Cumin
1 tsp Ground Coriander 
1/2 tsp Ground Turmeric 
3 tbs Tomato Paste 
1 cup/170g Chickpeas, cooked  
1/2 cup/20g Toasted Coconut Flakes 
1 can Coconut Milk 
2 big Handfuls Baby Spinach 
Serve with 
Salad 
Rice 
Pre heat your oven to 210 degrees C. 
Mix together the marinade ingredients in a large mixing bowl, then stir through the beets. Transfer the beets to a baking tray, then place them into your oven to bake for 20 minutes. 
Meanwhile for the curry base, place a large saucepan over a medium heat & add the olive oil. When the pan is hot, add the onion, garlic, ginger & chilli. Cook this mix slowly & gentle for around 8 minutes. This will allowing the onions to release all their sweetness adding depth to the curry. 
Season with salt, then add the spices. Cook for a further 2 minutes before add the tomato paste, chickpeas & coconut flakes. Mix well then add the roasted beets.
Deglaze the pan with the coconut milk, stirring well. Let the curry bubble away for 15 minutes. 
Just before serving stir through some spinach. 
Serve the curry with rice & salad. 
Share this recipe