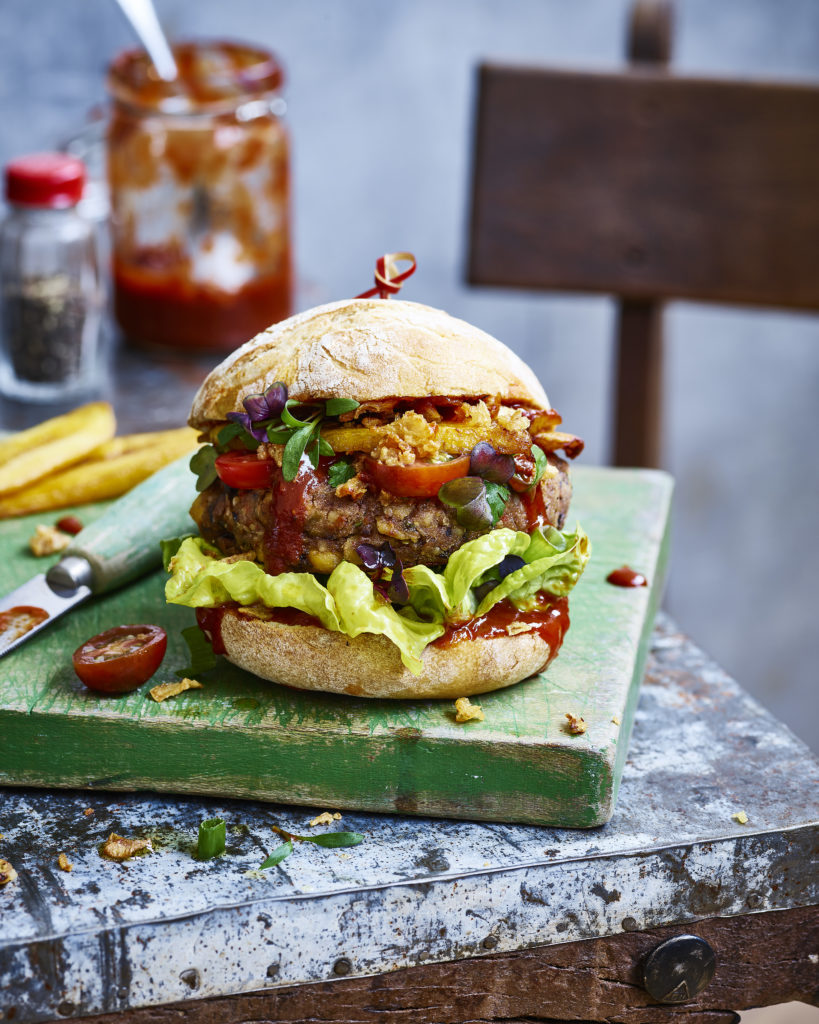 Ingredients
2 tbs Olive Oil 
1 Red Pepper
5 Spring Onions
8 Shiitake Mushrooms  
1 tin/240g Chickpeas, drained 
1 tin/240g Black Beans, drained 
3 tbs Shelled Hemp Seeds (optional)
Handful of Chopped Fresh Coriander
3 tbs BBQ sauce 
Zest & Juice a Lime 
2 tsp Sea Salt
2 tsp Black Pepper 
5 Tbs Buckwheat Flour
Garnish
Grilled Buns
Fried Plantains 
Cress
Lettuce 
Tomato
BBQ Sauce
Crispy Onions 
Method
Pre heat your oven to 180 degrees C & line a baking tray with grease proof paper. 
To your blender add the spring onions, red pepper & mushrooms then blitz the mixture until everything is finely chopped. Alternatively you can just finely chop everything using your knife.
Pre heat a large non stick frying pan over a low heat, add a little oil then pan is hot add the chopped red pepper mixture. Sauté everything for 2-3 minutes or until softened. 
Meanwhile, put the chickpeas & black beans into a mixing bowl and give them a pat dry with kitchen paper as best as you can.
Add the chickpeas & beans to the blender with the sautéed red pepper mixture, hemp seeds, coriander, bbq sauce, lime & seasoning.
Share this recipe