Baked Creamy Vegan Linguine with Pesto Breadcrumbs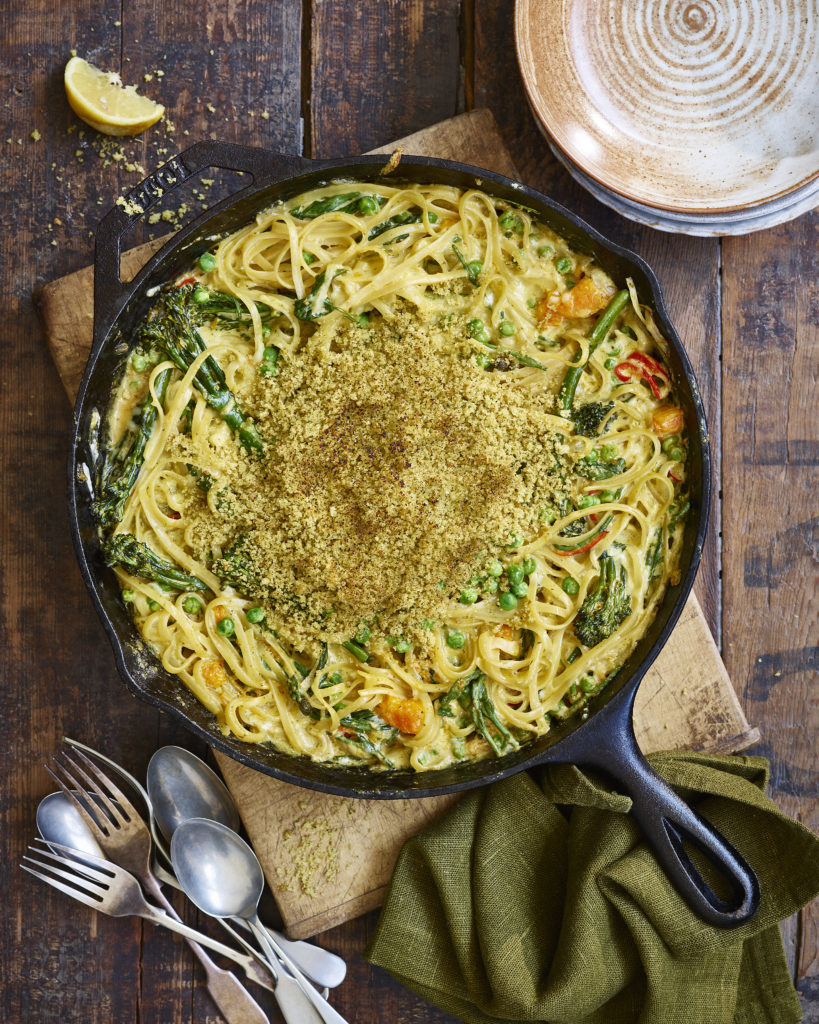 Ingredients
300g Linguine Pasta
2 shallots, sliced fine 
3 Cloves Garlic, minced
1 Red Chilli
2 tbs Capers
150g/2 cups Tenderstem Brocoli
1 cup/125g Cooked Butternut Squash, cubed
1 heaped tbs Scala' Vegan Pesto 
1 & 1/2 cups/180ml Vegan Cream, such as oat or soy
1/2 cup/120ml White Wine
1/2 cup/50g Grated Vegan Cheese
2 handfuls Spinach
1 cup/150g Frozen Peas or Edamame
Zest & Juice Lemon
Pinch Sea Salt & Black Pepper
3 slices Bread
1 tbs Scala' Vegan Pesto
Method
Pre-heat your oven to 180 degrees C. Add the bread to a food processor with the vegan pesto and blitz into breadcrumbs. 
Start your pasta cooking to the packet instructions. 
Meanwhile, pre heat a large non stick frying pan over a medium heat & when the pan is hot add a touch of oil followed by the onion, garlic, chilli, capers, squash & broccoli.
Sauté the mix for 3-4 minutes, then stir in the vegan pesto. Deglaze the pan with the white wine and vegan cream, turn the heat down low before adding the vegan cheese, spinach, peas, lemon & seasoning. 
Turn the heat off and stir the cooked pasta into the sauce, if your pan isn't oven proof, transfer the pasta to a baking dish.
Sprinkle over the vegan pesto breadcrumbs generously, and place the pasta into the oven to bake for 10 minutes.
After 10 minutes of baking place the dish into the centre of your dinner table for everyone to enjoy. 
Share this recipe