1 POT CREAMY SHROOM POTATO PIE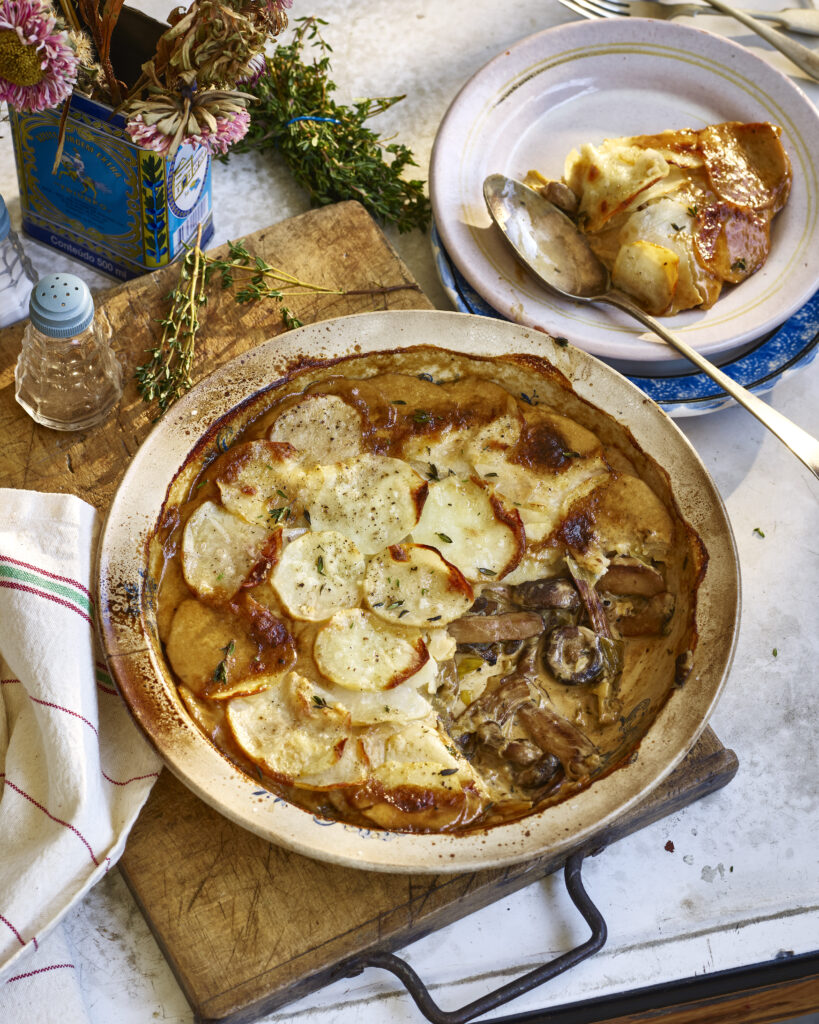 Ingredients
Mushroom Filling 
500g Mixed Mushrooms 
1 Leek, finely chopped
3 Cloves Garlic, minced
1 tsp Dried Chilli 
1 tbs Dried Tarragon 
1 Bay Leaf 
Pinch Ground Nutmeg 
3 tbs Plain Flour
1 Shot Brandy (optional) 
2 Cups Vegetable Stock 
1 cup Oat/Soy Cream or Coconut Milk will work 
Pinch Sea Salt
1 tsp Cracked Black Pepper
Topping 
2 Maris Piper Potatoes, peeled 
3 tbs Olive Oil 
Pinch Sea Salt & Pepper
Garnish 
Sprigs Fresh Thyme 
Method
Pre heat your oven to 200 degrees C. 
Place a large oven proof pan or casserole dish over a medium heat & add a little oil. When the pan is hot sauté the mushrooms for 8-10 minutes, stirring often making sure they're caramelised & golden. Season with salt & pepper whilst they are cooking.
Stir through the leek, garlic, chilli, tarragon, nutmeg & the bay leaf. Cook for a few more minutes then deglaze with the brandy, if using. Cook for a couple of minutes to cook off the alcohol. Then stir through the plain flour. Cook the flour out for 1 minute then add the vegetable stock. Stir well with a spatular & bring to a simmer. 
Stir through the oat cream & lemon juice. Let the mushroom filling bubble away for 10 minutes & meanwhile slice your potatoes fine using a mandolin or sharp knife. Lay the potato slices on top of the mushroom filling neatly, then drizzle over olive oil & a pinch of seasoning. 
Place the pie into the oven to bake for 25 minutes or until the potatoes on top are golden and crisp. 
Garnish with thyme and serve. 
Share this recipe