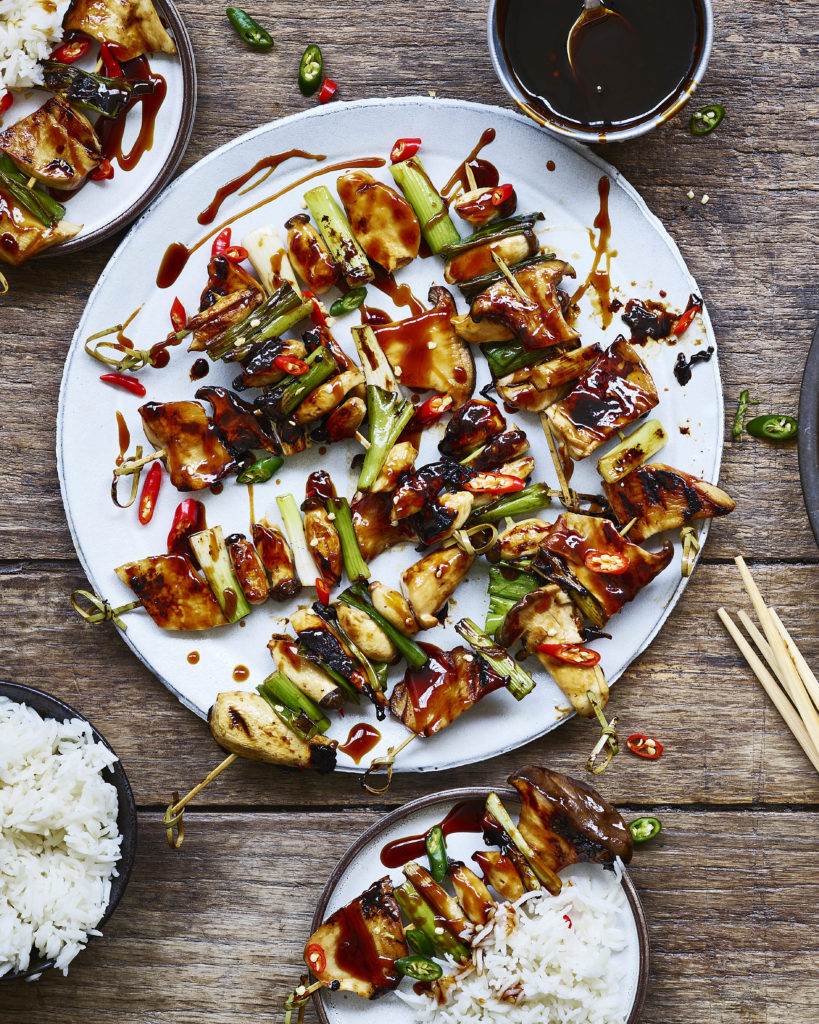 Meaty king oyster mushroom yakitori! The glaze can be used for stir fries as well.
Ingredients
Meat 
12 King Oyster Mushrooms
12 Spring Onions
3 Pak Choi 
Glaze 
1 & 1/2 cups/375ml Low Sodium/Salt soy sauce
1 cup/250ml water
1 cup/200g caster sugar
1/4 cup/60ml rice vinegar
juice 1 lime
1 tsp ginger
1 tsp garlic
1 tsp dried chilli
5 tbs Cornflour, mixed with water
Garnish
Sesame Seeds
Chopped Fresh Chilli
Add all the glaze ingredients (accept the cornflour) to a saucepan and place over a medium heat, bring the liquid to a simmer. Allow to simmer for 5 minutes before whisking in the cornflour mixture. 
The liquid should thicken up into a lovely glaze like the consistency. If it becomes too thick add some water, and if too thin, slightly more cornflour/water mix or just allow it to reduce down.
Cut the mushrooms in half lengthways, then each half into 3 width ways. Cut the spring onions to a similar size. Then skewer them up.
Before serving, place a griddle pan over a high heat with a touch of oil added (or get your BBQ nice and hot)
Grill each skewer for 4-5 minutes on each side, brushing on glaze as they are cooking. Serve with a sprinkle of sesame seeds. 
Share this recipe