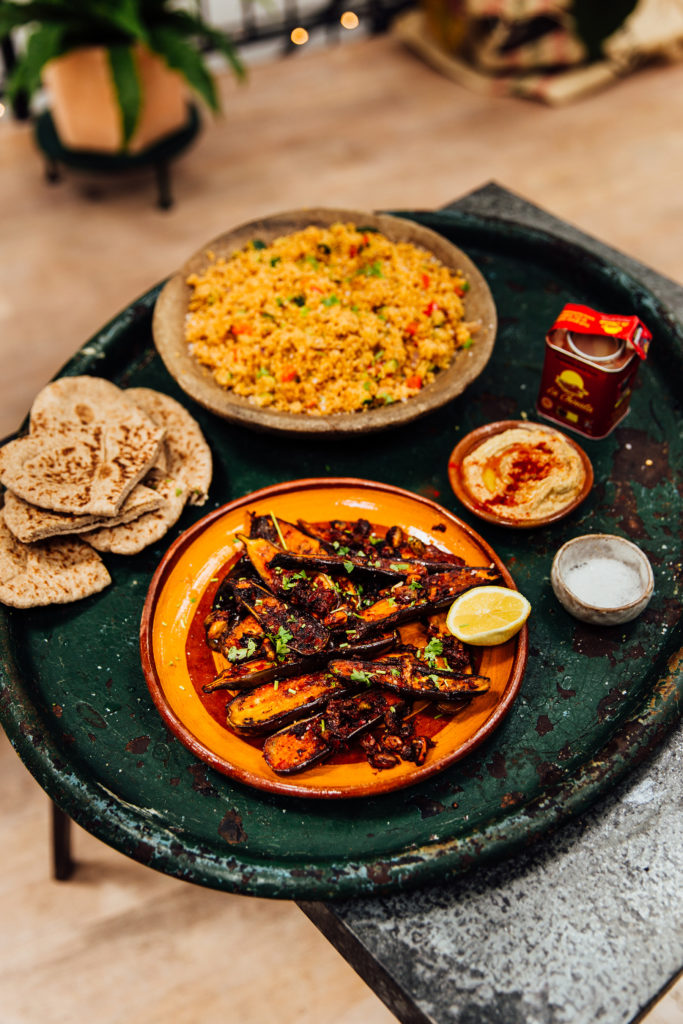 Ingredients
Aubergines
8 Baby Aubergines or 2 Large
4 tbs Harissa
Handful shelled Pistachio Nuts
Zest & Juice of 1 Lemon
Handfull Chopped Parsley, to garnish
Cous Cous
2 cups/300g Cous Cous
1 Red Onion, cut small
1 Red Pepper, cut small
1 Courgette, cut small
1 tbs Dried Thyme
2 tsp Ground Cumin
2 tsp Ground Coriander
2 tsp Smoked Paprika
3 cups/720ml Vegetable Stock
Pinch of Salt & Pepper
Serve with
Hummus
Salad Leaves
Pitta Bread
Sauté the onion, courgette & pepper in a large non stick pan over a medium heat with the dried spices, thyme & seasoning.
When the onion has softened add the vegetable stock & bring to a simmer.
Add the couscous to the pan and turn the heat off. Cover the pan to hold in the steam. Leave the couscous to rehydrate until you're ready to serve.
Saute the aubergines cut side down for 3 minutes on each side.
Add the harissa, nuts & lemon & continue to cook for a couple minutes.
Before serving fluff up the couscous using a fork.
Serve the aubergines with the couscous, a salad, pitta & hummus.
Share this recipe