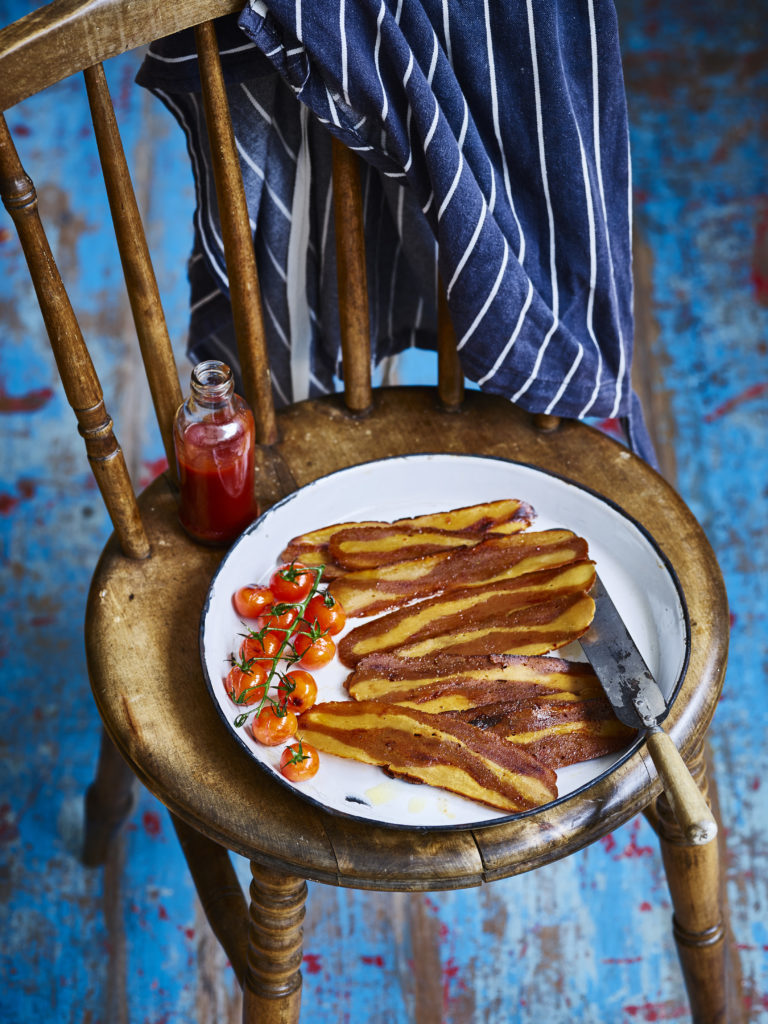 The Ultimate Vegan Bacon.
Ingredients
Bacon 
Dry;
2 & 1/4 cups/300g Vital Wheat Gluten
4 tbs Chickpea Flour
3 tbs Nutritional Yeast
Wet;
1 cup/240ml Vegetable Stock
1/2 cup/120ml Apple Juice
1/2 cup/10g Dried Mushrooms
2 tbs Soy Sauce
5 tbs Maple Syrup
1 tbs Miso Paste
4 tbs Sweet Smoked Paprika
2 tbs Liquid Smoke (increase smoked paprika if you don't have liquid smoke)
1 Red Onion, sautéed
2 Cloves of Garlic, sautéed
1/2 cup/100g Chickpeas
1 tsp Dried Sage
1/2 tsp Fennel Seeds
1 tsp Smoked Sea Salt
1 tsp Black Pepper
'Streak'
Dry
1 cup/130g Vital Wheat Gluten
2 tbs Chickpea Flour
1 tbs Nutritional Yeast
Wet;
1/2 cup/80g Firm Tofu
1/2 cup/120ml Soy Milk
1/2 cup/100g Chickpeas
1 tsp Onion salt
1/4 tsp Garlic Powder
1 tsp Dried Tarragon
1 tbs White Miso Paste
1 tsp Pepper
Additional Salt for sprinkling
Separately blitz together the wet ingredients for both the bacon & streak parts. Set the blitzed streak wet mix aside.
In a large mixing bowl add the dry ingredients for the bacon part & mix well with it's wet mix.
Once mixed it should form 1 ball of dough, turn the dough out on to a clean work surface.
Knead well for 12 minutes. You can do this in a electric mixer  After 12 minutes of kneading set the dough aside to rest.
Repeat the same process for the streak part but kneading for 4-6 minutes.
Roll/beat the bacon part using a rolling pin to around an A4 paper size. Do the same with the 'streak' dough.
Lay the streak dough over the bacon dough & cut the doughs in half. Place a half on top of the other and beat the dough together.
Generously sprinkle sea salt over the dough rectangle & set aside
Pre heat a large saucepan of water over a medium heat to simmer.
Wrap the dough tightly first in greaseproof paper then in cling film. Place the wrapped dough into the water for 2 hours, flipping over half way through cooking.
After two hours remove the bacon from the water & allow to cool. Once cool enough to handle unwrap the bacon & place it into the fridge to completely cool.
Once chilled, slice the bacon to the thickness of your choice, you can eat cold or pan fry, grill or bake until golden & crisp.
Share this recipe