Salted Caramel Chocolate Bars
Serves: 14
Cooks in: 1 hour, plus chilling time
Gluten free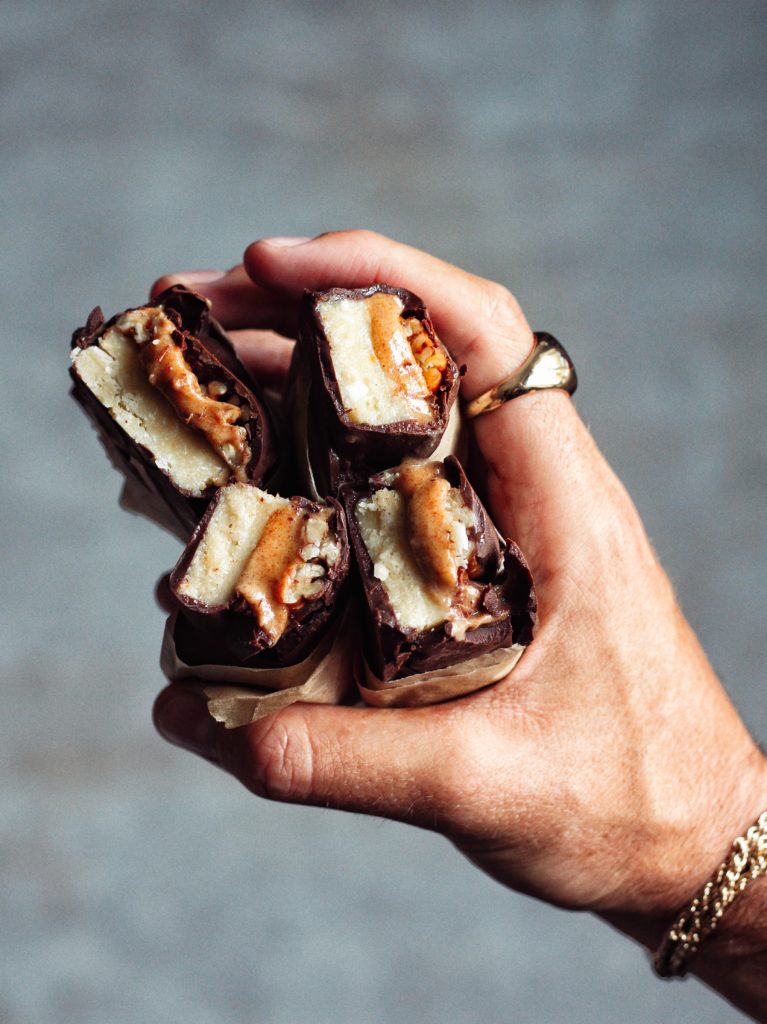 A sweet treat that is surprisingly healthy! Gluten free, refined sugar free & raw, the dates give this caramel the most amazing flavour accompanied with a biscuity nutty base.. SEXY!
Ingredients
Almond 'Biscuit' Layer
2 cups/170g Ground Almonds
1/2 cup/70g Macadamia Nuts
1/2 cup/40g Pecans, plus additional for topping.
3 tbs Agave Nectar
3 tbs Coconut Oil
1 tbs Peanut Butter
Pinch Himalayan Salt
Salted Date Caramel Layer
2 cups/340g Pitted Madjool Dates
2 tbs Coconut Oil
1 cup/240ml Almond Milk
1/2 cup/120ml Filtered Water
1 tsp Vanilla Bean Paste
1/4 tsp Himalayan Salt
'Chocolate' Coating
8 tbs Coconut Oil, melted
10 tbs Organic Cacao Powder
3 tbs Agave Nectar
Line a 10" x 6" baking tray with greaseproof paper.
Mix together the almond flour with the melted coconut oil & agave nectar. Press the almond mix into the base of the baking tray making sure its an even layer all over. 
Pop the tray into the freezer then get on with the salted caramel layer.
In a blender cup add all the ingredients and blend until as smooth as possible. Remove the tray from the freezer & spread the caramel layer over the top evenly. Sprinkle over a layer of almonds. 
Pop the tray back into the freezer to set for around 2 hours.
Mix together the chocolate coating ingredients until smooth, then set aside.
Remove the tray from the freeze & allow to slightly soften for 15 minutes. 
Line a baking tray with greaseproof paper.
Once slightly soften cut the block into bars.
Individually dip each bar into the chocolate mix. Then place onto the lined baking tray. 
Once you've coated all of the bars in chocolate. Place them into the fridge to set. 
Alternatively they can be stored in the freezer.
Share this recipe