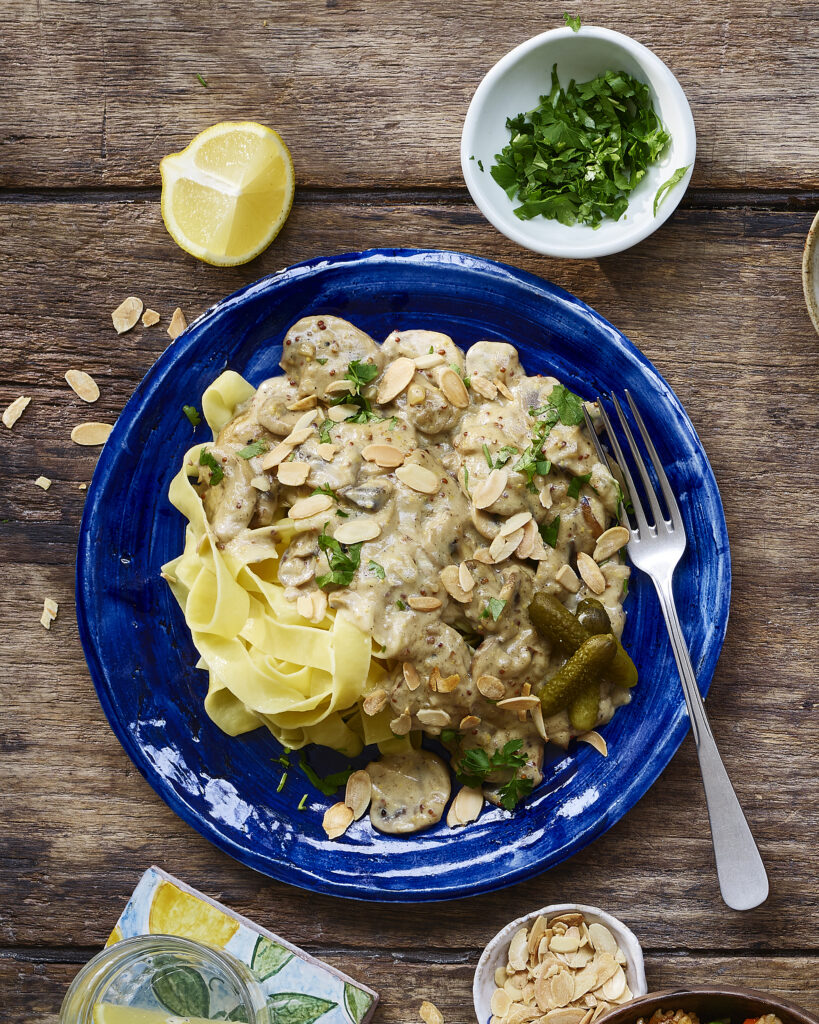 Ingredients
2 tbs Olive Oil 
450g Chestnut or Closed Cap Mushrooms (large ones cut small)
1 Onion, chopped fine
2 cloves Garlic, minced 
Few Springs Thyme 
1 tbs Plain Flour/GF Flour
Juice & Zest Lemon 
1 tbs Wholegrain Mustard 
1/2 cup/125ml Vegetable Stock 
1 cup/250ml Oat Crème Fraiche/Non Dairy Cream/Coconut Milk 
Big Handful Fresh Parsley 
Serve with 
Rice or Pasta 
Toasted Almonds 
Add the oil to a large saucepan placed over a high heat. When the pan is hot add the mushrooms, sauté for 6-8 minutes stirring often. You want the mushrooms to get golden & release lots of their water.  
When the mushrooms are golden, turn the heat down & add the butter followed but the onion, garlic & thyme. Cook for a few minutes until the onions have softened. 
Stir in the flour, then deglaze the pan with the stock, oat cream, lemon & mustard. Turn the heat down low.
Pop a lid on the pan and let the stroganoff bubble away for 15 minutes. 
Just before serving stir through chopped parsley. 
Serve with rice or pasta, I like to garnish with toasted almonds.
Share this recipe