Mandarin Upside Down Cake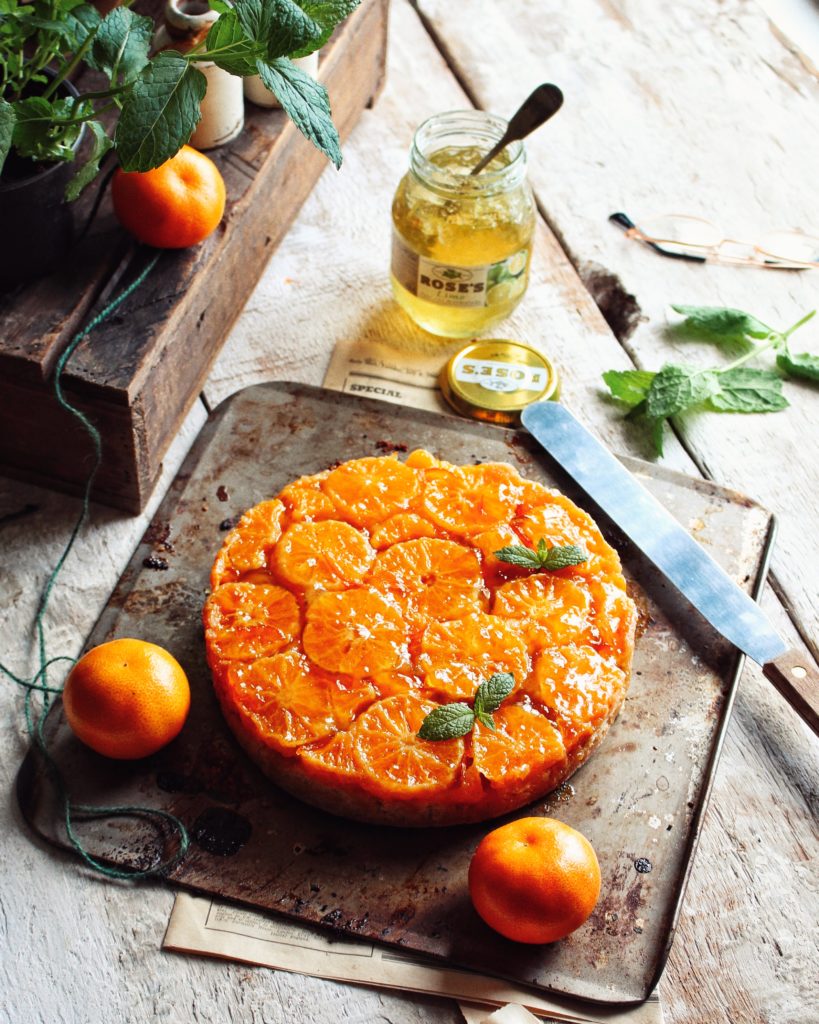 "This is one of the simplest vegan cakes to make and in my opinion one of the tastiest. Replace the general purpose flour for gluten free self raising flour if you like. Fruits like banana & pineapple make excellent toppings too"
Ingredients
6-8 Mandarins
2 tbs Vegan Margarine
2 tbs Unrefined Raw Caster Sugar
1 cup Almond Milk
1 tbs Apple Cider Vinegar – Buy it here!
2 tsp Vanilla Essence
1/3 cup Vegetable Oil
1 & 3/4 cups Plain Flour
2 tsp Baking Powder
Pinch Salt
1 cup Unrefined Raw Caster Sugar
To Serve
Marmalade melted & mixed with 2 tbs Water
Fresh Mint Leaves
Pre heat your oven to 180 degrees C. Line a 9" diameter sealed loose bottom cake tin. Make sure it definitely is a sealed one or the juices from the fruit will leak out. Here is where I got my sealed cake tin from – Buy it here!
Rub the margarine into the cake tin & sprinkle over the caster sugar evenly. Peel & cut your mandarins into 3 then lay them cut side down into the cake tin, fill any gaps with mandarin quarters or halves. Then set aside whilst you make the vanilla cake mix.
Combine all the wet ingredients together.
In a large mixing bowl add the dry ingredients and mix well. Pour in the milk mix and stir lightly.
Once the mix has combined, pour it into the cake tin and give it a little tap on the surface to remove any air pockets.
Pop the cake into the oven to bake for 25-35 minutes.
Once the cake has cooked, allow it to slightly cool for 5-10 minutes before removing it from the tin.
Before serving glaze the cake with melted marmalade. Just add a couple tablespoons of water to loosen it. Garnish with fresh mint leaves.
Enjoy
Share this recipe