High Protein Vegan Meal Prep
Serves: 1 for 4 days
Gluten free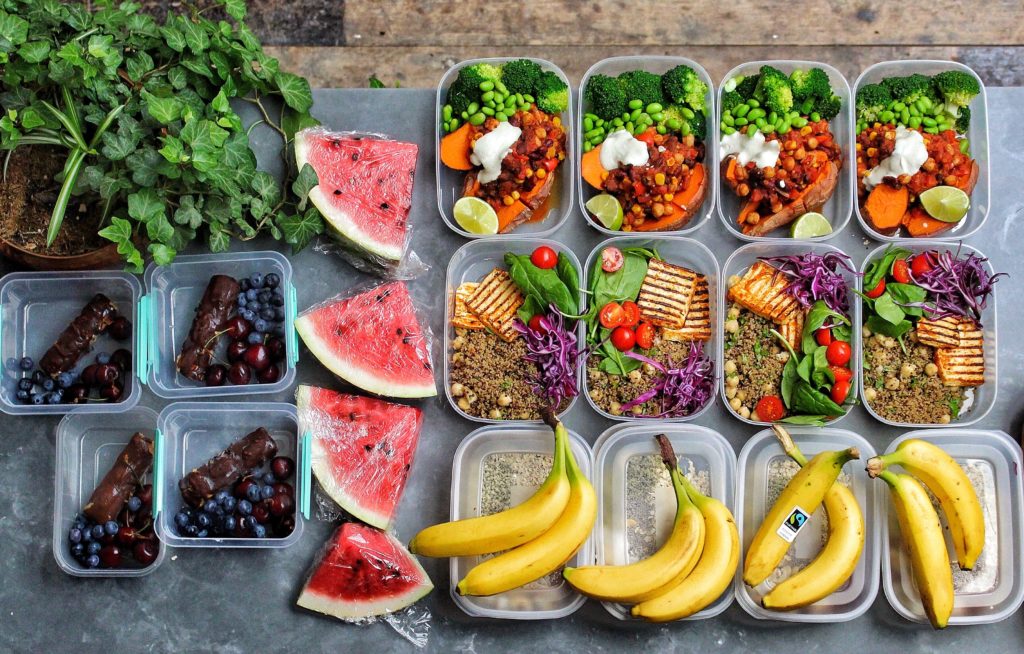 I used my experience from when I used to body build (before going vegan) to show you how to make some simple, healthy, high protein & also VERY tasty work out meals!
Ingredients
Breakfast
Oats, dried fruit, chocolate, hemps seeds & nuts.
4 cups Gluten Free Porridge Oats
1 cup Mixed Dried Fruit
1/4 cup Raw cacao powder
1 tbs Shelled Hemp Seeds
1 tbs Chia Seeds
1 cup Mixed Nuts
Bannans
Lunch
Peri Peri Grilled Tofu, Herb, Lemon Quinoa & Chickpeas & Spinach.
1 block Tofu
1/2 cup Peri Peri Sauce
4 cups Quinoa, cooked
1 cup Chickpea, cooked
Zest of 1 Lemon, plus Juice.
Handful Parsley
1 tbs Fresh Thyme
Handful Basil
Pinch Salt & Pepper
Spinach
Cherry Tomatoes
Spinach
Red Cabbage
Dinner
Bean Chilli, Baked Sweet Potato, Broccoli, Edamame & Creme Fresh 
6 Baked Sweet Potatoes
1 Red Onion, chopped fine
2 Cloves of Garlic
1 Fresh Chilli
1 Red Pepper, cubed
1 tsp Ground Cumin
1 tsp Ground Cinnamon
2 tsp Cayenne Pepper
2 Tins Chopped Tomatoes
1 cup Chickpeas, cooked
1 cup Red Kidney Beans, cooked
1 cup Sweetcorn, cooked
1 cup Black Beans, cooked
Pinch of Sea Salt & Pepper
Handfull Chopped Coriander
2 cups Edamame
2 heads Broccoli
2 Avocados
Sweet Snack
Salted caramel bars – recipe here
Mixed Berries
4 Chunks Watermelon
Share this recipe