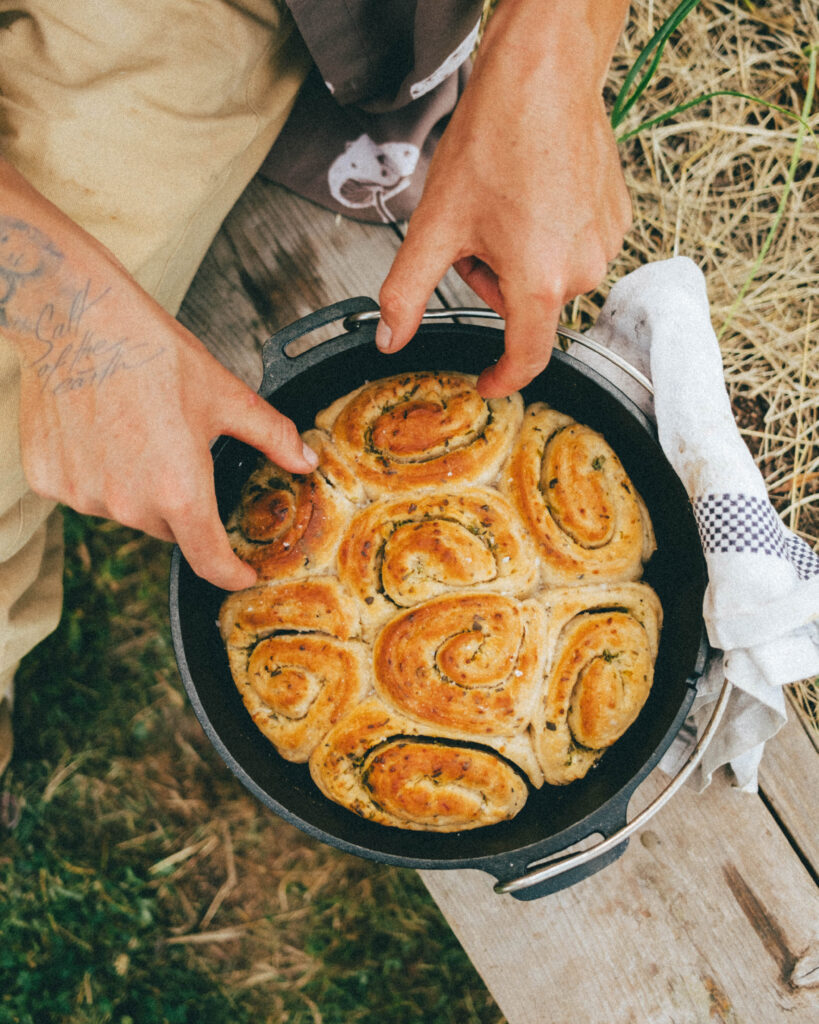 Ingredients
590g (5 cups) Strong White Bread Flour
10g Fine Sea Salt
325g (1 & 1/2 cups) Luke Warm Water
6g Active Dried Yeast
45g Olive Oil 
4 tbs Garlic Granules
3 tbs Dried Basil 
2 tbs Dried Rosemary 
Garlic Butter
1 Stick Butter, softened 
1 Bulb Garlic, cloves peeled & minced  
Handful Soft Herbs, like Parsley, Basil, Sage 
Pinch Sea Salt & Pepper 
Method
Add the flour, salt, yeast, garlic granules, basil & rosemary to a large mixing bowl & mix well. 
Make a well in the middle & stir in the olive oil & water. Mix until everything comes together & forms a ball of dough. Knead the dough in the bowl or on your work surface for a few minutes until the dough is smooth and elastic like. 
Place the dough into a lightly oil bowl & cover over with a damp kitchen cloth and aside somewhere warm for an hour or so to prove & double in size. 
Meanwhile mix your butter ingredients together in a mixing bowl and set aside until you need it. 
Lightly grease a 20cm x 8cm roasting dish. 
When the dough has risen, lightly flour your work surface & roll your dough out into a rectangle shape around 50cm x 30cm. Spread loads of the garlic butter over the top then roll up the dough. 
Cut the dough into 8 rounds around 5cm big. Place the rounds cut side up into your greased baking dish neatly. Leaving a little space between each round, given them room to rise. 
Place a damp towel over the baking dish & let the rolls rise up some where warm. It should take about an hour. Meanwhile pre heat your oven to 210 degrees C. 
When the rolls have risen place the rolls into the oven to bake until golden, which should take around 30 minutes. 
Tear, share & enjoy. Any left over butter can be wrapped & stored in the fridge and used on roast vegetables.
Share this recipe