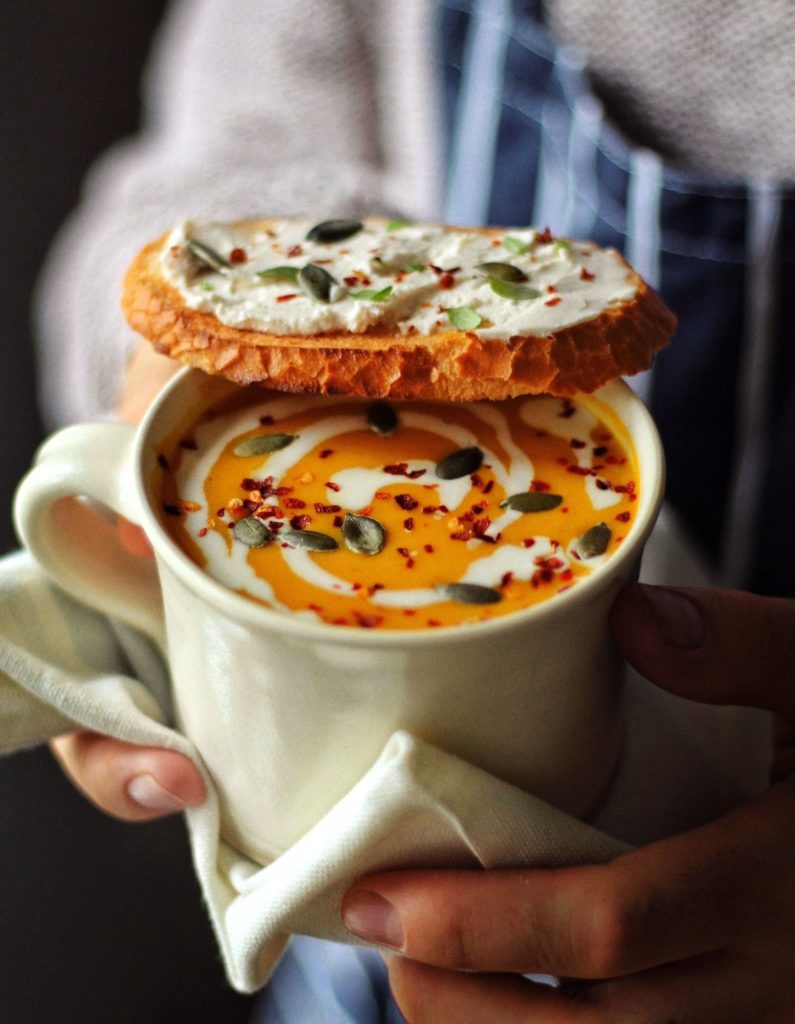 The perfect soup for fall. Creamy, warming, sweet & spicy!
Ingredients
Soup
1 Medium sized Pumpkin, peeled, deseeded & cubed (my pumpkin was 8kg)
3 tbs Cajun Spice Mix
1 tbs Dried Sage
Drizzle Olive Oil, leave out if keeping this recipe oil free
2 tsp Sea Salt
1 tsp Cracked Black Pepper
2 Onions, peeled & roughly chopped
3 Cloves Garlic, peeled & roughly chopped
480ml/2 cups Non Dairy Milk
approx 720ml/3 cups Vegetable Stock, more maybe needed depending the amount of Pumpkin you've used
Squeeze Lemon Juice
Garnish
Handfull Pumpkin Seeds
Drizzle Vegan Cream, such as Alpro or Oatly
Sprinkle of Dried Chilli Flakes
Toast with Vegan Cream Cheese, recipe in my book Vegan 100
Method
Pre heat your oven to 180 degrees C.
Place the pumpkin into a roasting tray with the cajun, sage, seasoning & oil. Mix it all up using your hands.
Roast the pumpkin in your oven for around 45 minutes to an hour – or until its tender. 
When the pumpkin is cooked. Place a large saucepan over a medium heat & a drop of oil or water if you're keeping this recipe oil free, onion & garlic. Sauté the mix with a pinch of salt for 4 minutes.
Add the pumpkin to the saucepan, followed by the milk & vegetable stock.
Allow the soup to simmer for 10 minutes before blending it until super smooth. 
Blend the soup a few ladles at a time & if it's too thick add more vegetables stock.
Check the soup is seasoned ok before serving with the garnishes.
Soup can be kept in the fridge for up to 4 days.
Share this recipe