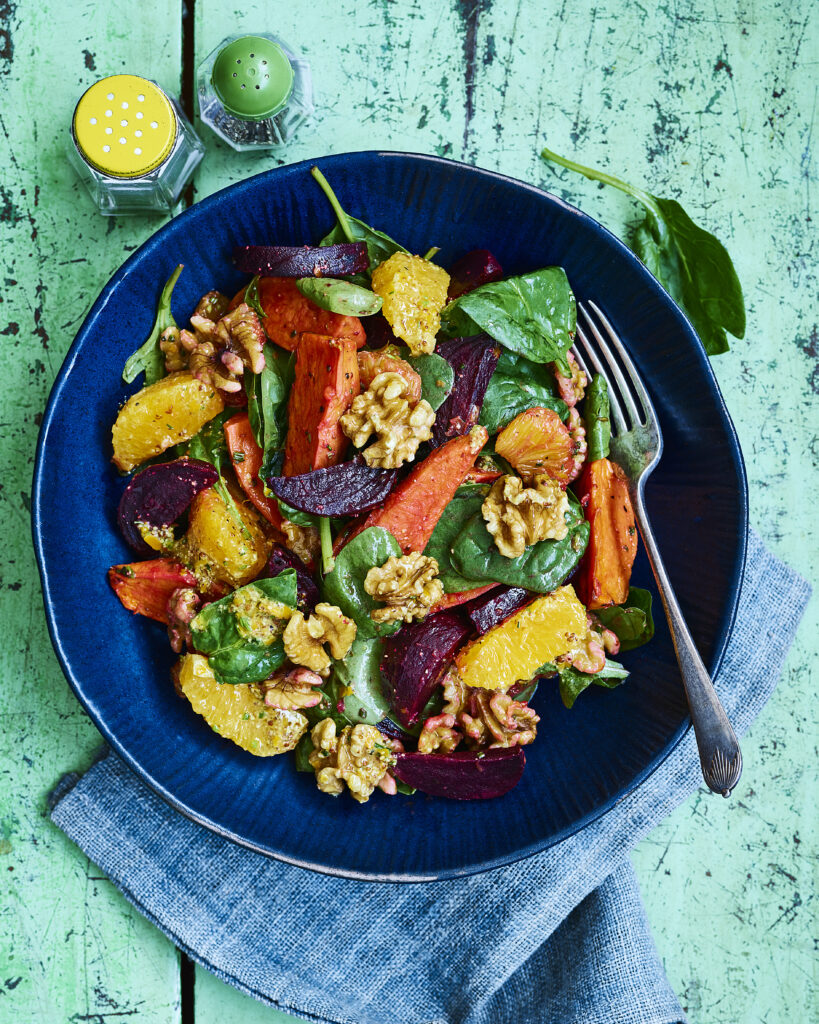 This warm salad tastes as good as it looks, its so vibrant!! The earthy sweet beetroot works so well with the tangy orange & dressing. The walnuts add a beautiful crunch"
Ingredients
4 Beetroots, peeled.
2 Sweet Potatoes, peeled.
1 tbs Olive Oil
Pinch Sea Salt & Pepper
2 Springs Fresh Thyme
2 Oranges, peeled & sliced.
Handful Rocket
Handful Spinach
3 tbs Chopped Chive 
1/4 cup/30g Walnuts, lightly toasted in a dry pan.
Dressing
3 tbs Walnut Oil or Extra Virgin Olive Oil
1 tsp Wholegrain Mustard
2 tbs Red Wine Vinegar
Zest of Half an Orange
Pinch Salt & Pepper
Method
Preheat your oven to 200 degrees. Line a baking tray with greaseproof paper.
Cut the peeled sweet potato & beetroot into similar sized wedges, drizzle over the olive oil & mix well. Break up the fresh thyme in your hands & throw into the tray.
Bake the potato & beetroot for 25 minutes or until soft.
Mix together the dressing ingredients.
Once the potato & beetroot are slightly cooled, remove from the oven & allow to cool slightly.
Add the orange slices, rocket, chive & walnuts to a bowl followed by the warm beetroot & potato. Drizzle over a couple tablespoons of the dressing & lightly mix.
Serve straight away.
Share this recipe