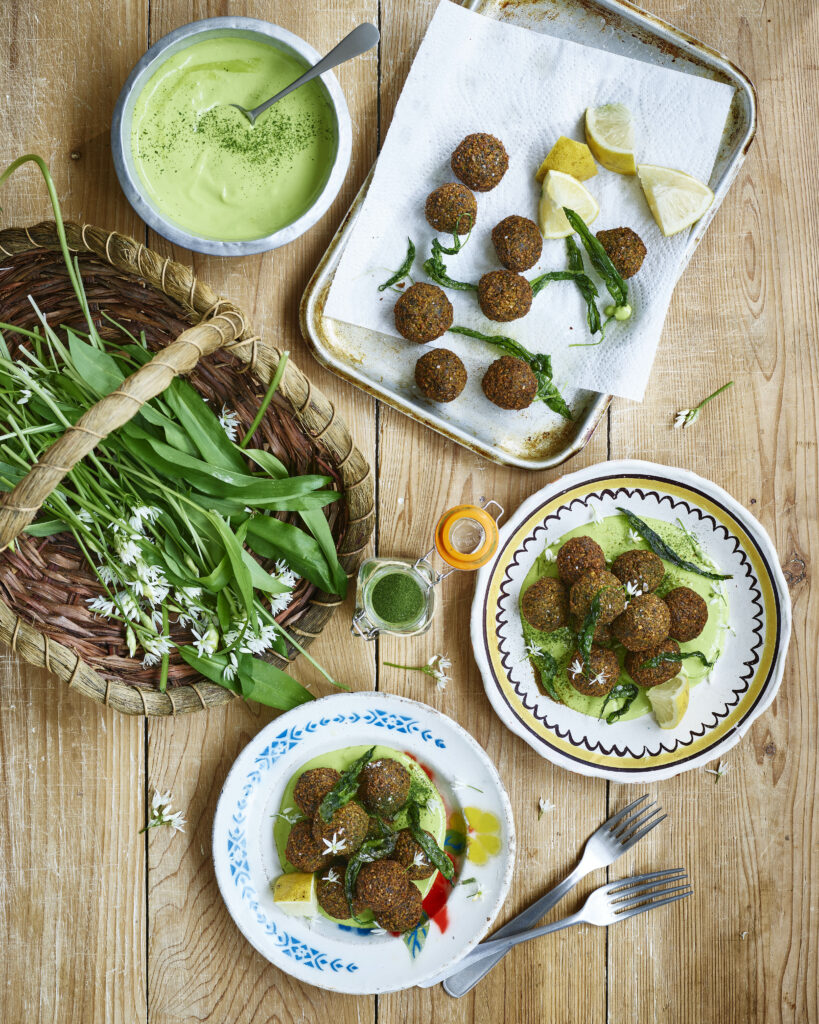 Wild Garlic's distinctive & pungent garlicky smell pervades woodlands around the world in spring time. It's always a thrill to forage wild garlic, it brings back so many memories. This is my falafel recipe using wild garlic, the wild garlic adds a vibrant green colour & of course a rich garlic flavour.
Ingredients
2 cups of dried chickpeas, soaked overnight in water
1 large handful of wild garlic leaves, finely chopped
1 onion, roughly chopped
Juice 1 lemon 
Handful fresh coriander
1 tbs of ground cumin
1 tbs of ground coriander
1 tsp sea salt
2 cups/500ml oil for frying, I used avocado
Wild Garlic Aioli 
1/2 cup raw cashews, soaked for at least 2 hours (or overnight) and drained
Juice half a lemon
1 tbs tahini
2 tsp teaspoon french mustard
1/2 tsp sea salt
1/4 tsp pepper 
1/4 cup/60ml extra-virgin olive oil
1/2 cup/120ml water
Handful wild garlic, chopped
Soak the chickpeas in water overnight, or for at least 8 hours. Drain and rinse well.
In a food processor, combine the chickpeas, onion, wild garlic leaves, cumin, coriander, lemon juice & salt. Pulse until the mixture is finely chopped & well combined.
Transfer the mixture to a bowl and cover. Chill in the refrigerator for at least 30 minutes.
Heat your frying oil in a deep-frying pan over medium heat.
Take about 1 tablespoon of the falafel mixture and roll it into a ball or the falafel shape of your choice. Repeat with the remaining mixture.
Fry the falafel in the hot oil until golden brown and crispy, about 3-4 minutes per side.
Remove the falafel from the oil using a slotted spoon and drain on paper towels.
To make the aioli, In a blender or food processor, add the soaked cashews, water, wild garlic, lemon juice, tahini, mustard, salt, and pepper. Blend until smooth whilst slowly trickling in the olive oil in a thin stream, until the mixture thickens and emulsifies.
Taste and adjust seasoning if needed.
Serve your falafel with the aioli right away. I served mine with crispy wild garlic leaves & lemon wedges. See the above video for more information on how to find wild garlic & this recipe.
Share this recipe