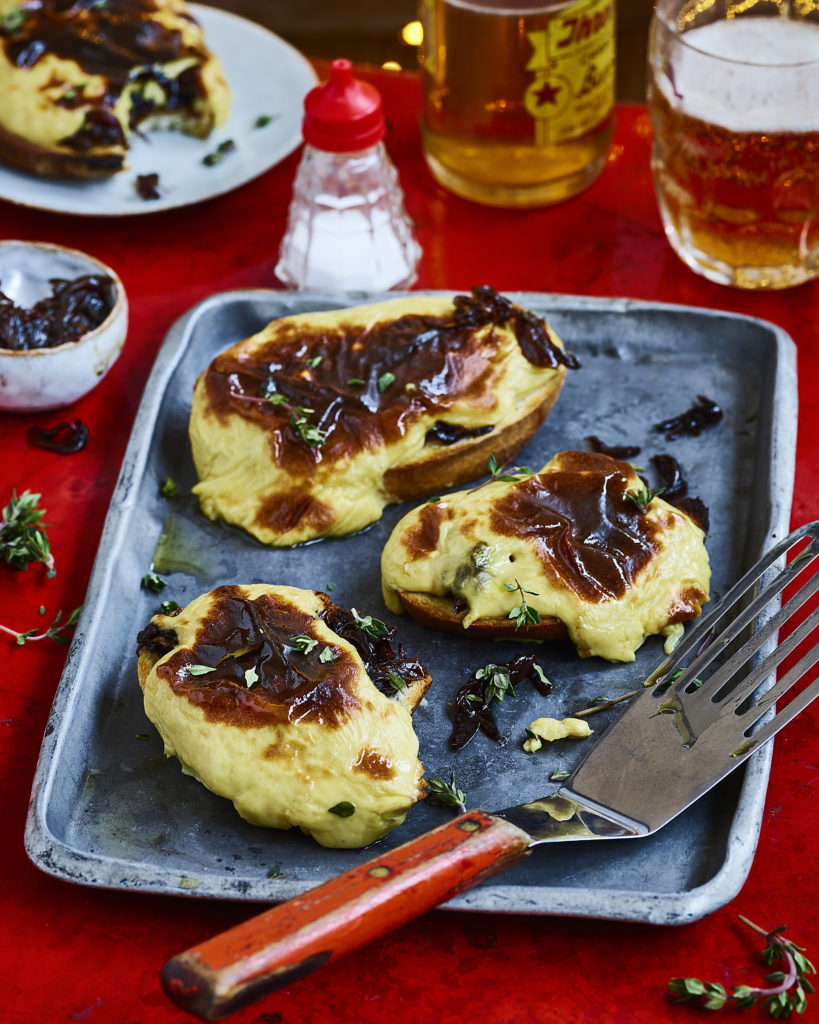 Welsh rarebit or Welsh rabbit is a dish consisting of a hot cheese-based sauce served over slices of toasted bread. The original 18th-century name of the dish was "Welsh rabbit", which was later reinterpreted as "rarebit", as the dish contains no rabbit. This is my modern 2023 version that is totally dairy free.
Ingredients
1/4 cup/55g Plant Based Butter
1 Leek, finely sliced
2 Cloves Garlic, minced
3 tbs Plain Flour 
1/2 cup/125ml Beer
2 tsp Miso Paste
1 tsp Mustard 
2 tbs Coconut Aminos/Soy Sauce
1 & 1/2 tsp Sea Salt
3/4 cup/60ml Non Dairy Milk
1 tsp Ground White Pepper 
Squeeze Lemon Juice
1/2 cup/15g tbs Nutritional Yeast
Bread
1 Loaf Sour Dough, Cut into thick slices on an angle & toasted
Method
Pre heat your grill to 180 degrees C.
Place a medium sized saucepan over a medium heat & add the butter. Sauté the leek & garlic for 3-4 minutes until softened. Stir through the flour & cook out for 2 minutes before deglazing the pan with the beer.
Cook off the alcohol for a few minutes before stirring through the miso, mustard & coconut aminos.
Add the milk and whisk/stir until there are no lumps, stir through the lemon juice, yeast & seasoning. Turn the heat low & let the sauce bubble away for a few minutes to thicken up. Fold through the nutritional yeast and taste.
Meanwhile toast of your bread in an oven proof pan with a little olive oil. Spoon over lashings of the cheese sauce over each piece of toast then pan the pan under the grill to caramelise.
When golden, serve up. I like to accompany the rarebit with chutney & salad.
Share this recipe