Vietnamese Style 'Meat'-Balls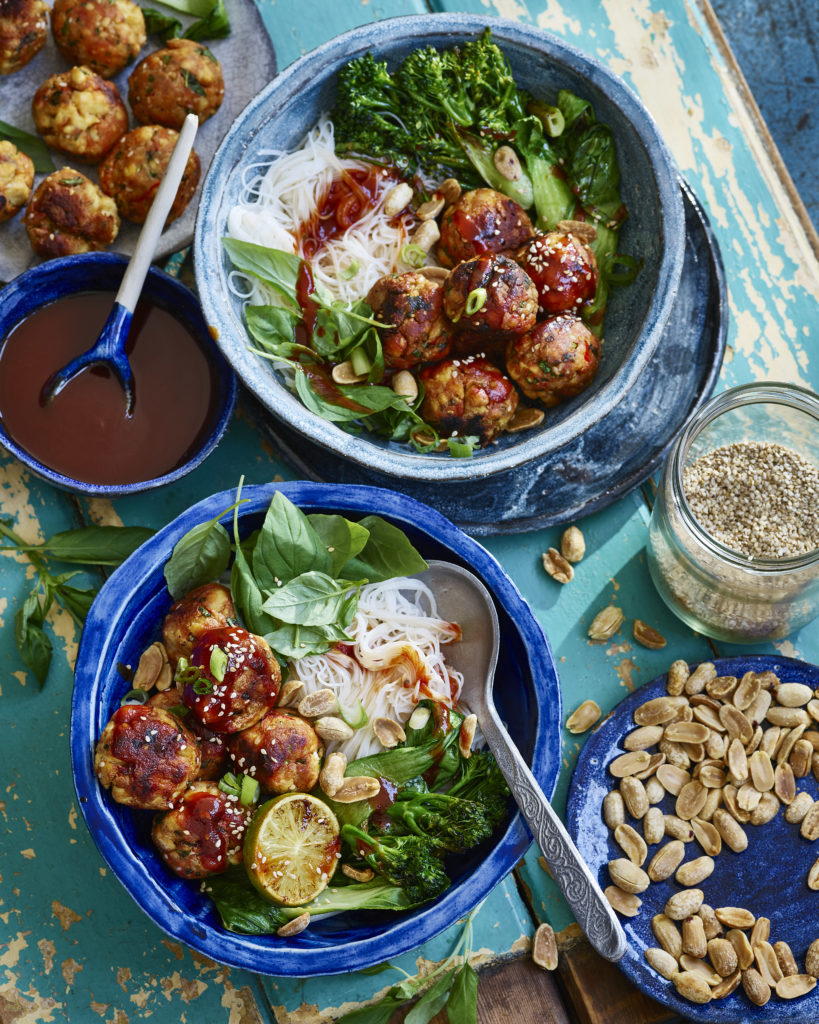 Ingredients
Meatballs
1 x 300-g (10-oz) extra firm block tofu 
1 tbs Gochujang Chilli Paste or 1 small Red Chilli, finely chopped
a handful of coriander (cilantro), chopped
1 tbs of Thai Basil, chopped, plus extra to garnish
1 tbs lemongrass paste
1 tbs sesame seeds
1 tbsp tomato puree
3 tbsp Sriracha sauce
2 tso Garlic Granules
1 tsp Sea Salt
5 tbsp buckwheat flour
Dressing
1/4 cup tbs Soy Sauce
2 tbs Sriracha
3 tbs Maple Syrup or Agave Nectar
2 tbs Tomato Ketchup
2 tsp Garlic Granules
1/2 cup Water
Serve with

Sautéed Spring Onion, Pak Choi & Kale or other greens of your choice
Carrot Ribbons
Fresh Thai Basil or Coriander
Sesame Seeds
Rice Noodles or Jasmine Rice
Pre heat your oven to 180 degrees C.
First up make the meatballs, add the tofu to a large mixing bowl and mash it using a masher until its broken up small, alternatively crumble it into small pieces with your hands.
Add the rest of the meatball ingredients to the bowl and mix until well incorporated.
Now it's time to form the mix into meatballs. Lightly flour your hands and then roll a heaped tablespoon of the mixture into meatball. Repeat until you've rolled all the mix into balls.
Add a little oil to a non stick pan placed over a medium heat. When the pan is hot fry the meatballs for around 3 minutes, or until golden. Place the balls onto a non stick or lined roasting tray after frying, then place into the oven to cook through for 15 minutes.
Meanwhile mix together the dressing ingredients in a small saucepan & place over a low heat to bubble away & thicken up. Prepare your noodles & garnishes.
Once the meatballs are roasted serve them with your noodles, greens, other garnishes & plenty of sauce.
Share this recipe