Vegan Seared 'Scallop' Risotto with Dill Oil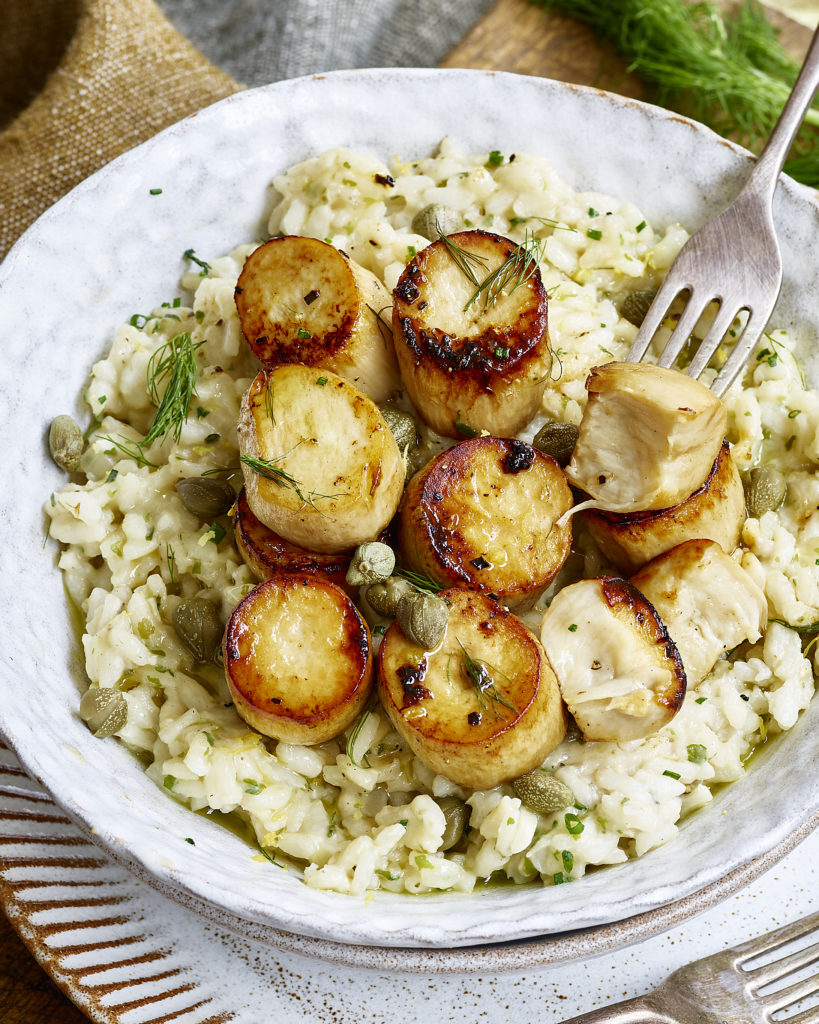 Ingredients
Scallops
5 King Oyster Mushrooms, will produce 15 scallops
Broth
1 Sheet Nori, cut small
1 Shallot, sliced fine
1 clove Garlic, sliced fine
Sprig Thyme
200ml White Wine
400ml Vegetable Stock
Juice of 1 Lemon
Simple Risotto
4 Shallots, chopped fine
2 Cloves of Garlic, minced
1 tsp Sea Salt
2 cups/200g Risotto Rice
4 cups/1 Litre Hot Vegetable Stock, plus a little extra.
1 cup/ 50ml Vegan Friendly White Wine
2 tbs Nutritional Yeast (optional)
1/2 cup/50g Vegan Cheese, grated (optional)
Dill Oil
Large Handful Dill
1/2 cup/125ml Rapeseed Oil
Serve with
Rocket
First up, the scallops. Remove the tops from the king oyster mushrooms, then cut the stems into 1 inch discs. Keep the mushroom tops for stir fries.
Add all the broth ingredients to a medium saucepan, place the lid on & let the broth bubble away and infuse for 5 minutes before adding the mushroom discs. Poach the mushrooms in the broth for 10 minutes.
Once cooked remove the mushrooms from the broth & let them dry off.
The broth can be kept and used for things like Ramen or simply used as a stock. I actually turned a similar broth into a 'taste of the sea' foam – check the recipe here.
To make the risotto, In a large saucepan, sauté the onion and garlic over a medium heat.
Stir often & make sure they don't burn. Just let them soften.
Once the onions are soft turn the heat down low and add the risotto rice and stir well making sure the rice is coated, I like to let my rice lightly toast, it adds a slightly more nutty flavour.
Now deglaze the pan with the white wine, and stir every now and then until it has all disappeared into the rice. Once its been soaked up, add around a cup of stock each time, until you have used up all the stock – this will take about 20 mins. After 20 minutes the rice should almost look creamy. If not add more stock.
Check the rice is cooked. If it isn't, add a splash more stock, and carry on cooking for a bit. Once the rice is soft enough to eat, stir the nutritional yeast & vegan cheese if using. Check the risotto is seasoned. If not add a pinch of sea salt & pepper.
To make the dill oil, simply blitz all the ingredients together in a high speed blender. Store in a sealed container in the refrigerator.
To serve, place a non stick pan over a medium heat and add a little cooking oil, sear your 'scallops' on both sides for 3-4 minutes or until golden.
Serve the scallops on top of the risotto garnished with rocket & a little dill oil.
Share this recipe