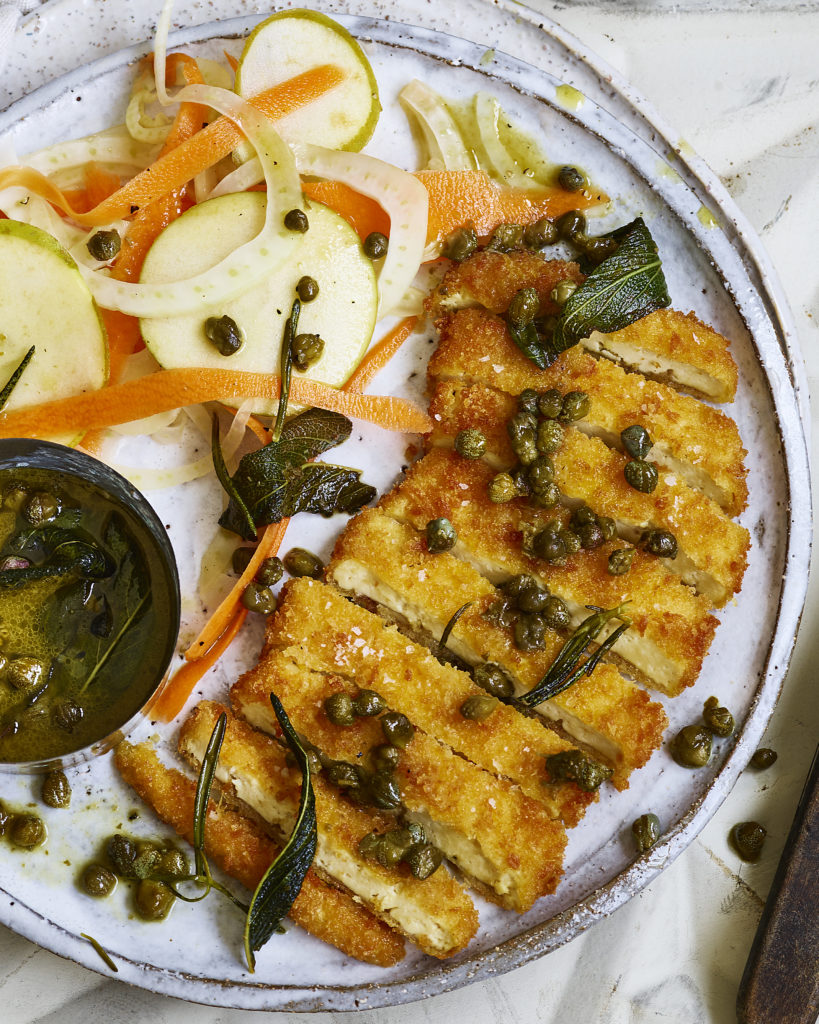 Incredible meaty vegan Schnitzels.
Ingredients
Vegan Schnitzel 
Ingredients 
1 Block Extra Firm Tofu, sliced into fillets then patted dry
4 tbs Chicken Seasoning (a herb & spice mix, that doesn't contain chicken)
1 cup/130g Plain Flour
2 cups/150g Panko Breadcrumbs
1 cup/130g Gram Flour
1 cup/240ml Vegetable Oil, for shallow frying
Sea Salt, to season. 
Herb & Caper Sauce
4 tbs Vegan Margarine/Butter
2 tbs Olive Oil
1 Shallot, chopped extra fine
Juice of 1 Lemon
4 tbs Capers
1 Sprig Rosemary, leaves removed
Small Handful of Fresh Sage Leaves
Small Handful of Samphire (optional) 
Pinch Cracked Black Pepper
Slaw
1 Apple, slice fine on a mandolin or grated
1 Carrot, sliced fine using a peeler or grated
1 Small Bulb of Fennel, slice fine on a mandolin or grated
Juice 1 Lemon
Pinch Sea Salt & Pepper
Method
First up, coat the tofu. 
Mix together the flour & chicken seasoning in a mixing bowl. In another bowl whisk together the gram flour with enough water to make it a beaten egg like consistency. 
In a 3rd bowl place your panko breadcrumbs. 
Individually dip each slice of tofu first into the flour mix, then the gram flour mix & finally the panko breadcrumbs. Once coated, place the tofu onto a baking tray lined with greaseproof paper. 
To cook your schnitzels, pre heat your oven to 180 degrees c. 
Place a non stick frying pan over a medium heat and add the oil. When the pan is hot, shallow fry a few schnitzels at a time for around 2-3 minutes on each side. Once the schnitzels are nice and golden, place them back onto your lined baking tray. 
Once you've fried all of the schnitzels, place them into your oven to finish off cooking for 10 minutes.
Meanwhile, make the slaw. Simply mix all the sliced/grated ingredients in a mixing bowl and squeeze over the lemon juice. Season with salt and pepper then set aside until you're ready to serve. 
Just before serving make your herby butter sauce. Place a small non stick frying pan over a medium heat. Add the butter & oil, one the butter has melted add the shallot and sweat it down for a minute or so. Add the rest of the ingredients and allow the sauce to cook away for a couple of minutes. I add a couple drops of water to loosen the sauce slightly. 
Serve your schnitzel with plenty of slaw, and your sauce drizzled over the top.
Share this recipe